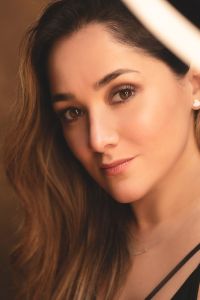 Click here to download promotional assets 
Miami, Fl. – September 21, 2022 – The new season of MIRA QUIÉN BAILA ALL STARS (Look Who's Dancing All Stars) returns to Univision's "Domingos en Familia" (Family Sundays) with renowned Mexican actress and singer Sherlyn González as backstage host. Throughout the season, she will interview the celebrity contestants, capturing their reactions and giving audiences a behind-the-scenes look at the most intense and exciting edition yet. The megahit dance competition premieres on October 9 at 8 p.m.ET/PT (7 p.m. CT).  
Sherlyn is no stranger to the MIRA QUIÉN BAILA stage, as she was a finalist in the 2019 edition. She also participated in the second edition of Univision's TU CARA ME SUENA earlier this year, showing off her many talents. Her successful acting career includes a leading role in the telenovela CLASE 406, and supporting roles in CORAZÓN AL LÍMITE, FUEGO EN LA SANGRE, CUIDADO CON EL ÁNGEL, QUE LE PASA A MI FAMILIA, among others.  
Hosted by Chiquinquirá Delgado and Mane de la Parra, the 10th edition of MIRA QUIÉN BAILA ALL STARS will take Family Sundays to the next level with high-caliber performances, a brand-new cast of celebrity contestants and a panel of star-studded judges including the recently announced Queen of Pop, Paulina Rubio. Contestants and two more internationally recognized judges will be revealed at a later date. 
MIRA QUIÉN BAILA ALL STARS is a co-production of TelevisaUnivision and EndemolShine Boomdog.  
ADDITIONAL INFORMATION: 
Fans can get the latest updates on MiraQuienBaila.com. Viewers can join the conversation on social media by following the hashtag #MiraQuienBaila on Facebook, Instagram and Twitter. For more information visit Univision.com. 
Visit televisaunivision.com for more information on TelevisaUnivision and follow us on Twitter and Instagram. 
CONTACT: Laura Paez lpaez@univision.net 
###
Sherlyn González se une a la 10° edición de MIRA QUIÉN BAILA ALL STARS como conductora backstage 
Haz clic aquí para descargar material promocional   
Miami, Florida – 21 de septiembre de 2022 – La nueva edición de MIRA QUIÉN BAILA ALL STARS regresa a "Domingos en Familia" de Univision con la reconocida actriz y cantante mexicana Sherlyn González como conductora del backstage. A lo largo de la temporada, entrevistará a los concursantes famosos, capturando sus reacciones y brindando al público una mirada del detrás de cámara de la edición más intensa y reñida hasta el momento. La exitosa competencia de baile se estrenará el 9 de octubre a las 8 p.m. hora del este y del Pacífico (7 p.m. hora del centro).   
Sherlyn no es ajena al escenario de MIRA QUIÉN BAILA, ya que fue concursante en 2019. También participó en la segunda edición de TU CARA ME SUENA de Univision a principios de este año, mostrando talentos y habilidades. Su exitosa carrera actoral incluye un papel protagónico en la telenovela CLASE 406 y rol de reparto en CORAZÓN AL LÍMITE, FUEGO EN LA SANGRE, CUIDADO CON EL ÁNGEL, QUE LE PASA A MI FAMILIA, entre otros.   
Con Chiquinquirá Delgado y Mane de la Parra como anfitriones, la décima edición de MIRA QUIÉN BAILA ALL STARS llevará los domingos familiares a otro nivel con baile de alto calibre, un elenco completamente nuevo de concursantes famosos y un panel de jueces repleto de estrellas que incluye a la recientemente anunciada Reina del Pop, Paulina Rubio. Los concursantes y dos jueces más de renombre internacional serán revelados en una fecha posterior.  
MIRA QUIÉN BAILA ALL STARS es una coproducción de TelevisaUnivision y EndemolShine Boomdog.   
INFORMACIÓN ADICIONAL:  
Los fans pueden obtener las últimas novedades en MiraQuienBaila.com. Los espectadores pueden unirse a la conversación en las redes sociales siguiendo el hashtag #MiraQuienBaila en Facebook, Instagram y Twitter. Para obtener más información visita Univision.com.   
Visita televisaunivision.com para más información sobre TelevisaUnivision y síguenos en Twitter e Instagram.  
CONTACTO: Laura Paez lpaez@univision.net