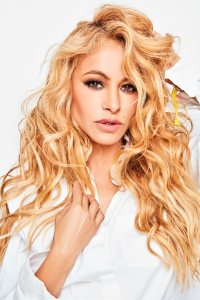 Click here to download promotional assets 
Miami, FL. – September 20, 2022 – Internationally recognized Mexican superstar Paulina Rubio is confirmed as one of the judges on the 10th edition of MIRA QUIÉN BAILA ALL STARS (Look Who's Dancing All Stars) which is set to premiere on October 9th at 8 p.m.ET/PT on Univision's "Domingos en Familia" (Family Sundays). The pop sensation will bring her experience and expertise to the latest season of the megahit competition and will be joined by two judges who will be announced at a later date. 
With millions of records sold, Rubio, also known as the "Chica Dorada," is one of the best-selling Latin music artists of all time and one of the most influential female artists. Some of her chart-topping hits include "Te Quise Tanto," "Dame Otro Tequila," "Mío," "Y Yo Sigo Aquí" and more. She first achieved recognition as a member of the successful pop group Timbiriche, and then embarked on a solo career. Throughout the years, the pop icon has been honored with numerous awards and accolades, and has earned nominations for the GRAMMY®, the Latin GRAMMY®, Premios Juventud, Premio Lo Nuestro and many others. Additionally, Rubio has acted as judge on the X FACTOR alongside Simon Cowell, Kelly Rowland, and Demi Lovato.  
Hosted by Chiquinquirá Delgado and Mane de la Parra, the new season of MIRA QUIÉN BAILA ALL STARS returns as the most intense and grueling edition thus far. This 10th edition will take Family Sundays to another level with exciting surprises and high-caliber performances by a new cast of talented celebrities. 
MIRA QUIÉN BAILA ALL STARS is a co-production of TelevisaUnivision and EndemolShine Boomdog. 
ADDITIONAL INFORMATION: Fans can get the latest updates on MiraQuienBaila.com. Viewers can join the conversation on social media by following the hashtag #MiraQuienBaila on Facebook, Instagram and Twitter. For more information visit Univision.com. 
Visit televisaunivision.com for more information on TelevisaUnivision and follow us on Twitter and Instagram. 
CONTACT: Laura Paez lpaez@univision.net 
###
La Reina del Pop Paulina Rubio se une al renombrado jurado de MIRA QUIÉN BAILA ALL STARS de Univision    
Haz clic aquí para descargar material promocional  
Miami, Florida – 20 de septiembre de 2022 – La internacionalmente reconocida superestrella Paulina Rubio fue confirmada como integrante del panel de jueces de la décima edición de MIRA QUIÉN BAILA ALL STARS, que se estrenará el 9 de octubre a las 8 p.m. hora del este y del Pacífico en "Domingos en Familia" de Univision. La sensación del pop aportará su gran experiencia a la más reciente temporada de la súper exitosa competencia de baile y se unirán a ella dos jueces más que serán anunciados en una fecha posterior.  
Rubio, también conocida como "La Chica Dorada", es una de las artistas de música latina con mayores ventas de todos los tiempos y una de las artistas femeninas más influyentes. Algunos de sus grandes éxitos incluyen "Te quise tanto", "Dame otro tequila", "Mío", "Y yo sigo aquí", entre otros. Se dio a conocer en primer lugar como miembro del exitoso grupo pop Timbiriche, y luego embarcó en una carrera como solista. A lo largo de los años, la icónica artista ha sido honrada con numerosos reconocimientos, y ha obtenido nominaciones para los Premios GRAMMY®, los Latin GRAMMY®, Premios Juventud, Premio Lo Nuestro y muchos más. Además, Rubio participó como jueza en X FACTOR junto a Simon Cowell, Kelly Rowland y Demi Lovato.   
Conducida por Chiquinquirá Delgado y Mane de la Parra, la nueva temporada de MIRA QUIÉN BAILA AL STARS regresa como la edición más intensa y reñida hasta el momento. Esta décima edición llevará los domingos familiares a otro nivel gracias a sus emocionantes sorpresas y actuaciones de alto calibre de un nuevo elenco de talentosas celebridades.  
MIRA QUIÉN BAILA ALL STARS es una coproducción de TelevisaUnivision y EndemolShine Boomdog.  
INFORMACIÓN ADICIONAL:  
Los fans pueden obtener las últimas novedades en MiraQuienBaila.com. Los espectadores pueden unirse a la conversación en las redes sociales siguiendo el hashtag #MiraQuienBaila en Facebook, Instagram y Twitter. Para obtener más información visita Univision.com.   
Visita televisaunivision.com para más información sobre TelevisaUnivision y síguenos en Twitter e Instagram.  
CONTACTO: Laura Paez lpaez@univision.net