Below: Mexican lightweight star Cristian "Puas" Perez (left) will take on American standout Samuel "The Alley Cat" Alvarez (right) in Combate Global main event action on Friday, Aug. 5. Photo credit: Scott Hirano/Combate Global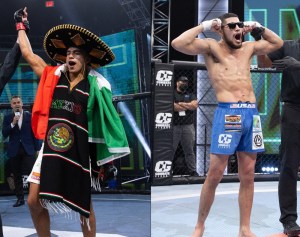 COMBATE GLOBAL ANNOUNCES COMPLETE, FIVE-BOUT MMA EVENT FOR FRIDAY, AUGUST 5 ON UNIVISION AND TUDN
LIGHTWEIGHT MAIN EVENT: CRISTIAN "PUAS" PEREZ (MEXICO) VS. SAMUEL "THE ALLEY CAT" ALVAREZ (USA)
---
NEW YORK – AUGUST 3, 2022 – Combate Global today announced a five-bout Mixed Martial Arts (MMA) lineup for Friday, Aug. 5 in Miami, Fla. on television in the U.S. on Univision (12 a.m. ET/PT) and TUDN (12 a.m. ET/9 p.m. PT).
In the lightweight (155 pounds) main event and a classic Mexico versus USA showdown, Cristian "Puas" Perez (9-1) will square off with Samuel "The Alley Cat" Alvarez (7-5).
At 22 years of age, Perez of Ensenada, B.C., Mexico is the number two-ranked Combate Global lightweight in the world, and the 2021 "Fighter of the Year."
Perez reeled off five straight wins last year – four by way of (T)KO or submission – and kicked off 2022 with a unanimous decision win over Spain's Sebastian Santana Guedes on April 22.
Alvarez is a 29-year-old Brazilian Jiu-Jitsu brown belt and a self-proclaimed black belt with "these hands."
Alvarez holds an overall record of 4-1 in La Jaula, the Combate Global competition cage, and is coming off an entertaining, split decision victory over Mexico's Jordan Beltran on May 13.
In a featured women's strawweight (115 pounds) contest, Muay Thai champion Claudia Diaz (18-11-1) of Barcelona, Spain via Miami will take on Andrea Amaro (2-2-2) of El Paso, Texas.
A featured matchup will pit Ivan "Choko" Castillo (22-15) of Ensenada against Vernon Ramos (7-1) of Panama City, Panama at a catchweight of 175 pounds.
The preliminary bout card will be highlighted by a 150-pound catchweight contest between Axel Diaz (4-2) of Mexico City, Mexico via Stockton, CA and Chris Boasso (3-3) of Miami.
In a second women's strawweight bout, Alison Beth Milliron (2-1) of Petoskey, MI will face Tanya Nijjar (0-0) of Kelowna, B.C., Canada.
Additional information about Combate Global and its athletes can be found on www.CombateGlobal.com as well as on Facebook, Instagram, Twitter and YouTube.
Visit televisaunivision.com for more information on TelevisaUnivision and follow us on Twitter and Instagram.
CONTACT:
Mike Afromowitz
Combate Global
mikea@combateglobal.com
917-566-8754
Estefania Diaz-Balart
TelevisaUnivision
ediazbalart@univision.net
305-510-7334
###
Abajo: la estrella mexicana de peso ligero Cristian "Puas" Pérez (izquierda) se enfrentará al destacado estadounidense Samuel "The Alley Cat" Alvarez (derecha) en la pelea estelar de Combate Global el viernes 5 de agosto. Crédito de la foto: Scott Hirano/Combate Global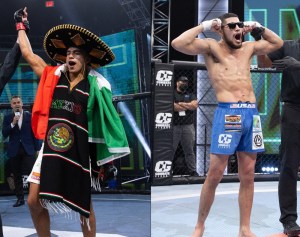 COMBATE GLOBAL ANUNCIA CARTELERA DE CINCO COMBATES DE ARTES MARCIALES MIXTAS (MMA) PARA EL VIERNES 5 DE AGOSTO EN UNIVISIÓN Y TUDN
PELEA PRINCIPAL EN EL PESO LIGERO: CRISTIAN "PUAS" PEREZ (MÉXICO) VS. SAMUEL "EL GATO CALLEJERO" ALVAREZ (EE.UU.) UNIVISION (12 A.M. ET/PT) Y TUDN (12 A.M. ET/9 P.M. PT)
---
NUEVA YORK – 3 DE AGOSTO DE 2022 – Combate Global anunció hoy una cartelera de artes marciales mixtas (MMA) de cinco combates para el viernes 5 de agosto en Miami, Fla. por televisión en los EE. UU. por Univision (12 a. m. ET/PT) y TUDN (12 a. m. ET/9 p. m. PT).
En el evento principal en el peso ligero (155 libras) será un enfrentamiento clásico entre México y EE. UU., cuando Cristian "Puas" Pérez (9-1) se enfrente a Samuel "The Alley Cat" Alvarez (7-5).
A los 22 años de edad, Pérez de Ensenada, B.C., México es calificado numero dos en el peso ligero de Combate Global y fue el "Peleador del año" de 2021.
Pérez obtuvo cinco victorias consecutivas el año pasado, cuatro por (T)KO o sumisión, y comenzó 2022 con una victoria por decisión unánime sobre el español Sebastián Santana Guedes el 22 de abril.
Álvarez es un cinturón marrón de Jiu-Jitsu brasileño de 29 años y un cinturón negro autoproclamado con "estas manos".
Álvarez tiene un récord de 4-1 en La Jaula, lugar de competencia de Combate Global, y viene de una entretenida victoria por decisión dividida sobre Jordan Beltrán de México el 13 de mayo.
En una competencia destacada de peso paja femenino (115 libras), la campeona de muay thai Claudia Díaz (18-11-1) de Barcelona, ​​España vía Miami se enfrentará a Andrea Amaro (2-2-2) de El Paso, Texas.
Un enfrentamiento destacado enfrentará a Iván "Choko" Castillo (22-15) de Ensenada contra Vernon Ramos (7-1) de la Ciudad de Panamá, Panamá, en un peso pactado de 175 libras.
La cartelera de combate preliminar se destacará por una competencia de peso pactado de 150 libras entre Axel Díaz (4-2) de la Ciudad de México, México a través de Stockton, CA y Chris Boasso (3-3) de Miami.
En una segunda pelea de peso paja de mujeres, Alison Beth Milliron (2-1) de Petoskey, MI se enfrentará a Tanya Nijjar (0-0) de Kelowna, B.C., Canadá.
Puede encontrar información adicional de Combate Global y sus atletas visitando www.CombateGlobal.com así como seguirnos a través de la redes sociales Facebook, Instagram, Twitter y YouTube.
Visiten televisaunivision.com para más información sobre TelevisaUnivision y pueden seguirnos en Twitter e Instagram.
CONTACTO:
Mike Afromowitz
Combate Global
mikea@combateglobal.com
917-566-8754
Estefania Diaz-Balart
TelevisaUnivision
ediazbalart@univision.net
305-510-7334
###