Below: Famed, two-time award winning actor Gabriel Soto (left) will don the fight gloves and compete in a special exhibition boxing bout promoted by Combate Global on Saturday, Sept. 24 in Miami, Fla. Photo credit: Scott Hirano/Combate Global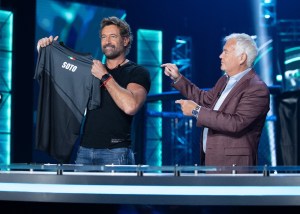 TWO-TIME AWARD-WINNING ACTOR GABRIEL SOTO TO COMPETE IN A COMBATE GLOBAL BOXING BOUT ON SATURDAY, SEPTEMBER 24
SOTO ISSUES A CHALLENGE TO FELLOW ACTOR MARIO LOPEZ
NEW YORK – MAY 31, 2022 – Combate Global and Gabriel Soto have announced that the famed, two-time award-winning Mexican actor will compete in a special exhibition boxing bout promoted by the premier Hispanic Mixed Martial Arts (MMA) organization on Saturday, Sept. 24, live on Univision and TUDN USA from Miami, Fla.
The boxing fight will be contested as a five-round contest and will take place in La Jaula, the circular-shaped competition cage in which Combate Global's MMA bouts regularly occur.
"I'm a big boxing fan, a super MMA fan, and now I'm going to have the opportunity to become a fighter," said Soto, the star of Univision's hit telenovela Soltero con Hijas and Mexican telenovela Amor Dividido.
Along with the announcement, Soto issued a public challenge to fellow actor Mario Lopez.  "I think (Lopez) could be a very good opponent, so I want to fight him.
"Signing Gabriel Soto is a major achievement for Combate Global," said Campbell McLaren, Combate Global CEO.  "To give this talented and world-famous actor a chance to put it all on the line is an honor."
Soto, who hails from Mexico City, also announced that he will be donating a portion of his earnings from the bout to charity.
An avid boxing enthusiast who has been training and sparring for years, Soto is also the founder of a non-profit organization, "No Tires La Toalla," devoted to helping young boxers get their respective careers off the ground.
Combate Global will announce further details about the event and broadcast featuring Soto at a later date.
Additional information about Combate Global and its athletes can be found on www.CombateGlobal.com as well as on Facebook, Instagram, Twitter and YouTube.
CONTACTS:
Mike Afromowitz
Combate Global
mikea@combateglobal.com
917-566-8754
###
Abajo: El famoso actor ganador de dos premios Gabriel Soto (izquierda) se pondrá los guantes de pelea y competirá en un combate especial de exhibición de boxeo promovido por Combate Global el sábado 24 de septiembre en Miami, Florida. Crédito de la foto: Scott Hirano/Combate Global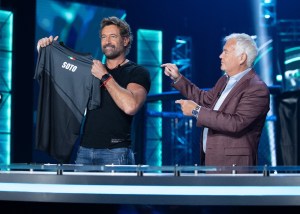 EL DOS VECES GALARDONADO ACTOR GABRIEL SOTO PARA COMPETIRA EN UN COMBATE DE BOXEO EN COMBATE GLOBAL EL SÁBADO 24 DE SEPTIEMBRE
SOTO RETA A SU COMPAÑERO ACTOR MARIO LÓPEZ
NUEVA YORK – 31 DE MAYO DE 2022 – Combate Global y Gabriel Soto han anunciado que el actor mexicano, dos veces galardonado, competirá en un combate de exhibición especial de boxeo promovido por la principal organización hispana de Artes Marciales Mixtas (MMA) el sábado 24 de septiembre, en vivo por Univision y TUDN USA desde Miami, Florida.
La pelea de boxeo se disputará a cinco asaltos y se llevará a cabo en La Jaula de competencia de forma circular en la que se llevan a cabo regularmente los combates de MMA de Combate Global.
"Soy un gran fanático del boxeo, un súper fanático de las MMA, y ahora voy a tener la oportunidad de convertirme en peleador", dijo Soto, la estrella de la exitosa telenovela Soltero con Hijas de Univision y la telenovela mexicana Amor Dividido.
Junto con el anuncio, Soto lanzó un desafío público al también actor Mario López.
"Creo que (López) podría ser un muy buen oponente, así que quiero pelear con él.
"Firmar a Gabriel Soto es un gran logro para Combate Global", dijo Campbell McLaren, CEO de Combate Global. "Darle a este talentoso y mundialmente famoso actor la oportunidad de arriesgarlo todo es un honor".
Soto, oriundo de la Ciudad de México, también anunció que donará una parte de sus ganancias de la pelea a obras de caridad.
Un entusiasta del boxeo que ha estado entrenando durante años, Soto también es el fundador de una organización sin fines de lucro, "No Tires La Toalla", dedicada a ayudar a los jóvenes boxeadores a despegar en sus respectivas carreras.
Combate Global anunciará más detalles sobre el evento y la transmisión con Soto en una fecha posterior.
Puede encontrar información adicional de Combate Global y sus atletas visitando http://www.combateglobal.com así como seguirnos a través de la redes sociales Facebook, Instagram, Twitter y YouTube.
CONTACTO:
Mike Afromowitz
Combate Global
mikea@combateglobal.com
917-566-8754
###