Sandra Echeverría, Ximena Romo and Abril Vergara Will Play the "Mexican Golden Cinema Diva" at Different Stages of Her Life
Production for the Bioseries, Exclusive to ViX+, Started March 14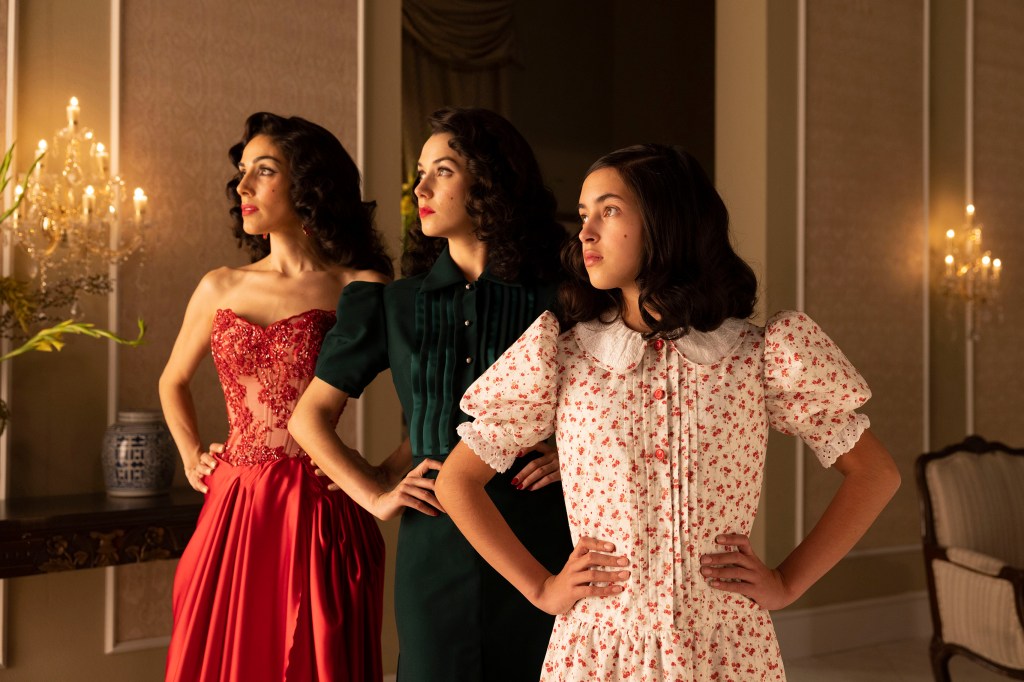 Sandra Echeverría, Ximena Romo and Abril Vergara characterizing María Félix
MIAMI – MARCH 16, 2022 – TelevisaUnivision Inc., the world's leading Spanish-language content and media company, today announced the start of production and the main cast of the authorized biographical series about María Félix, exclusively for ViX+.
The currently untitled biopic will follow the journey of one of the icons of Mexican cinema, whose influence is still felt across generations of women. Twenty years after her death, the first series to portray the legendary actress will be produced by a team comprised mostly of women.
Produced by Carmen Armendáriz, directed by Mafer Suárez and written by Larissa Andrade, Alejandro Gerber, Tania Tinajero and Gabriela Rodríguez, the story will star Mexican actresses Sandra Echeverría ("La Usurpadora," "La Fuerza del Destino"), Ximena Romo ("Dime Cuándo Tú," "Yago") and Abril Vergara, who will portray "La Doña" at different stages of her life.
"At ViX+, creating content that reflects our culture and illuminates our unique and diverse stories – all in Spanish, is our priority. We're excited to tell the extraordinary story of María Félix," said Vincenzo Gratteri, Senior Vice President, Development of ViX+. "Her creative energy and indomitable spirit will be a source of inspiration for our audience."
"Portraying the life of an iconic figure of Mexico and the world, a woman before her time who broke stereotypes, is a huge challenge and responsibility," said Carmen Armendáriz, producer of the biopic. "Her story remains relevant today and continues to inspire and empower women, one generation after another. I am proud to be producing the first series about the life of María Félix, which will faithfully represent the legacy she left us."
The ViX+ Originals production also features Guillermo García Cantú, Ana Bertha Espín, Josh Gutiérrez, Ximena Ayala, Markin López, Úrsula Pruneda, Ramon Medina and Helena Rojo.
Developed by Televisa Studios for ViX+, the series is based on reporting and testimony from those closest to María Félix, including Luis Martínez de Anda, her right-hand man and sole heir.
ViX offers two tiers of service, including a free advertising-supported product (AVOD) that will launch in the U.S. and most Spanish-speaking countries on March 31, with more than 100 channels and more than 40,000 hours of video-on-demand content. ViX+, the service's SVOD tier, will offer subscribers access to more premium content in Spanish than with any other service, with 10,000 hours of exclusive content and more than 50 original series and films in the first year. ViX+ is set to launch in the second half of 2022.
Click here to download images.
CONTACTS:
United States and Latin America
Tatiana Oviedo, toviedo@univision.net
Mexico
Sandra Oropeza, sandra@vix.com
###
TelevisaUnivision comienza producción de la primera bioserie para ViX+ sobre la vida de María Félix
Sandra Echeverría, Ximena Romo y Abril Vergara interpretarán a la "diva del cine mexicano" en diferentes etapas de su vida
La serie biográfica exclusiva para ViX+ inició rodaje el 14 de marzo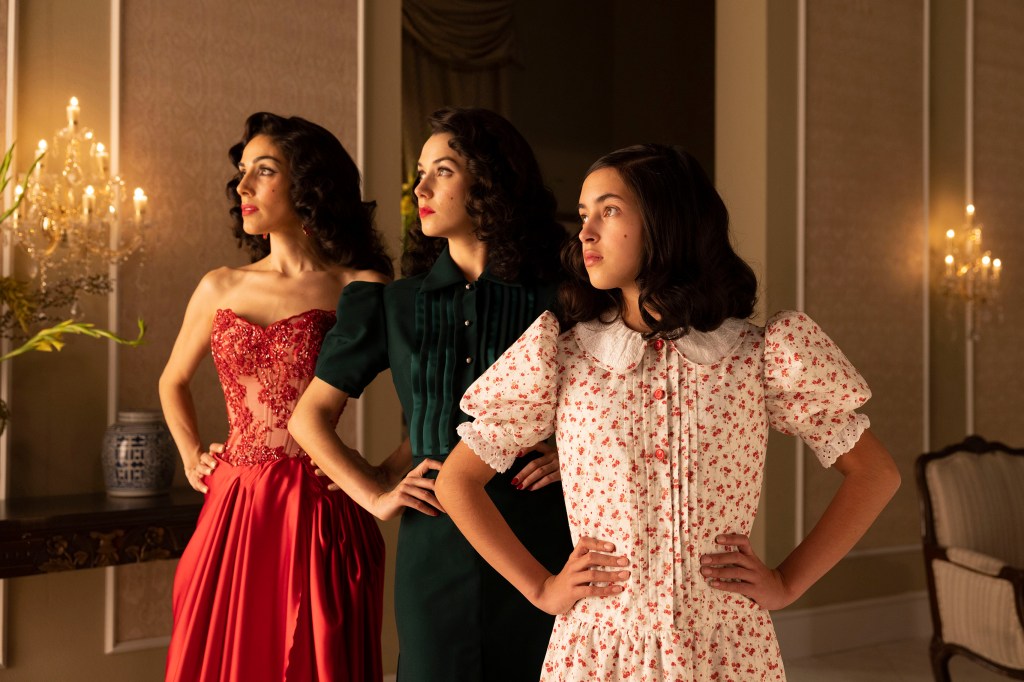 Sandra Echeverría, Ximena Romo y Abril Vergara caracterizando a María Félix
MIAMI – 16 DE MARZO DE 2022 – TelevisaUnivision Inc., la compañía líder de medios y contenido en español en el mundo, anunció hoy el inicio de rodaje y elenco principal de la serie biográfica autorizada sobre la vida de María Félix, exclusiva para ViX+.
La bioserie con título por definir comparte detalles acerca de uno de los iconos del cine mexicano que ha marcado a generaciones enteras y que abrió camino para muchas mujeres en el país. A 20 años de su muerte, la primera serie que retratará a la leyenda de la actuación será realizada por un equipo conformado en su mayoría por mujeres.
Producida por Carmen Armendáriz, dirigida por Mafer Suárez y escrita por Larissa Andrade, Alejandro Gerber, Tania Tinajero y Gabriela Rodríguez. la historia será protagonizada por las actrices mexicanas Sandra Echeverría (La usurpadora, La fuerza del destino), Ximena Romo (Dime cuando tú, Yago) y Abril Vergara, quienes caracterizarán a "La Doña" en diferentes etapas de su vida.
"En ViX+ crear contenido que refleje nuestra cultura e ilumine nuestras historias únicas y diversas en español es nuestra prioridad. Estamos emocionados de contar la historia de una mujer extraordinaria como María Félix", dijo Vincenzo Gratteri, vicepresidente sénior de Desarrollo de ViX+. "Su energía creativa y espíritu indómito serán una fuente de inspiración para nuestra audiencia".
"Retratar la vida de una figura emblemática de México y el mundo, una mujer adelantada a su época que rompió estereotipos es un reto y una responsabilidad enorme¨, dijo Carmen Armendáriz productora de la bioserie. ¨Su historia sigue vigente en la actualidad y sigue inspirando y empoderando a las mujeres generación tras generación. Estoy orgullosa de producir la primera serie sobre la vida de María Félix que representará fielmente el legado que nos dejó¨.
La producción de ViX+ Originals cuenta además con la participación de Guillermo García Cantú, Ana Bertha Espín, Josh Gutierrez, Ximena Ayala, Markin López, Úrsula Pruneda, Ramon Medina y Helena Rojo.
La serie desarrollada por Televisa Studios para ViX+ está basada en la investigación periodística y testimonios de las personas que estuvieron más cerca de Maria Félix en vida, tales como Luis Martínez de Anda, su mano derecha y heredero universal.
ViX ofrece un servicio de dos niveles el cual incluirá un producto gratuito con publicidad (AVOD) que se lanzará en Estados Unidos y la mayoría de los países de habla hispana de Latinoamérica el 31 de marzo, con más de 100 canales y más de 40,000 horas de contenido de video on demand (VOD); mientras que con el nivel SVOD del servicio, ViX+, los suscriptores tendrán acceso a más contenido premium en español que ningún otro servicio, con 10,000 horas de contenido exclusivo y más de 50 series y películas originales que estrenarán en el primer año. El lanzamiento de ViX+ está programado para el segundo semestre de 2022.
Haz clic aquí para descargar imágenes.
CONTACTOS:
Estados Unidos y Latinoamérica
Tatiana Oviedo, toviedo@univision.net
México
Sandra Oropeza, sandra@vix.com
###