Barbara de Regil, as Rosario, is lethal yet beautiful in this fast-paced urban story inspired by real-life events
"Rosario Tijeras" premieres Tuesday, June 27, at 10 p.m. ET/PT on the Univision Network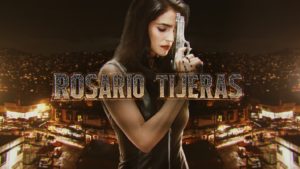 Barbara de Regil is Rosario Tijeras in Univision's newest primetime series.
MIAMI, FL – JUNE 20, 2017 – The Univision Network announces a night full of action with the premiere of its newest primetime series, "Rosario Tijeras," the story of a paid assassin from one of the poorest and most dangerous neighborhoods in Mexico City, a mysterious and seductive woman who is loved by many and feared by her enemies. The series premieres Tuesday, June 27, at 10 p.m. ET/PT and continues Monday through Friday in the same time period.
"'Rosario Tijeras' is the perfect example of today's evolution of our primetime dramas," said Lourdes Diaz, president, Univision Entertainment. "It is a multi-layered and moving story based on actual, contemporary events that portrays its leading woman as a complex, strong individual who has had to fight for everything all her life–and not just for her emotional happiness, but her very existence, as well. We think viewers will make an instant and very strong connection to her story."
"Rosario Tijeras" tells the story of a beautiful young woman, victim of an incident that marked her life and made her develop a dark vision of love. Constantly battered, harassed and assaulted by those around her, she becomes the legendary and deadly "Rosario Tijeras," a dangerous woman, born of the slums. When she meets two boys from a higher social caste, she falls in love with them both. Though she lives worlds apart from their wealth and luxury, her beauty and "street smarts" prove irresistible as she pulls them into her subculture of violence, revenge, and danger.
Filmed on location in Mexico, "Rosario Tijeras" was produced by Teleset for Sony Pictures and Univision. The cast features Barbara de Regil as Rosario, and Jose Maria de Tavira as Antonio Betancourt, Antonio Gaona as Emilio Echegaray, Herman Mendoza as Leon Elias Arteaga, and Vanessa Bauche as Ruby.
Viewers can engage on social media by following the hashtag #SoyTijeras on Twitter and Instagram as well as on Facebook.com/Univision. For more information and sneak peek videos, please visit http://www.univision.com. Viewers can also catch the show live via Univision NOW, the livestreaming service of the Univision Network available on iOS, Android and the web.
 Visit corporate.univision.com/newco for more information on UCI, and follow @UCIPRTeam on Twitter and Instagram.
 CONTACT:  Candice Georgi (305) 471-4057 cgeorgi@univision.net @UCIPRTeam
###
EL AMOR AL BORDE DEL PELIGRO ES LA TRAMA DE "ROSARIO TIJERAS", LA MÁS RECIENTE SERIE DE UNIVISION EN HORARIO ESTELAR
 Bárbara de Regil es Rosario, letal y bella a la vez, en una historia urbana muy intensa inspirada en eventos de la vida real
 "Rosario Tijeras" se estrena el martes, 27 de junio, a las 10 p.m. Este/Pacífico por Univision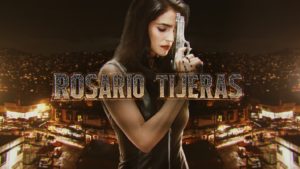 Bárbara de Regil es Rosario Tijeras en la más reciente serie de Univision en horario estelar.
MIAMI, FL – 20 DE JUNIO DE 2017 – La Cadena Univision anuncia una noche llena de acción con el estreno de su más reciente serie en horario estelar, "Rosario Tijeras", la historia de una sicaria de uno de los vecindarios más pobres y peligrosos de la Ciudad de México, una mujer misteriosa y seductora, amada por muchos y temida por sus enemigos. La serie se estrena el martes, 27 de junio, a las 10 p.m. Este/Pacífico y continúa de lunes a viernes en el mismo horario.
"'Rosario Tijeras' es el ejemplo perfecto de la evolución actual de nuestros dramas en horario estelar", dijo Lourdes Díaz, presidenta de Univision Entertainment. "Es una historia conmovedora, multidimensional, contemporánea, basada en sucesos de la actualidad, que presenta a su protagonista como una mujer compleja y fuerte que tiene que luchar por todo en la vida; no solo por su felicidad, sino también por su existencia. Creemos que los televidentes tendrán una conexión instantánea e intensa con su historia".
"Rosario Tijeras" es el relato de una bella joven que fue víctima de un incidente que la marcó de por vida e hizo que tuviera una imagen oscura del amor. Tras ser maltratada, acosada y atacada constantemente por aquellos a su alrededor, se convierte en la legendaria y letal "Rosario Tijeras", una mujer peligrosa que nació en un barrio pobre. Cuando conoce a dos muchachos de una clase social más alta, se enamora de ambos. Si bien estos viven en un mundo de riqueza y lujos, ella es una belleza que domina el mundo de la calle, lo que les resulta irresistible y los sumerge en su subcultura de violencia, venganza y peligro.
"Rosario Tijeras", filmada en escenarios reales en México, fue producida por Teleset para Sony Pictures y Univision. El elenco incluye a Bárbara de Regil como Rosario y José María de Tavira como Antonio Betancourt, Antonio Gaona como Emilio Echegaray, Herman Mendoza como León Elías Arteaga y Vanessa Bauche como Ruby.
Los televidentes pueden interaccionar en redes sociales siguiendo el hashtag #SoyTijeras en Twitter e Instagram, como también en Facebook.com/Univision. Para más información y videos con avances, por favor visiten http://www.univision.com. Los televidentes también pueden ver el programa en vivo vía Univision NOW, el servicio de streaming de la Cadena Univision, disponible en iOS, Android e internet.
 Visite corporate.univision.com/newco para obtener más información sobre UCI, y siga @UCIPRTeam en Twitter como también en Instagram.
 CONTACTO: Candice Georgi (305) 471-4057 cgeorgi@univision.net @UCIPRTeam
###