Inspired by the common struggle and dreams of immigrants, "The Double Life of Estela Carrillo" stars Ariadne Diaz and David Zepeda and premieres on the Univision Network May 8 at 9 P.M. ET/PT (8 P.M. CT)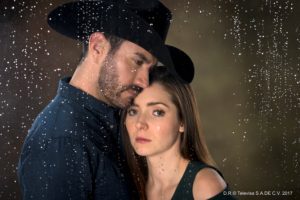 ---
MIAMI, FL – APRIL 18, 2017 – Univision invites viewers to discover the secrets of a determined single mother who comes to the United States and fights to give her daughter a better life in "The Double Life of Estela Carrillo." Set in Los Angeles, it is an original story by the acclaimed producer Rosy Ocampo starring Ariadne Díaz as Estela Carrillo, alongside David Zepeda, África Zavala and Danilo Carrera.
In this modern story, a desperate Estela obtains false documents only to find herself trapped in a web of lies and intrigue surrounding the fake identity she has adopted. In the meantime, she also pursues her lifelong dream of becoming a Regional Mexican music singer.
"We're excited for our audience to partake in the dual life of Estela as she navigates obstacles that are familiar to so many, in the pursuit of her dreams," said Lourdes Diaz, President of Entertainment, Univision Communications Inc. "This thrilling story will have all on their edge of their seats, rooting for Estela and even singing along with her."
Viewers can see the first episode of the telenovela available now on Univision NOW, UCI's live streaming and on demand service available on iOS, Android and the web. Fans are welcome to follow along on social media on Instagram and Twitter and via the hashtag #EstelaCarrillo, as well as comment along with others on Facebook.
CONTACT: Candice Georgi (305) 471-4057 cgeorgi@univision.net @UCIPRTeam
### 
---
LA MÚSICA REGIONAL MEXICANA Y LA INMIGRACIÓN OCUPAN UN PAPEL ESTELAR EN "LA DOBLE VIDA DE ESTELA CARRILLO" DE UNIVISION
"La doble vida de Estela Carrillo", inspirada en la lucha y los sueños comunes de los inmigrantes, presenta a Ariadne Díaz y David Zepeda, y se estrena por la Cadena Univision el 8 de mayo a las 9 p.m. Este/ Pacífico (8 p.m. Centro)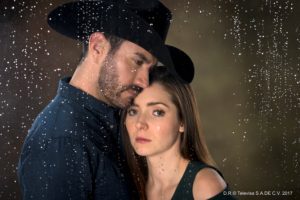 ---
MIAMI, FL – 18 DE ABRIL DE 2017 – Univision invita a los televidentes a descubrir los secretos de una decidida madre soltera que viene a los Estados Unidos y lucha por darle a su hija una vida mejor en "La doble vida de Estela Carrillo". Es una historia original que toma lugar en Los Ángeles creada por la aclamada productora Rosy Ocampo, en la que protagoniza Ariadne Díaz como Estela Carrillo, de lado de David Zepeda, África Zavala y Danilo Carrera.
En esta historia moderna, Estela, que está desesperada, obtiene documentos falsos y luego se ve atrapada en una red de mentiras e intriga en torno a la falsa identidad que adoptó. Mientras tanto, también va en busca de su sueño de toda la vida: ser cantante de música regional mexicana.
"Nos entusiasma que nuestra audiencia participe en la vida doble de Estela mientras que, en busca de sus sueños, supera obstáculos muy conocidos por muchos", dijo Lourdes Díaz, presidenta de Entretenimiento de Univision Communications Inc. "Esta emocionante historia tendrá a todos a la expectativa, de lado de Estela y cantando con ella".
Los televidentes pueden ver el primer episodio de la telenovela que ya está disponible, en Univision NOW, el servicio de streaming en vivo y a pedido de UCI, disponible en iOS, Android e internet. Se alienta a los fans a que se mantengan al tanto en redes sociales, en Instagram y Twitter, vía el hashtag #EstelaCarrillo, y que además comenten con otros en Facebook.
CONTACTO: Candice Georgi (305) 471-4057 cgeorgi@univision.net @UCIPRTeam
###