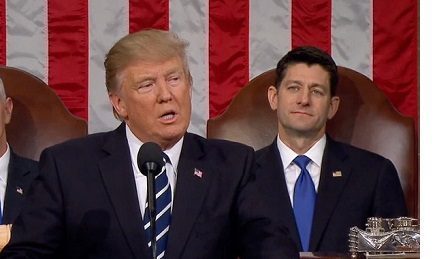 Trump address was the top program on Spanish-language TV.
---
By: Diego Vasquez
Telemundo has become a viable challenger on Spanish-language among viewers 18-49. Yet it's longtime leader Univision that's back on top in the demo.
Season-to-date the network has averaged a 0.7 rating among 18-49s, according to Nielsen, just ahead of Telemundo's 0.6. Telemundo used a hot start to lead the demo for most of the season, but has lost a bit of steam against Univision's steady primetime lineup so far in 2017.
The networks were tied in the demo as of last month, and Univision regained the lead last week.
In terms of actual viewers in the demo, the race is ultra-tight. Univision has averaged 850,000 18-49s to Telemundo's 830,000. Those numbers could fluctuate based on viewers' reaction to the networks' spring programming.
Last year at this time Univision was at 990,000 18-49s for the season, while Telemundo was at 720,000. Put another way, Univision is down 14 percent this season, while Telemundo is up 15 percent.
For the season UniMás is third in the demo with 300,000 viewers, with Estrella TV at 110,000 and Azteca America at 60,000.
Also takes most recent week
Those trends held true during the week ended March 5.
Univision was No. 1 among 18-49s with 880,000 viewers, followed by Telemundo at 680,000. UniMás (370,000), Estrella (90,000) and Azteca (50,000) followed.
Donald Trump's address to Congress on the network led the week on Spanish-language TV. Its telecast averaged 3.28 million total Hispanic viewers. That was nearly 1 million more than the week's No. 2 show, an episode of the network's novela "El Color de la Pasion."
The network was also first for the week among total viewers with 1.96 million. Telemundo averaged 1.40 million, followed by UniMás (770,000), Estrella (240,000) and Azteca (110,000).
Source: Media Life Magazine