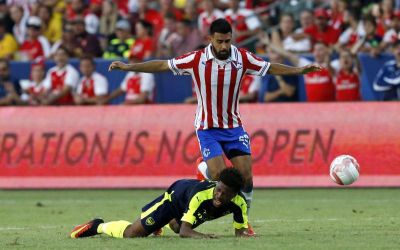 Mexican soccer club sign with US broadcaster for further year.
---
By: Adam Nelson
Liga MX side Chivas initially signed a four-year, US$80 million deal with the network in 2013. That agreement expires at the end of this year and was not expected to be extended, as Chivas have begun exclusively showing all their games on their own in-house over-the-top (OTT) channel in their home territory of Mexico.
After the launch of that offering, Chivas left their 22-year relationship with Mexican broadcaster Televisa and, according a Bloomberg report at the end of 2016, Chivas had planned to make it the exclusive platform for their matches and other content in the US as well.
Technical problems with the service and the reluctance of fans to adopt an entirely OTT platform, however, have led the club to continue their relationship with Univision in the US for a further 12 months. The value of the new deal was not confirmed.
The news comes after Univision recently signed a deal to broadcast LigaMX games via Facebook Live.
Chivas' most recent fixture was the Súperclasico against their arch-rivals, Mexico City-based Club América. Chivas won the tie 1-0.
Source: Sports Pro