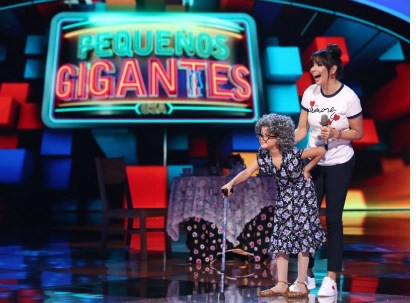 ---
By: Diego Vasquez
Univision's departure from telenovelas in the 8 p.m. hour is off to a pretty good start.
The network's new reality competition "Pequeños Gigantes USA" averaged 2.1 million total viewers in the 8 p.m. hour Monday through Thursday, according to Nielsen. That was up 18 percent from the network's timeslot average the previous week.
Monday's premiere episode averaged 2.36 million Latino viewers, No. 2 for the week on Spanish-language TV. It was also No. 3 for the week on all of TV, behind CBS's Grammy Awards (2.99 million, up 6 percent from last year) and an episode of Univision's "El Color de la Pasión" (2.38 million).
"Pequeños Gigantes" helped Univision finish first for the week among total viewers with an average of 1.85 million. It was also first among viewers 18-49 with 790,000 viewers in the demo.
Telemundo was second by both measures, averaging 1.53 million viewers and 730,000 18-49s.
UniMás posts best week of season
UniMás was third for the week with 820,000 viewers and 420,000 18-49s. The network had its best week of the season across all of the major demos thanks in part to a soccer match between Mexico and Iceland. The network averaged 1.52 million viewers for the match.
Estrella TV was fourth for the week on Spanish-language broadcast with 250,000 total viewers and 110,000 18-49s. Azteca America was fifth with 140,000 viewers and 70,000 18-49s.
Source: Media Life Magazine