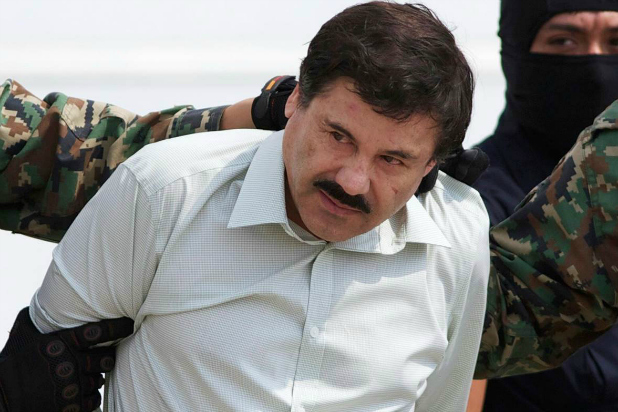 Univision and Netflix's new series about the life of Mexican drug kingpin Joaquín "El Chapo" Guzmán will premiere in April. Daniel Cardenas/Getty
---
Scripted drama will chronicle life of notorious Mexican drug kingpin recently extradited to United States
By: Jon Bilstein
---
A new scripted series about the life of the notorious drug lord Joaquín "El Chapo" Guzmán will premiere on Univision in April.
Univision's Story House production company and Netflix developed the drama. "This series pulls back the curtain on one of the most captivating criminals of our time by combining the world-class reporting and insights from Univision News' investigative team with an outstanding team of talented storytellers and producers," said Camila Jiménez Villa, president and chief content officer at Fusion Media Group, which oversees Univision Story House.
Netflix and Univision announced El Chapo last May, though no details about the cast or creators have been revealed. According to reports at the time, El Chapo will be available on Netflix after its Univision premiere.
Last year, the History Channel also announced they were developing a drama series about Guzmán called #Cartel. That show is being helmed by Narcos co-creator Chris Brancato.
As for the actual El Chapo, the Mexican kingpin, who led the Sinaloa Cartel for years, was finally extradited to the United States last Thursday, January 19th. He faces 17 charges including drug trafficking, murder, money laundering and kidnapping. He pleaded not guilty and did not seek bail. A starting date for the trial has yet to be announced.
While Guzmán has been arrested several times in Mexico, he has infamously orchestrated several successful escapes. In 2015, he escaped via an underground tunnel that went from a nearby house to the shower in his prison cell. Guzmán was finally arrested again in January 2016, not long after speaking with Sean Penn for an article in Rolling Stone.
Source: Rolling Stone