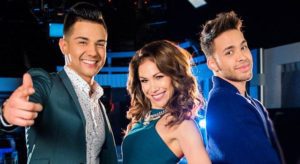 (From left to right: Luis Coronel, Bianca Marroquín and Prince Royce / Photo courtesy of Felipe Cuevas/Univision)
Celebrity Team Captains to be revealed all week long starting today on "El Gordo y La Flaca" and other popular Univision programs
---
MIAMI, FL – JANUARY 23, 2017 – Three of Latin entertainment's biggest talents – Prince Royce, Bianca Marroquín and Luis Coronel – will serve as judges on Univision's new season of its children's talent competition "Pequeños Gigantes USA" (Little Giants USA). Featuring children ages 6 through 11 from throughout the U.S., including Puerto Rico, "Pequeños Gigantes USA" is produced by and broadcast Monday through Thursday exclusively on the Univision Network, premiering Monday, February 6, 2017, at 8 p.m. ET/PT (7 p.m. Central).
Joining host Giselle Blondet, each of the judges will bring their own experiences of starting their respective careers at an early age into account as they judge the "Little Giants" showcase their amazing dancing, singing and acting talents. Latin recording artist/songwriter Prince Royce took an early interest in music and began auditioning and entering music contests as a teen. Mexican musical theater and television actress Bianca Marroquín, who was the first Mexican actress to have a starring role on Broadway, was one of the youngest actresses to portray the role of Roxie Hart in the musical "Chicago." Popular Regional Mexican singer Luis Coronel found his love of music as a teenager by sharing his talent through social media platforms.
In addition, the names of the six celebrity Captains who will form and mentor individual teams will be revealed all this week on various Univision programs, starting today with entertainment news program "El Gordo y La Flaca" (The Scoop & The Skinny) at 4 p.m. ET/PT (3 p.m. Central).
"We are truly honored to have artists of such high esteem serve as not only judges and Captains, but as positive role models for these youngsters who are just starting out," said Lourdes Diaz, President of Entertainment, Univision Communications Inc. "Representing such a wide spectrum of the entertainment world will make 'Pequeños Gigantes USA' a truly unique all-family viewing opportunity night after night, week after week."
Fans can get the latest updates regarding "Pequeños Gigantes USA" on PequeñosGigantesUSA.com or on Twitter via @PequenosUSA, as well as on Facebook.com/PequenosUSA and on Instragram @PequenosUSA or by using hashtag #PequeñosUSA on the different social media platforms.
CONTACT: Jenisei Couso 305-471-1692 jcouso@univision.net @UCIPRTeam
###
---
GRANDES NOMBRES PARA PEQUEÑOS GIGANTES:
PRINCE ROYCE, BIANCA MARROQUÍN Y LUIS CORONEL CONFORMARÁN EL JURADO DE LA COMPETENCIA DE TALENTO INFANTIL "PEQUEÑOS GIGANTES USA" DE UNIVISION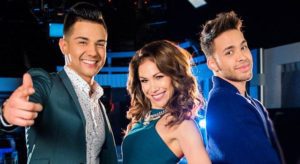 (De izq. a der.: Luis Coronel, Bianca Marroquín y Prince Royce / Foto cortesía de Felipe Cuevas/Univision)
Se revelará quienes serán los famosos capitanes de equipo toda la semana a partir de hoy en "El Gordo y La Flaca" y otros populares programas de Univision
---
MIAMI, FL –23 DE ENERO DE 2017– Tres de los más grandes talentos del entretenimiento latino –Prince Royce, Bianca Marroquín y Luis Coronel– serán miembros del jurado durante la nueva temporada de la competencia de talento infantil "Pequeños Gigantes USA" de Univision. Con niños de 6 a 11 años de todo Estados Unidos, incluyendo Puerto Rico, "Pequeños Gigantes USA", se produce y trasmite de lunes a jueves exclusivamente en la Cadena Univision y se estrenará el lunes, 6 de febrero de 2017 a las 8 p.m. Este/Pacífico (7 p.m. Centro).
Los miembros del jurado se sumarán a la conductora Giselle Blondet, y cada uno aportará su experiencia de iniciar su carrera a temprana edad al calificar a los "Pequeños Gigantes" cuando estos desplieguen sus asombrosas dotes de baile, canto y actuación. El artista y compositor latino Prince Royce se interesó a muy temprana edad por la música y comenzó a hacer audiciones y participar en concursos desde adolescente. La actriz mexicana de teatro musical y televisión Bianca Marroquín, la primera mexicana con un papel estelar en Broadway, fue una de las más jóvenes actrices en interpretar el papel de Roxie Hart en la obra musical "Chicago". El popular cantante de música regional mexicana Luis Coronel descubrió su amor por la música de adolescente al compartir su talento en plataformas de redes sociales.
Además, esta semana se revelarán en varios programas de Univision los nombres de los seis capitanes célebres que formarán sus equipos y los asesorarán, comenzando hoy con el programa de noticias de entretenimiento "El Gordo y La Flaca" a las 4 p.m. Este/Pacífico (3 p.m. Centro).
"Es un verdadero honor contar con artistas tan reconocidos no solo como miembros del jurado y capitanes, sino también como ejemplos positivos para estos niños que recién comienzan", dijo Lourdes Díaz, presidenta de Entretenimiento de Univision Communications Inc. "La representación de un espectro tan amplio del mundo del entretenimiento hará que 'Pequeños Gigantes USA' realmente sea una oportunidad única para que toda la familia lo vea, semana tras semana".
Los fans pueden leer lo último sobre "Pequeños Gigantes USA" en PequeñosGigantesUSA.com o en Twitter vía @PequenosUSA, como también en Facebook.com/PequenosUSA e Instragram @PequenosUSA o usando el hashtag #PequeñosUSA en las diversas plataformas de redes sociales.
CONTACTO: Jenisei Couso 305-471-1692 jcouso@univision.net @UCIPRTeam
###