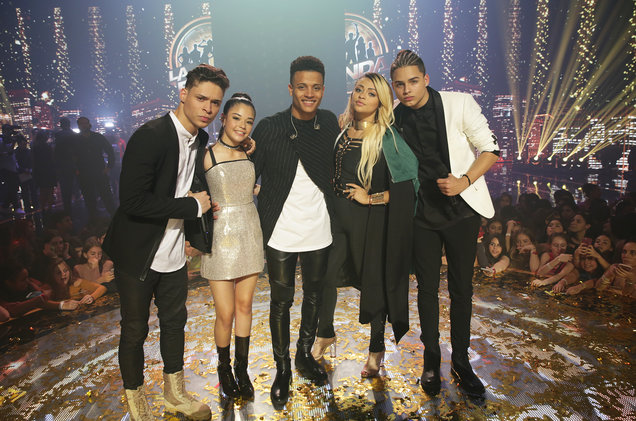 By: Griselda Flores
---
There's a new band in town. Meet MIX5, winners of Univsion's La Banda second season.
The winners, Christian, Garmandy, Taishmara, Brian and Danelly, were announced during the two-hour grand finale on Sunday night (Dec. 11) where fans and judges Laura Pausini, Mario Domm and Wisin, chose the top five out of the remaining 10 finalists.
Like its predecessor CNCO — first winning all-male band from season one in 2015 — MIX5 was awarded with a recording contract with Sony Music Latin.
"It is an honor for Sony Music to welcome the talented members of MIX5 to our family," Afo Verde, Chairman and CEO of Sony Music Latin Iberia, said in a statement. "We thank and congratulate everyone involved, coaches, choreographers, and of course, our wonderful judges Laura Pausini, Mario Domm and Wisin for their invaluable contribution in the creation of this great new band."
The star-studded finale included performances by Farruko, who sang "Chillax" and "Obsesionado" and CNCO. The chart-topping boy band performed their new single "Para enamorarte."
La Banda was produced by Univision as a music-based, multi-media competition show developed by Simon Cowell's SYCO Entertainment, Haim Saban's Saban Brands and co-produced with FremantleMedia Latin America.
Source: Billboard