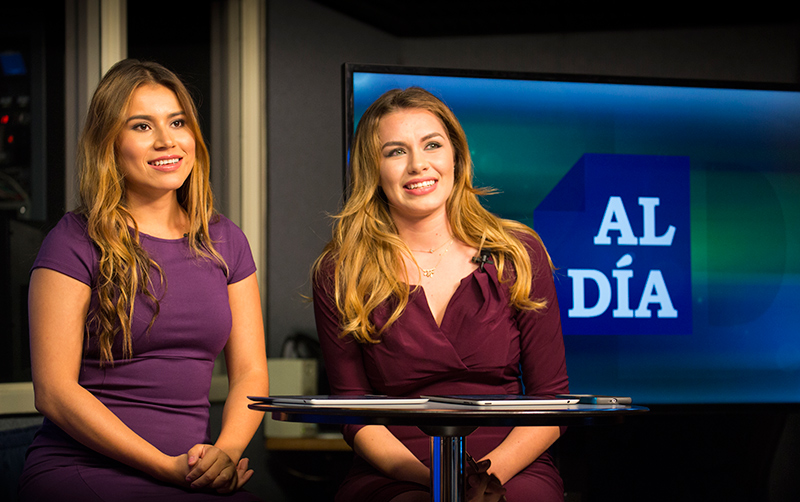 CSUF's partnership with Univision Los Angeles connects students with mentors, internships, and access to high-impact educational experiences with bilingual journalists in broadcast and digital news production.
---
The College of Communications at California State University, Fullerton and Univision Los Angeles have partnered to create an on-campus news bureau to serve the Orange County and Inland Empire Hispanic community.
The new alliance connects Univision with its young and bilingual audience and provides CSUF students with mentors, internship opportunities and access to high-impact educational experiences with seasoned bilingual journalists in both broadcast and digital news production. Reporter and anchor Francisco Ugalde, who has more than 20 years of journalistic experience, is based at the Cal State Fullerton Univision Bureau in the Pollak Library and covers Orange and San Bernardino counties.
The unique partnership between industry and education is a continuation of efforts by CSUF's Latino Communications Initiative to boost students' career development in the competitive multicultural media job market, said Scott Paynton, dean of the College of Communications.
Students will have the opportunity to visit Univision's Los Angeles newsroom to see real-world media professionals in action, and learn from the company's reporters who will serve as expert lecturers. Univision also will offer internship opportunities to advanced broadcast journalism students and provide access to Univision's news feed for CSUF's student news programs "OC News" and "Al Día."
"Direct contact between students and reporters will enhance both the educational and working lives of those in the field of journalism," Paynton said.
The partnership also makes it possible for the University to share campus presentations by Latin American leaders, Hispanic academics, policymakers, artists, journalists and visiting scholars with local Univision viewers.
"We are pleased to collaborate with Cal State Fullerton to help create new opportunities for college students and expand our coverage of the issues that matter to most to the residents of Orange County and the Inland Empire," said Marco Flores, vice president of news for Univision. "More importantly, our award-winning Univision Los Angeles team will have the privilege of mentoring the next generation of journalists and communicators by sharing their experiences, skills and lessons learned through years of reporting for the No. 1 market for Hispanics in TV, radio and digital."
Source: CSUF News Center