Following the January inauguration of the first-ever center in New York, UCI celebrates the new school year with new Media Centers in Austin, Chicago, Los Angeles, Miami and Oakland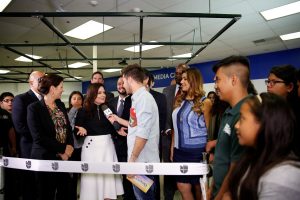 Oakland, CA – On Friday, September 9, 2016, Univision Communications Inc. inaugurated one of five new Univision Media Centers. Univision's Chief Marketing Officer Jessica Rodriguez was joined at United for Success Academy in Oakland by General Manager of Univision Bay Area Raul Rodriguez, Oakland Mayor Libby Schaaf, "Despierta América's" William Valdés and KDTV Univision 14's Alejandra Arce
---
NEW YORK– SEPTEMBER 9, 2016 – Univision Communications Inc. (UCI), the leading media Company serving Hispanic America, today unveiled five new Univision Media Centers at middle schools in Austin, Chicago, Miami, Los Angeles and Oakland. As a part of the Company's mission, each Univision Media Center will empower a new generation with access to tools and technology for Latino students to pursue careers in the media industry in the United States.
"Univision understands and embraces the importance of multiculturalism in this ever-changing industry and increasingly diverse society. Since our Company began operations more than 60 years ago, Univision is driven by its mission to give a voice to the Hispanic community," said Randy Falco, president and CEO, UCI. "With the launch of new Univision Media Centers across the country, we are proud to directly impact the communities we serve; committed to creating and increasing opportunities and diversity in media and technology, where Latinos are still severely underrepresented."
Univision Media Centers aim to provide students with experience in production and editing equipment in addition to receiving training from media professionals at UCI. Curriculum is tailored to the students for use in the classroom which will include programs utilizing the donated equipment for a hands on experience.
The ceremonies were broadcast LIVE on Univision Network's hit morning show "Despierta América". Celebrating alongside one another were the middle schools' principals, community members, students, teachers, parents and elected officials, in addition to Univision executives including  EVP and Chief Marketing Officer Jessica Rodriguez, SVP of Corporate Relations & Community Empowerment Ivelisse Estrada and Senior Vice President of News for Local Media Chris Peña, among others, and popular Univision personalities Karina Banda, Jessica Cediel, Fernanda Kelly, Eliecer Marte, Alina Mayo Azze, Luis Sandoval and William Valdés.
Today's inauguration builds on UCI's National Employee Week of Service, where earlier this year Univision employees and on-air personalities broke ground on these five Univision Media Centers at Hernandez Middle School in Austin, TX, Para Los Niños Charter Middle School in Los Angeles, CA, Pulaski International School of Chicago in Chicago, IL, Ruben Dario Middle School in Miami, FL and United for Success Academy in Oakland, CA. Univision held the ribbon-cutting of the first-ever Univision Media Center at the New Venture Community School in the Bronx, NY in January.
Media can access photos of each event here.
CONTACT: Carolina Valencia 212.455.4712 cvalencia@univision.net @UCIPRTeam
###
---
UNIVISION COMMUNICATIONS INC. PRESENTA CINCO NUEVOS CENTROS DE MEDIOS DE UNIVISION EN ESCUELAS INTERMEDIAS EN DIVERSAS REGIONES DEL PAÍS
Tras la inauguración en enero del primer centro en Nueva York, UCI inicia el nuevo año escolar con nuevos Centros de Medios en Austin, Chicago, Los Ángeles, Miami y Oakland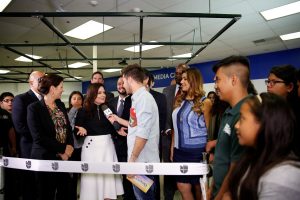 Oakland, CA – El Viernes 9 de septiembre de 2016, Univision Communications Inc. inauguró uno de los 5 nuevos Centros de Medios de Univision.  Jessica Rodríguez, vicepresidenta ejecutiva y directora de mercadeo de UCI estuvo en Success Academy en Oakland junto con Raul Rodriguez, gerente general de Univision para Bay Area, el alcalde de Oakland Mayor Libby Schaaf, William Valdés del programa Despierta América y Alejandra Arce de KDTV Univision 14
---
NUEVA YORK –9 DE SEPTIEMBRE DE 2016– Univision Communications Inc. (UCI), la principal empresa de medios de comunicación al servicio de la comunidad hispana en los Estados Unidos, presentó hoy cinco nuevos Centros de Medios de Univision en escuelas intermedias en Austin, Chicago, Miami, Los Ángeles y Oakland. Como parte de la misión de la Compañía, cada Centro de Medios de Univision empoderará a la nueva generación con acceso a recursos y tecnología para que estudiantes latinos vayan en pos de carreras en el sector de medios de comunicación en los Estados Unidos.
"Univision comprende y recibe con beneplácito la importancia del multiculturalismo en esta industria de cambios constantes y esta sociedad cada vez más diversa. Desde que nuestra compañía comenzó a operar hace más de 60 años, Univision se dedica a su misión de darle una voz a la comunidad hispana", dijo Randy Falco, presidente y director ejecutivo de UCI. "Con el lanzamiento de Centros de Medios de Univision en diversas regiones del país, nos enorgullece tener un impacto directo en las comunidades a las que prestamos servicios; nos hemos comprometido a crear y aumentar las oportunidades y la diversidad en los medios y la tecnología, donde los latinos aún están insuficientemente representados".
Los Centros de Medios de Univision Media Centers tienen como propósito hacer que los estudiantes obtengan experiencia con el equipo de producción y edición, además de capacitación por profesionales de medios de UCI. El currículo se adapta a los estudiantes y está diseñado para ser implementado dentro del aula por lo que incluye programas que utilizan el equipo donado para lograr un aprendizaje más práctico.
Las ceremonias se trasmitirán EN VIVO en el popular programa matutino "Despierta América" de la Cadena Univision. Celebraron juntos los directores de las escuelas intermedias, miembros de la comunidad, estudiantes, maestros y funcionarios electos, como también ejecutivos de Univision, incluyendo a Jessica Rodríguez, vicepresidenta ejecutiva y directora de mercadeo; Ivelisse Estrada, vicepresidenta principal de relaciones corporativas y empoderamiento comunitario; Chris Peña, vicepresidente principal de Noticias para Medios Locales, además de las populares celebridades de Univision Karina Banda, Jessica Cediel, Fernanda Kelly, Eliecer Marte, Alina Mayo Azze, Luis Sandoval y William Valdés.
La inauguración de hoy se produce después de la Semana Nacional de Voluntariado de Empleados de UCI en la que hace meses, empleados y talento de Univision iniciaron la construcción de estos cinco Centros de Medios de Univision en la Escuela Intermedia Hernández en Austin, TX, la Escuela Intermedia Independiente para los Niños en Los Ángeles, CA, la Escuela Internacional Pulaski de Chicago en Chicago, IL, la Escuela Intermedia Rubén Darío en Miami, FL y la United for Success Academy en Oakland, CA. En enero Univision tuvo la ceremonia de inauguración del primer Centro de Medios de Univision en la Escuela Comunitaria New Venture en el Bronx, NY.
Los medios pueden obtener acceso a fotos de cada evento aquí.
CONTACTO: Carolina Valencia 212.455.4712 cvalencia@univision.net @UCIPRTeam
###