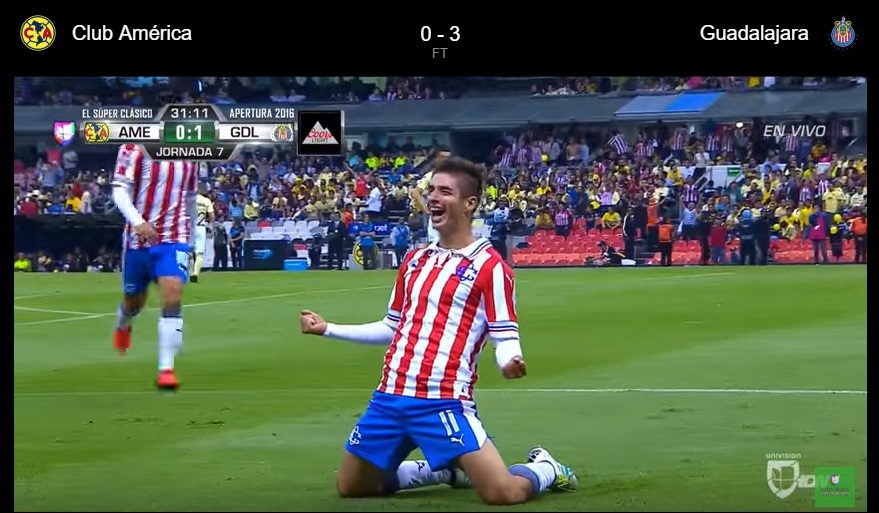 By Diego Vasquez
---
There's nothing like a good-old-fashioned sports rivalry to provide a TV ratings boost. That was the case on Saturday Aug. 27 for Univision, which aired the Liga MX Súper Clásico between América and Chivas. The match between the Mexican club rivals averaged 1.88 million total Hispanic viewers, according to Nielsen, No. 12 for the week on Spanish-language broadcast.
The match averaged 1.1 million viewers 18-49, up 9 percent from the same match last year. It's also the highest-rated Liga MX match so far this season.
Univision Deportes Network also scores
The Súper Clásico had implications beyond the Univision broadcast network. Its sibling cable sports network UDN averaged 443,000 Hispanic households, easily the No. 1 total-day program on Spanish-language cable during the week ended Aug. 28.
In fact, that was more than double the week's No. 2 program, an episode of "La Rosa de Guadalupe" on Galavision. The Saturday night episode averaged 192,000 Latino households.
Univision wins in viewers, ties in 18-49s
Back on broadcast, the soccer match helped Univision average 1.63 million total viewers in primetime for the week, good for No. 1. Telemundo was a close second at 1.44 million, nearly a million more than third-place UniMás' 470,000.
Among the smaller networks, Estrella TV averaged 190,000 total viewers, Azteca 100,000 and MundoMax 80,000. Meanwhile, Telemundo and Univision tied for first for the week among 18-49s, each averaging 740,000 viewers in the demo. UniMás was third at 220,000. Estrella TV led the smaller networks with 70,000 18-49s, followed by Azteca (60,000) and MundoMax (30,000).