By Claudia Balthazar
---
Latin Boy Band, CNCO, made their album debut, "Primera Cita" which means "First Date" in English, after winning Univision's 2015 musical competition "La Banda" (The Band) where millions of viewers watched the boys compete against thousands of others throughout the U.S. and Puerto Rico.
CNCO band members, Ecuadorian Christopher Velez, Cuban Erick Brian Colon, Mexican Joel Pimentel, Dominican Richard Camacho and Puerto Rican Zabdiel de Jesus, gave fans a free concert in Miami-Dade, Florida over the weekend, at the International Mall to celebrate their album debut.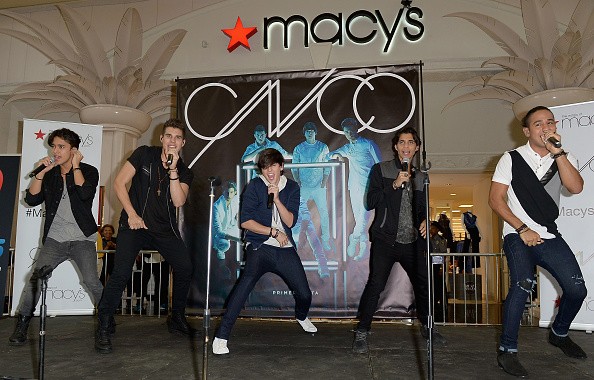 (Photo : Gustavo Caballero/Getty Images)
Musical group CNCO performs at the meet and greet fans at Miami International Mall on August 26, 2016 in Miami, Florida.
Urban Artist Wisin produced CNCO's "Primera Cita" album. Collaborators on the album include Colombian singer Maluma and Spanish singer Abraham Mateo. The boy band's first single "Tan Facil" which means "so easy" in English, was released in January 2016 and made it to No. 25 on Billboard's Latin Rhythm Airplay chart, No. 23 on the Hot Latin Songs chart and then No. 1 on the Latin Airplay chart. Ricky Martin is CNCO's co-creator and mentor. The boy band will tour as the opening act for the Puerto Rican star's "One World Tour" throughout Latin America, the U.S. and Puerto Rico. Simon Cowell is the other creator of "La Banda" which produced CNCO in December 2015.
Fans can download CNCO's "Primera Cita" album on iTunes for $9.99 or just one individual song for $1.29. "No Entiendo" has reached more than 400,00 views and 7,000 likes on YouTube so far; whereas "Reggaeton Lento" is up to 94,000 views with almost 3,000 likes on YouTube. The song might become a fan favorite with similar sounds of former boy band Aventura. And for those fans that are ready to slow-dance, listen to "Devuelveme Mi Corazon" on YouTube or download the song from iTunes.