Season 1 of "Narcos" about the growth of cocaine drug cartels in the late 1980s, will premiere on the Univision Network at 10 p.m. setting the stage for the global debut of season 2 exclusively on Netflix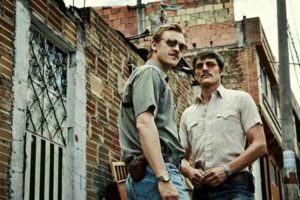 Boyd Holbrook as Steve Murphy and Pedro Pascal as Javier Peña in Netflix's original series Narcos
---
WHAT: The first season of "Narcos," the critically acclaimed original series that captivated Netflix members worldwide, is set to premiere on the Univision Network on Monday, August 22nd at 10 p.m. ET/PT (9 p.m. CT).
In an unprecedented collaboration between Univision and Netflix , "Narcos" will air for the first time ever on broadcast television in the U.S. allowing millions of Hispanic viewers to enjoy the first season of the hit series in advance of the second season, which will be available exclusively on Netflix starting September 2, 2016.
A Golden Globe nominated series, "Narcos" chronicles the gripping, real-life stories of the growth of cocaine drug cartels of the late 1980s and the collaborative efforts of law enforcement to meet them head on in brutal, bloody conflict. It details the conflicting forces – legal, political, police, military, and civilian – that clash in an effort to control the world's most illicit commodity: cocaine. The first season of the series comprises 10 episodes and follows cold-blooded Colombian drug baron Pablo Escobar, also known as a terrorist, a congressman loved by the poor, and the mastermind behind the cocaine mass trade business. The role of Escobar is played by Brazilian actor Wagner Moura, who received a Golden Globe nomination for his portrayal of the kingpin.
The story recalls the main events that occurred in Colombia from the late 1970s, when Pablo Escobar first began manufacturing cocaine, to July 1992 when he escaped from prison. The series is told through the perspective of Steve Murphy (Boyd Holbrook), an American DEA agent working in Colombia during this period, giving viewers a unique look at both sides of the coin, from criminality to law enforcement and official corruption.
WHEN:          Monday August 22, 2016 at 10 p.m. ET/PT (9 p.m. CT)
WHERE:       Univision Network
ADDITIONAL INFORMATION:
"Narcos" was filmed in Colombia and produced by Gaumont Television for Netflix. The series re-partners creator and executive producer José Padilha ("Elite Squad," "RoboCop") with acclaimed Brazilian actor Wagner Moura ("Elite Squad," "Elysium") alongside Boyd Holbrook ("Gone Girl") and Pedro Pascal ("Game of Thrones") as real-life DEA agents Steve Murphy and Javier Peña. The cast also includes British actress and singer Joanna Christie as one of the female leads playing the role of Connie, the wife of Holbrook's character, as well as Maurice Compte, André Mattos, Roberto Urbina, Paulina Gaitán, Stephanie Sigman, Ana de la Requera, and Manolo Cardona.
"Narcos'" catchy opening theme, "Tuyo", was written and composed by Brazilian singer-songwriter Rodrigo Amarante
For more information and sneak peek videos, please visit www.univision.com Viewers can join the conversation about "Narcos" on Twitter via @Univision using the hashtag #NarcosS1, as well as comment along with others on Facebook.com/Univision. Viewers can also catch the show live via Univision NOW, UCI's live streaming service of the Univision Network available on iOS, Android and the web.
CONTACT: Candice Georgi (305) 471-4057 cgeorgi@univision.net @UCIPRTeam
###
---
LA PRIMERA TEMPORADA DE LA ACLAMADA SERIE ORIGINAL DE NETFLIX "NARCOS" SE TRASMITIRÁ POR LA CADENA UNIVISION EL 22 DE AGOSTO
La 1ra temporada de la serie "Narcos" sobre la expansión de los carteles de la cocaína en la década de los ochenta, se estrenará en la Cadena Univision a las 10 p.m. en antesala al debut global de la 2da temporada exclusivamente por Netflix.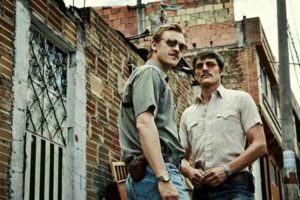 Boyd Holbrook como Steve Murphy y Pedro Pascal como Javier Peña en la serie original de Netflix "Narcos"
---
QUÉ: La primera temporada de "Narcos", la serie original que ha cautivado a los miembros de Netflix en todo el mundo y ha sido aclamada por la crítica, se estrenará en la Cadena Univision el lunes, 22 de agosto, 2016 a las 10 p.m. Este/Pacífico (9 p.m. Centro).
En una colaboración sin precedente entre Univision y Netflix, "Narcos" se trasmitirá por primera vez vía televisión de señal abierta en Estados Unidos, permitiendo que millones de televidentes hispanos disfruten de la primera temporada de la exitosa serie, en anticipación a la segunda temporada, que se trasmitirá exclusivamente por Netflix a partir del 2 de setiembre, 2016.
"Narcos" es una serie nominada al Golden Globe inspirada en la vida real que narra la fascinante expansión de los carteles de la cocaína a fines de los ochenta y la colaboración entre las agencias de la ley para enfrentarse a ellos frontalmente en un conflicto sangriento y brutal. Detalla las fuerzas en conflicto: legales, políticas, policiales, militares y civiles, que chocan en un esfuerzo por controlar el producto más ilícito del mundo: la cocaína. La primera temporada de la serie comprende 10 episodios y sigue al sanguinario barón de la droga, el colombiano Pablo Escobar, también conocido como un temido terrorista, congresista amado por los pobres y el responsable de la masificación del negocio de la cocaína. Wagner Moura, el actor brasileño en el rol de Escobar, recibió una nominación al Golden Globe por encarnar al narcotraficante.
La historia es la crónica de lo ocurrido en Colombia desde fines de los setenta, cuando Pablo Escobar comenzó a producir cocaína, hasta julio de 1992 en que escapó de prisión. La serie se narra desde la perspectiva de Steve Murphy (Boyd Holbrook), un agente estadounidense de la DEA que trabaja en Colombia durante este periodo, lo que les da a los televidentes un ángulo singular de ambas caras de la moneda, desde la actividad criminal, hasta las acciones policiales y la corrupción official.
CUÁNDO:     Lunes, 22 de agosto, 2016 a las 10 p.m. Este/Pacífico (9 p.m. Centro)
DÓNDE:       Cadena Univision
INFORMACIÓN ADICIONAL:
"Narcos" fue filmada en Colombia y producida por Gaumont Television para Netflix. La serie es una nueva colaboración entre el creador y productor ejecutivo José Padilha ("Elite Squad", "RoboCop") y el renombrado actor brasileño Wagner Moura ("Elite Squad", "Elysium") junto con Boyd Holbrook ("Gone Girl") y Pedro Pascal ("Game of Thrones") que protagonizan a los agentes de la DEA Steve Murphy y Javier Peña. El elenco también incluye a la actriz y cantante británica Joanna Christie como una de las protagonistas femeninas en el papel de Connie, la esposa del personaje de Holbrook, así como a Maurice Compte, André Mattos, Roberto Urbina, Paulina Gaitán, Stephanie Sigman, Ana de la Requera y Manolo Cardona.
El pegajoso tema "Tuyo" con que abre "Narcos" fue escrito y compuesto por el cantautor brasileño Rodrigo Amarante.
Si desea más información y videos de avances, por favor visite www.univision.com. Los televidentes pueden participar en la conversación sobre "Narcos" en Twitter vía @Univision usando el hashtag #NarcosS1, y también pueden comentar junto con otros en Facebook.com/Univision. Los televidentes también pueden ver la serie vía Univision NOW, el servicio de streaming en vivo de UCI de la Cadena Univision disponible en iOS, Android y por internet.
CONTACTO: Candice Georgi (305) 471-4057 cgeorgi@univision.net @UCIPRTeam
###