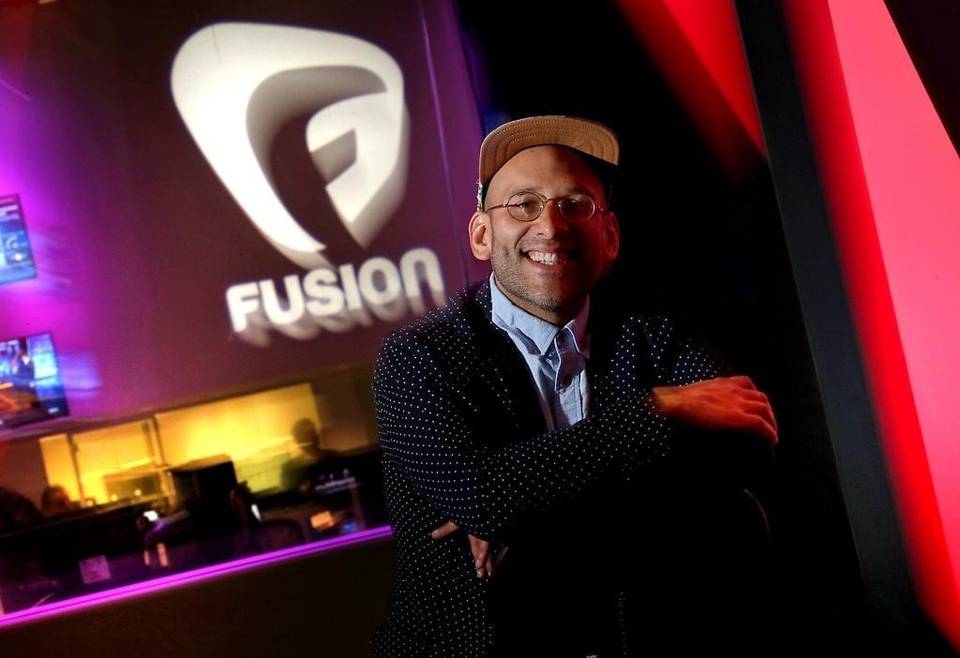 Alexis Madrigal, the editor in chief of Fusion, at the Fusion Media Group in Doral. (Photo credit: Patrick Farrell)
---
By Rene Rodriguez
When news broke one morning in January that Univision, the largest Spanish-language TV network in the world, had acquired a majority stake in The Onion, many who glanced at the headline assumed it was just another of the popular website's satirical essays.
But anyone who had been paying attention to what Univision Communications Inc. (UCI) had been doing over the past two years knew the news was no joke. Since launching the English-language TV network and website Fusion in 2013 as a joint venture with Disney ABC, Univision has moved beyond its traditional Spanish-speaking core audience, aggressively courting millennials of all cultures and ethnicities.
In April, Univision bought out Disney's 50 percent stake in Fusion, taking over distribution and ad sales rights for the network. Univision, which owns 59 television stations, 67 radio stations, 11 cable brands and multiple websites in the U.S., is in the process of preparing an initial public offering. After experimenting with sports, talk shows and comedies, Fusion has been retooled to focus primarily on politics, investigative journalism and social commentary — the issues that are of primary importance to its target 18-34 demographic. The company more than doubled its revenues from 2014 to 2015, from $28.1 million to $63.5 million, while steadying its losses, $35 million in 2014 and $37.6 million in 2015.Fusion is also now the anchor of the Fusion Media Group, Univision's ambitious multiplatform endeavor launched in April that includes The Onion, the African-American news site The Root, the pop-culture obsessive The AV Club, the music-oriented The Flama and other popular online destinations. The intent is to supplant Fusion's current TV offerings with programming produced in conjunction with the portfolio's other entities — all of which have established a broad reach with Fusion's target demographic.
"Fusion's core mission has remained consistent: to deliver news to the new America — to serve a young, diverse audience with content that informs, provokes and entertains," said Isaac Lee, chief news, entertainment and digital officer for Univision. "I think the team is executing on that mission better now than we were two years ago — and we will be even better at it a year or two from now."Fusion is still a fairly young brand, and I know it will continue to grow as we focus on covering stories and issues that matter to the rising American mainstream — one that is more diverse and inclusive than previous generations. "So far, the numbers prove Lee right. According to the media measurement/analytics tracker ComScore, Fusion Media Group drew 36.5 million unique visitors in May 2016 — more than five times the 7 million visitors Univision reached across all of its digital platforms in January 2015.Over the past year, Fusion's main Facebook page has gone from 245,000 likes to nearly 1,074,000. Its three Twitter feeds have gained more than 100,000 followers in the same period, with a current total of more than 400,000.
Source: Miami Herald