"Reto28" provides users with a free, 28-day step-by-step plan designed to help them take control of their health and weight, featuring recipes, exercise routines, health tips and much more
Over 350,000 people have used the free tool since its introduction in 2015, achieving a total weight loss of 238,840 pounds
Registration for the 2016 challenge begins today at reto28.univision.com
---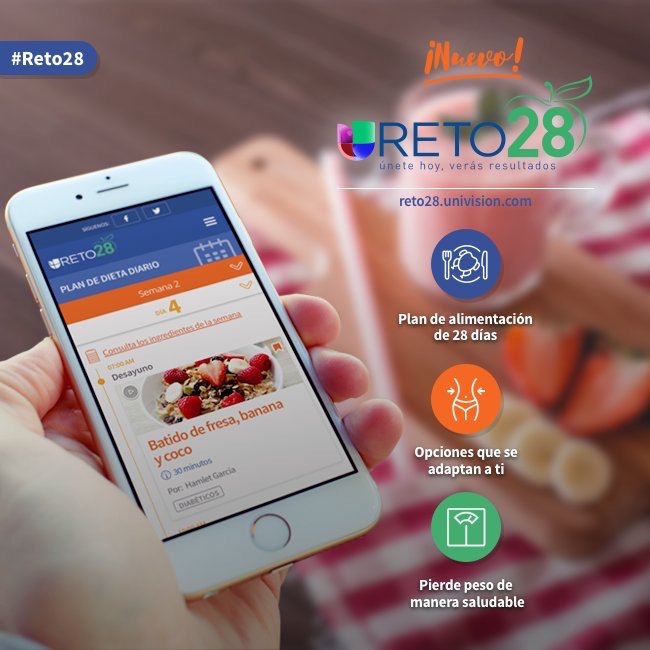 ---
MIAMI – JUNE 20, 2016 – A new, updated version of Univision News' highly successful "Reto 28" fitness and nutrition challenge kicks off today as part of UCI's 4th annual Health Week initiative. Since its introduction last year, "Reto 28" has helped over 350,000 participants manage their weight and lead healthier lives. The 2016 challenge has been expanded to include new customization options, a wider array of multiplatform health-related information, and video testimonials from previous users who have lost weight and improved their overall health. Registration for this year's free 28-day plan begins today at reto28.univision.com. Users can also join a Reto 28 Facebook group.
Univision News' "Reto 28" challenge is the result of a collaboration between three prominent experts: Sabrina Hernández-Cano, licensed nutritionist and diabetes educator; Maria Guerra, fitness instructor and spokesperson for the American Heart Association's Go Red Heart campaign; and chef Hamlet García, also a spokesperson for the Go Red Heart campaign. Together, they provide "Reto 28" participants with all the tools and information they need to improve their eating habits and take control of their weight.
For 28 days after registering for the challenge, users receive free weekly meal plans with healthy, low-calorie recipes for breakfast, lunch, dinner, and two daily snacks, as well as exercise videos to do at home and a wealth of specialized multiplatform content focused on weight loss and wellbeing. This year's "Reto 28" will also offer:
The option to choose a plan designed for diabetics
A wider variety of Latin-flavored recipes for families
The ability to track weekly weight and fitness progress
A printable weekly supermarket list
A feature allowing users to save their favorite recipes for quick access later
Nutrition tips from the American Heart Association
To complete the simple registration process, participants only need to visit reto28.univision.com, create a profile with basic information such as age, weight, and lifestyle habits, and initiate the plan. During the next 28 days, they can track their progress and share with the Reto 28 community by updating their weight, uploading photos and inputting their exercise routines. Users can register at any time during the year and complete the program as many times as they wish, always free of charge.
Since its introduction in 2015, "Reto 28" has become a highly popular digital tool among Hispanic Americans. The program has registered 355,000 users to date, and over 607,000 posts plus 13,000 photos have been shared through the Reto 28 Facebook group during the past year. The nationwide results have also been impressive:
Those who completed the challenge lost an average of 6 lbs. during the 28 days, and the total weight loss was 238,840 pounds.
The average BMI loss was 2% per person.
Thousands of participants have stated that "Reto 28" not only helped them lose weight, but also aided in lowering their blood pressure and sugar intake as well as increasing their overall energy.
"Reto 28" was created by Univision News as part of Health Week, an annual health and wellness initiative supported by the award-winning Univision Contigo empowerment platform of Univision Communications, Inc. (UCI), the leading media company serving Hispanic America. Health Week 2016 – Mi Salud, which began on Friday, June 17, features health-related content on all Univision platforms including television, radio, local, and digital, as well as "Camino a la Salud" (The Road to Health), a nationwide local health tour that provides free health screenings, fitness activities and other wellness-related community outreach events.
Audiences can connect on Twitter via @UnivisionSalud and by using #Reto28 and #PrimeroMiSalud across social platforms. For more information, please visit reto28.univision.com and Univision.com/Salud. Health Week 2016 – Mi Salud is supported by grants from The California Endowment, the Ford Foundation and The SCAN Foundation.
CONTACT:
Jose Zamora
305.925.8835
josezamora@univision.net
@UCIPRTeam
###
---
UNIVISION NOTICIAS LANZA NUEVA VERSIÓN DE SU EXITOSA HERRAMIENTA DIGITAL DE NUTRICIÓN Y EJERCICIOS, "RETO 28", COMO PARTE DE LA 4TA SEMANA ANUAL DE LA SALUD DE UCI
 "Reto28" ofrece a sus usuarios un plan gratis de 28 días diseñado para ayudarlos a tomar las riendas de su salud y adelgazar, con recetas, rutinas de ejercicios, consejos expertos y mucho más
Mas de 350,000 personas han usado la herramienta gratuita desde su introducción en 2015, logrando una pérdida de peso total de 238,840 libras
 La inscripción para el reto de 2016 comienza hoy en reto28.univision.com
---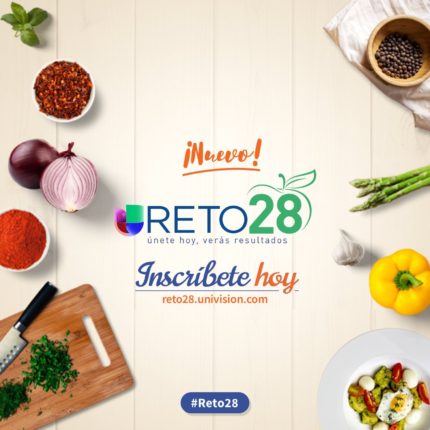 ---
MIAMI – 20 DE JUNIO DE 2016 – Una versión nueva y actualizada del exitoso plan de nutrición y ejercicios de Univision Noticias, "Reto 28", se inicia hoy como parte de la 4ta iniciativa anual "Semana de la Salud" de Univision Communications Inc., (UCI). Desde su introducción el año pasado, "Reto 28" ha ayudado a más de 350,000 participantes a controlar su peso y vivir una vida más saludable. El desafío de 2016 ha sido ampliado para incluir nuevas opciones de personalización, una mayor variedad de información multiplataforma sobre el tema de la salud y testimonios en video de usuarios previos que han adelgazado y mejorado su salud en general. El público puede registrarse a partir de hoy para el plan gratuito de 28 días de este año en reto28.univision.com. También pueden unirse al grupo de Reto 28 en Facebook.
"Reto 28", de Univision Noticias, es el resultado de una colaboración entre tres destacados expertos: Sabrina Hernández-Cano, nutricionista licenciada y educadora certificada en el tema de la diabetes; Maria Guerra, instructora de educación física y vocera de la campaña Go Red Heart de la American Heart Association; y el chef Hamlet García, también vocero de la campaña Go Red Heart. Juntos, estos expertos les proporcionan a los participantes de "Reto 28" todas las herramientas e información necesarias para mejorar sus hábitos alimenticios y tomar control de su peso.
Por 28 días después de inscribirse para el reto, los usuarios reciben planes de alimentación gratuitos para cada semana, con recetas para desayunos, almuerzos, cenas y dos meriendas diarias, además de una gran cantidad de contenido multiplataforma especializado en la pérdida de peso y el bienestar físico. El programa "Reto 28" de este año también ofrece:
La opción de elegir un plan diseñado para diabéticos.
Más recetas con sabores latinos para familias.
La capacidad de medir el progreso semanal en pérdida de peso y condiciones físicas.
Una lista semanal imprimible de productos para comprar en el supermercado.
La opción de guardar recetas favoritas para acceder fácilmente a ellas más tarde.
Consejos de nutrición de la American Heart Association.
Para realizar el sencillo proceso de registración, los participantes solo tienen que visitar reto28.univision.com, crear un perfil con información básica como edad, peso y hábitos de vida, y darle inicio al plan. Durante los siguientes 28 días, podrán seguir su progreso y compartir con la comunidad de "Reto 28" actualizando su peso, subiendo fotos personales e ingresando su rutina de ejercicios. Los usuarios pueden inscribirse en cualquier momento del año y completar el programa cuantas veces quieran, siempre gratis.
Desde su introducción en 2015, "Reto 28" se ha convertido en una herramienta digital sumamente popular entre la comunidad hispana en Estados Unidos. En el programa se han inscrito 355,000 usuarios hasta la fecha, y más de 607,000 mensajes, además de las 13,000 fotos que han sido compartidas por el grupo "Reto 28" en Facebook durante el año pasado. Los resultados a nivel nacional también han sido notables:
Los que completaron el reto adelgazaron un promedio de 6 libras por persona durante los 28 días, y el peso total que perdieron conjuntamente fue de 238,840 libras.
La pérdida en BMI (índice de masa corporal) fue de 2% por persona.
Miles de participantes han declarado que "Reto 28" no solo los ayudó a adelgazar, sino también a bajar su presión arterial, ingerir menos azúcar y aumentar sus niveles de energía en general.
"Reto 28" fue creado por Univision Noticias como parte de "Semana de la Salud", una iniciativa anual de salud y bienestar perteneciente a Univision Contigo, la galardonada plataforma de empoderamiento de Univision Communications Inc. (UCI), la principal empresa de medios de comunicación al servicio de la comunidad hispana en los Estados Unidos. "Semana de la Salud 2016 – Mi Salud", que comenzó el viernes 17 de junio, presenta contenido especial dedicado al tema de la salud en todas las plataformas de Univision – televisión, radio, digital y estaciones locales – además de realizar una gira nacional titulada "Camino a la Salud", que incluirá exámenes médicos gratuitos, actividades de educación física y otros eventos con participación de la comunidad.
El público puede conectarse a través de Twitter vía @UnivisionSalud y usando #Reto28 y #PrimeroMiSalud en las plataformas sociales. Para más información, por favor visite reto28.univision.com y Univision.com/Salud. "Semana de la Salud 2016 – Mi Salud" es patrocinada por donaciones de The California Endowment, la Fundación Ford y la Fundación SCAN.

CONTACTO:
Jose Zamora
305.925.8835
josezamora@univision.net
@UCIPRTeam
###