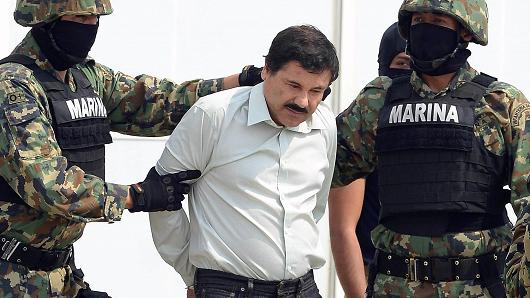 Alfredo Estrella | AFP | Getty Images
Mexican drug trafficker Joaquin Guzman Loera aka 'el Chapo Guzman' (C), is escorted by marines as he is presented to the press on February 22, 2014 in Mexico City.
---
By Michelle Castillo
By embracing English-first Hispanics, Univision's new strategy may allow it to expand its reach past its Spanish-language demographic. And with a looming IPO, the company is garnering a lot more interest in the media world.
"I think what came out of this upfront (presentations for advertisers) is that Univision is a lot more than novelas," said Mark Lopez, executive vice president and general manager of Univision Digital. "We're a mainstream American brand."
Because of their large purchasing power — $1.5 trillion in 2015, according to Nielsen — Hispanics are a lucrative advertising demographic for any company. But as America grows more multicultural, Univision is finding that it has to mix up its programming in order to reach a new generation of English-first, digitally minded viewers.
You don't have to speak Spanish to reach them. Pew Research Center reported that in 2014 about two-thirds of Hispanic millennials were born in the U.S. In addition, 71 percent of all Hispanics found that it wasn't necessary for a person to speak Spanish to be considered Hispanic or Latino. Hispanic millennials are also more likely to use mobile and watch digital video than non-Hispanics.
"If you're not appealing to Hispanic-Americans over the next 15 to 20 years, you are going to become increasingly irrelevant, and your base is going to narrow," said David Selby, managing partner and president of agency Schafer Condon Carter.
By including more English-language programming, Univision also gets the added bonus of appealing to all millennials. It's a group that all networks are struggling to reach, as more of the demographic cuts the cord or decides never to have a cable subscription.
Indeed, Univision's evolution from a niche player to a mainstream media force is evident in everything from its early roots in San Antonio, to its current headquarters in New York City, to its CEO, Randy Falco, who previously was a top executive at NBCUniversal.
During its upfront presentation last week, Univision announced its new production arm Univision Story House would be working with Netflix to co-produce an "El Chapo" drama series, based on convicted Mexican drug lord Joaquin "El Chapo" Guzman. The show will premiere in the U.S. on the channel UniMas, then make its way to Netflix. In the rest of the world, the series will premiere on the streaming platform. Univision will also be the first U.S. broadcaster to air Netflix series, with the two striking deals for "Narcos" and "Club de Cuervos."
"You see other companies that really play with the millennial segment try to extend their brand (on TV), but they don't really have the brand equity. … As a team we're super innovative in the marketplace, not settling with the status quo, but looking for opportunities to leverage content," Univision Digital's Lopez said. "We're looking at additional distribution windows to leverage the strength of digital properties."
In addition, Univision detailed plans to expand English language-based site Flama and TV network Fusion, adding shows from The Onion and The Root to the network.
"We know the power and connection that Univision has with its audience, but we wanted to create a different product that can speak to the rising and new changing face of America," said Boris Gartner, president and chief operating officer at Fusion.
Univision's biggest TV-based English-language plays are channels El Rey and Fusion, which until April was a joint venture between Univision and ABC. Both channels currently reach about 40 million homes each, though executives have said there are plans to expand that footprint.
According to SEC filings, Univision had a loss of $39.9 million in 2015, primarily due to the two networks ($21.8 million on El Ray and $17.8 million on Fusion). The prior year, it said it had a loss of $82.2 million on El Ray and Fusion, $70.3 million and $11.9 million, respectively.
Univision says that 2 ½-year-old Fusion in particular has been growing, especially on digital. Website traffic to Fusion.net grew more than 300 percent in 2015. Purchasing The Root and getting a controlling stake in The Onion has helped expand Univision's total digital reach from 7 million in January 2015 to 52 million unique viewers last month, according to comScore.
The network is also rumored to be in talks to purchase Gawker Media, and sources close to the matter said Univision talked to Gawker about doing Spanish-language versions of some of its sites like Gizmodo. Univision declined to comment on rumors or speculation. Gawker has not commented on the rumors.
Fusion doubled its revenue from $28.1 million in 2014 to $63.5 million in 2015.
Further increasing its digital footprint, Univision is also expanding the Univision Creator Network, its digital group of around 100 social media influencers. Talent appears in Univision's digital properties as well as provides additional coverage for the network's TV events like the Latin Grammy Awards or Premio Lo Nuestro.
Lopez said the group is a testing ground that allows the network to see which digital creators may be able to cross over to its TV properties. It also owns and operates the digital properties created by members of this group, which gives it a clearer path to turn these shows into TV programs.
"The goal of that network for us is to really understand the influencer community, and where this market is going in terms of content creation," he said.
Tim Condon, founding partner and CEO of agency Schafer Condon Carter, points out that since millennials are heavy on digital media consumption, working with digital media companies is a smart way to reach the group.
"All the broadcast players have to hedge their bets on the digital side," he said.
Selby added that because of Univision's legacy with Hispanics, it can leverage its brand to appeal to new groups even with fresh styles of programming. That's great news for brands.
"(Univision) doesn't have as much meaningful competition in reaching Hispanic-Americans or acculturated Hispanics who are English-first," he said. "They're still the dominant game in town. … They have a trust level with their viewers that would be the very enviable from the other networks' standpoint. Because of the power of their footprint, who wouldn't want to partner with them?"
Source: CNBC