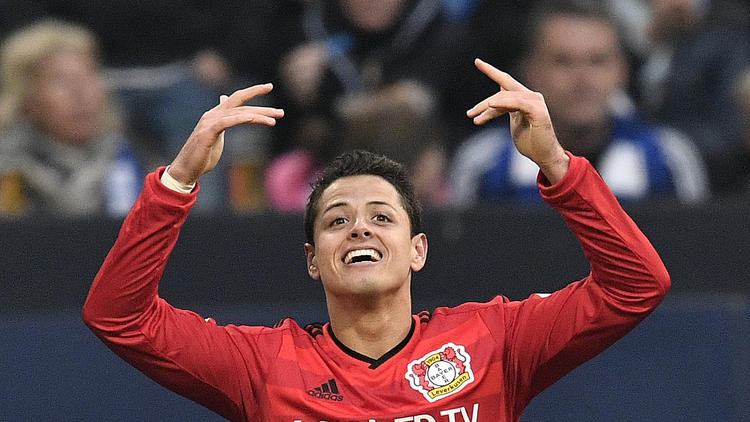 Bayern Leverkusen's Javier Hernandez of Mexico celebrates after scoring a goal during a match against FC Schalke 04 on April 23.
(Martin Meissner / Associated Press)
---
By Kevin Baxter
Rob Stone remembers sitting on the Fox Sports set in Vancouver a year ago, staring at a TV camera and nervously waiting for the red light to illuminate on what he knew would be a defining summer for both him and his network.
No one had ever covered a Women's World Cup like Fox planned to cover this one. And the odds that things could go sideways, costing the network both money and prestige, were high.
"There were a lot of eyes scrutinizing us and listening very intently to what we said and how we laid out our shows," Stone said. "And we passed that test."
That's putting it mildly. According to the Wall Street Journal, Fox pulled in $40 million in advertising during last summer's month-long tournament in Canada, more than twice what it had anticipated. And the final between the U.S. and Japan drew 25.4 million viewers, a record for a televised soccer game in the U.S.
That gives Fox a solid foundation to build on next month when it turns its attention to the prestigious Copa America Centenario, a 23-day tournament that kicks off Friday with the U.S. meeting Colombia in Santa Clara. Sixteen teams – including Mexico, the U.S. and five of the world's top nine teams – will play 31 games in 10 U.S. cities before the June 26 final and Fox will show them all live on one of four networks, with Stone anchoring the coverage from Fox's studios in West Los Angeles.
The Univision Deportes Network will also broadcast every game live, a commitment that UDN President Juan Carlos Rodriguez predicts will draw a record audience for Spanish-language television in the U.S.
"We believe that we are going to have 20% higher ratings than during the World Cup – just because of prime time and the teams that are relevant for us," said Rodriguez, who will air games on UDN, Univision and UniMas. "It's Mexico, it's the U.S. But it's also Brazil with its stars, Argentina with its stars, Uruguay with its stars."
Univision pulled in 9.2 million viewers for the 2014 World Cup final between Germany and Argentina.
David Neal, who oversaw Fox's Women's World Cup broadcasts, wouldn't say what his network is spending on Copa America. But he acknowledged that Fox's commitment to soccer over the past 12 months, in terms of time and resources, dwarfs what it has spent on any sport other than the NFL.
Despite that, the network faces enormous challenges that go beyond covering the games in next month's tournament. Because with ESPN, Fox Sports and Univision devoting more than 350 hours of national TV time to 88 games in the Copa America, European Championships and Major League Soccer combined over the next 43 days, Fox's success will rely on Neal finding a way to make his coverage stand out.
"The four weeks coming up, for soccer [coverage] in the United States," he said, "you could argue that it's at an unprecedented level."
Neal joined Fox Sports in 2011, shortly after the network spent $425 million for the U.S. English-language broadcast rights to the next two World Cups, a package that was expanded last year when FIFA threw in the rights to the 2026 World Cup as well. So Neal has spent the last five years building a foundation for coverage of those events, a construction project that last summer's Women's World Cup and this summer's Copa America Centenario are a huge part of.
"What I think we did at [the] Women's World Cup is we dispelled the vast majority of cynicism that there was about us and whether or not we were capable stewards of the World Cup rights," Neal said. "We made it better.
"And that is our goal. To make our coverage, make the viewers' experience, better each time out."
For Copa America, he'll be relying on a crew of about 200 to make that happen. Fox will have at least four game-commentary teams, two that will travel and two that will call games off a monitor in Los Angeles. Stone will head a group of studio analysts that will include former U.S. national team players Alexi Lalas and Eric Wynalda.
Swiss-based Home Broadcast Services (HBS), the official FIFA broadcaster, will provide the images from the tournament's 10 venues to Fox and Univision. HBS, the host broadcaster for the last four World Cups as well as the 2015 women's event, will employ 24 cameras at each group-play game, at least 30 for the six knockout-round matches and 36 for the June 26 final in East Rutherford, N.J.
One difference from last summer, though, is that Fox's ratings will no longer be tied to the U.S. team's success against mostly unknown players. The Copa America field includes a wealth of recognized stars, from Argentina's Lionel Messi and Colombia's James Rodriguez to Mexico's Javier "Chicharito" Hernandez and Brazil's Kaka. That could make nearly every game must-see TV.
"You say Brazil and Argentina, you already have people's attention whether they're a soccer fan or not," Stone said. "This is an event that one could easily say is the biggest men's soccer event on the planet this year.
"It's a big difference between covering a league and covering a month-long tournament. We're invested in it seven days a week. These are true tests. These are our Olympics."
Source: Los Angeles Times