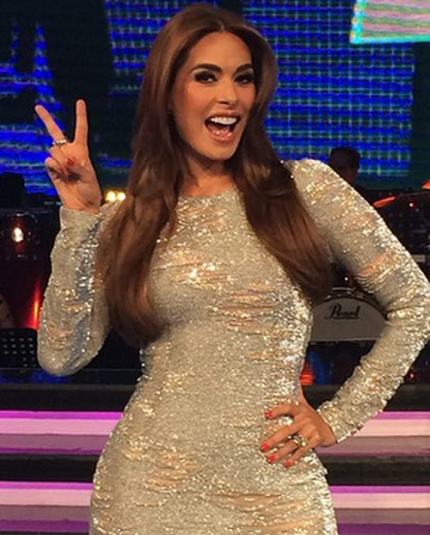 ---
By Janel Saldana
Univision's singing competition "Va Por Ti" is coming back with a second season after taking a one-year break. Scheduled to premiere this summer, the reality show will introduce the audience to talented Latino singers, who will be leaving their hearts and souls on the stage each week to prove the captains and judges they have what it takes to become the next Latino superstar.
Latin Times had the chance to talk to the show's host, Galilea Montijo, during the round of auditions in New York City, where she shared details on her feelings coming back to the reality competition, her role during the pre-production process, her most difficult task as the M.C., and how sometimes she finds herself assuming another part, "Mama Hen."
"I'm very happy to be returning for the second season of "Va Por Ti," and to start the season," Montijo said. "As happy as can be, because I think this is a great project and a great opportunity for all those talents out here in the U.S., and I'm very excited to see the powerhouses that will be coming in, know their stories, and find out who will be our next winner."
The 42-year-old entertainer mentioned that even though she gets to be present during the audition process this year and gets to experience all the amazing vocals that walk in to the room, she is not involved in the decision-making – but she would love to!
"I would love to decide who goes through the next round," she told Latin Times, "although, I would be very bad at it. I would say yes to everyone… that's probably why the production doesn't let me pick them," she joked.
She added that her role during auditions is more of a "Mama Hen" persona. "I'm there to support them, cheer for them, send them good vibes, and let them know that nothing's wrong, and everything is going to be OK." She continued, "I'm also shooting some segments for the show, which is something I enjoy the much and I am supper happy to be able to meet them in person and listen to what they have to say."
Galilea pointed out that if she were sitting at the expert panel, she would probably not focus so much on the contestant hopeful's voice, but a little more on the "It Factor."
"I think that personality is a must, no?" she stated. "To have that something that you know will turn into your own style and your own voice in the years to come, and it might not be having the best voice what's going to make you famous. A lot of times is having your own style and having a rare tone in your voice what can win the audience's heart,"
Throughout the interview, the charismatic TV personality emphasized the importance of the singers' background stories in a competition like this, mentioning that is your past, present, and future experiences that make you who you are, and showcasing those tales in front of an audience constitutes the true beauty of the show.
When Latin Times asked Galilea if she could reveal any other details about the production, including names of potential captains and/or judges, she replied: "We still don't know anything. They won't tell me anything."
She later admitted, "Honestly, I fell in love with season one's captains and judges, so I would love for them to come back and repeat the same format, but I'm not the producer," she joked. "So, we are going to have to wait to find out the surprises the production has for us."
Finally, the Tapatía beauty shared that it is not all unicorn, cotton candy and rainbows when it comes to elimination days. "Saying goodbye on elimination days is the most difficult part for me," she declared. "Because I come baring the good and the bad news, and that is very hard for me, especially as the competition moves forward because you start getting attached to those who are still in the competition."
Source: Latin Times
###