As Mainstream TV Gets More Multicultural, Targeted Nets Struggle for Carriage
By R. Thomas Umstead
4/18/2016
---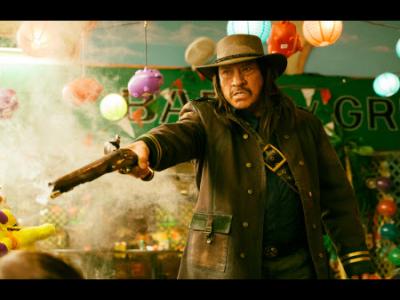 El Rey Network's "From Dusk Till Dawn"
---
Multicultural-themed programming is riding a wave of ratings and critical success on TV, but that rising tide isn't lifting all boats.
From Emmy Award-winning shows like Netflix's Orange Is the New Black and its multicultural cast, to ratings hits like Fox's Empire, Starz's Power and ABC's Fresh Off the Boat and Black-ish, ethnically diverse TV content is hot. But even in such a TV climate, executives at independently owned multicultural networks said their services still struggle to gain widespread distribution.
Even with a growing base of multicultural subscribers who watch more hours of television than white viewers — along with an increase of young, multicultural millennials who are either cord-cutters or cable-nevers — distributors aren't rushing to sign up networks that target the industry's current and future subscribers, executives said.
"Overall, 40% of the population is multicultural, so what all that means is multicultural is now the new mainstream," said Tonia O'Connor, chief commercial officer and president of content distribution for Univision Communications, which also handles distribution duties for four-year-old, male-targeted El Rey Network and young, Hispanic audience-targeted news service Fusion.
"It's good business to be in this business," O'Connor said. "Whether distributors have come to embrace it yet or not, they absolutely have to in order to continue to have any growth in the future — they can no longer ignore the multicultural consumer or opportunity."
A HOT CATEGORY
While most television observers recognize today's lineup of quality content from cable, broadcast and over-the-top digital services like Netflix as a new Golden Age of Television, it's also arguably the most prolific time for multicultural programming.
This comes as the U.S. grows more diverse, and as diverse groups grow more influential determining in how and when entertainment content is delivered.
African-Americans watched more than 44 hours of live and time-shifted TV a week during fourth-quarter 2015, well above the 31-hour average for all adults, according to the recent Nielsen Total Audience Report. Hispanics nearly double all viewers in minutes spent watching video on smartphones, while Asian-Americans use multimedia devices to view television nearly a full hour more than the general public does.
Given those realities, the assumption would be that multichannel-video providers would be aggressive in launching networks aimed at the growing, highly influential multicultural audience. But network executives said some distributors have yet to recognize the value of multicultural content.
Most high-profile shows with appeal to multicultural audiences air on mainstream networks backed by major media companies, Africa Channel executive vice president of content and global operations Narendra Reddy said, adding that independently-owned multicultural channels don't have the budget or staff to develop and market such programming. But that doesn't mean Africa Channel's scripted movies and reality shows originating from the continent are any less valuable or appealing to multicultural viewers, Reddy said.
He added that most favored nations language in contracts, restrictions on social-media marketing and promotion of content on the Web, and a lack of negotiating power during contract talks have hampered Africa Channel's ability to gain distribution as an independent network.
"Even if the heads of programming for these various distributors believe that this content that we have will resonate with audiences, basically they're forced to carry networks from the companies that have far greater leverage than we do," Reddy said.
That doesn't sit well with multicultural viewers who respond favorably to content targeted toward them. According to a recent Horowitz Race, Diversity and Media survey, 64% of multicultural millennials said they found television shows featuring a mainly multicultural cast appealing, compared to 44% of white viewers.
Yet beyond a few select shows, network executives say such images are rare on the current lineup of cable channels.
STILL AN UNDERSERVED AUDIENCE
"A multicultural cable subscriber today sees his or her dollar being mainstream, but the reality is when they look at what's being offered they're seeing that there's just not that much there," said Mark Walton, president of sales and marketing for One Caribbean Television. "Even though you may see an article or some conversation around all of this, from the consumer's perspective it gets back to 'I have 500 channels and I only have four or five that are addressing some of the interests I have.' "
One Caribbean Television, which offers entertainment, news and weather content from such Caribbean nations as the Bahamas, Antigua and Barbuda, Jamaica and Barbados, is currently offered on RCN with the network in distribution talks with several other operators. One Caribbean targets the nearly 10 million to 20 million African-Americans who have some connection to the Caribbean, as well as mainstream viewers who travel and have interest in the region.
"The consumer is paying X dollars but is getting X minus dollars in terms of value to them," Walton said. "In order to breach that gap and reduce churn, you have to have the offerings that that consumer wants."
Network executives said they recognize that MVPDs are under pressure to curb programming costs and adjust programming packages to prevent younger subscribers from churning or shifting to over-the-top subscription VOD services.
"[Distributors] might not be as confident to take risks on launching multicultural-themed channels," Miguel Santos, general manager for Asian-American targeted network Myx TV, said. "The business environment is di_ cult — they're seeing some churn, so it's making a lot of MVPD executives risk-averse. They don't really see at the moment the value of multicultural channels."
One executive who said she does recognize the value of multicultural content is Verizon Fios executive director of content strategy and acquisition Michelle Webb. She told the Horowitz Associates Cultural Insights Forum in March that the telco is looking to balance that with finding the best ways to offer the most choice to consumers.
"It's all about managing demand and bandwidth considerations," she said.
Aspire TV has seen some small but noteworthy movement on the distribution front, vice president of business affairs and channel operations Melissa Ingram said. The African-American-targeted network, founded by basketball hall of famer Earvin "Magic" Johnson, has seen its subscriber rolls grow to 34 million viewers since its 2012 launch; it projects it will be in 37 million homes by year-end.
"Not only is [the multicultural] audience is requesting this type of programming but … from a business standpoint, affiliates are starting to understand the importance of having diverse content," she said. "They've seen the success of shows like Empire and they've seen a movement by subscribers demanding such content, which is forcing these large distributors to understand the importance and value of it and to get more content like that on their systems."
As networks continue to push for linear distribution, others are exploring the Web in an eff ort to generate interest and awareness for their brands. Networks such as Myx TV, Fuse and One Caribbean Television use apps to give viewers a chance to check out video content from the networks, as well as some live programming.
BOOSTING ONLINE REACH
"If you want to reach a younger audience, you have to be available on all of the relevant devices, and you have to have content that's available on-demand," Fuse Media CEO Michael Schwimmer said. "Obviously, you have to be able to balance that with the network's role within the pay TV ecosystem, but I think that it's all doable and important. Anybody that doesn't have a strong digital presence does so at their own risk."
Myx TV's Santos believes networks targeting multicultural millennials in particular may find online distribution a more attractive way of exposing the brand to key audiences. Asian-Americans, especially, tend to watch content online on various mobile devices, so anyone looking to reach that audience would fare well in the digital space, according to Santos.
Myx TV is considering launching an OTT service in the near future, although Santos would not disclose a time frame. "OTT is possibly the key to diversifying entertainment," he said. "Given the competitive environment and the uncertainty within the industry, it would behoove us to look at all options to really get our content out.
"In the end, the power is with the viewer, and they will decide where they want to watch their content — if they want to watch it over the top we should be there, and if they want to watch it on a linear platform we should be there, too."
Source: Multichannel News