The in-house innovation unit, part of Univision Digital's ongoing collaboration with the MIT Media Lab, adopts cutting edge products, tools, formats and technologies that enhance Univision's ability to inform and engage with Hispanic audiences
---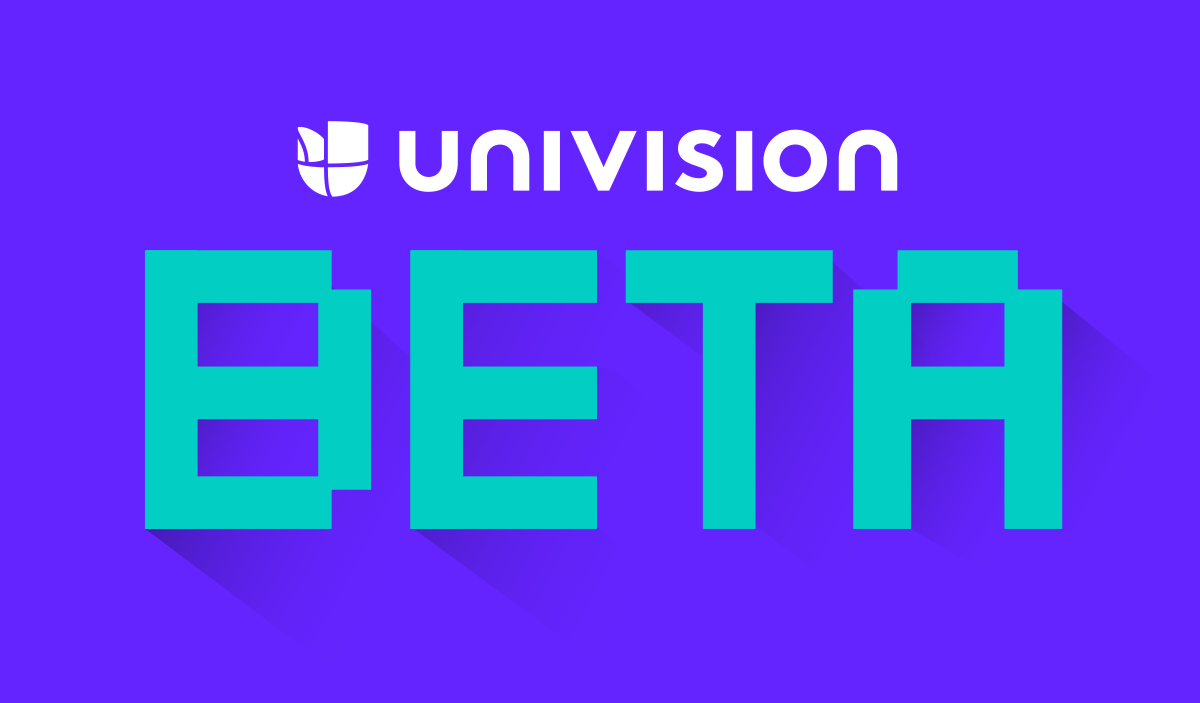 ---
MIAMI – MARCH 22, 2016 – Univision Digital, the digital division of Univision Communications Inc. (UCI), the leading media company serving Hispanic America, announces the launch of Univision Beta, a new initiative aimed at accelerating digital innovation across the organization and expanding audience reach through the creative use of emerging digital and social platforms, with special emphasis on news and information.
Functioning as an in-house innovation lab housed at Newsport, UCI's state-of-the-art news facility in Miami, the Univision Beta team of media innovators is experimenting with cutting-edge products, tools, formats and technologies that can enhance Univision's ability to inform and engage with audiences in the U.S. and abroad. Initial projects already under way are focused on expanding Univision News' coverage of the 2016 presidential elections to new storytelling and messaging platforms such as Snapchat, Purple and Slack. Univision Beta will also work with internal teams and outside research organizations to explore digital opportunities and implement new technologies, as well as develop data-driven analytics tools to support news and business related decisions, among many other projects.
"We are absolutely thrilled with the launch of this innovation initiative that will not only help keep Univision at the forefront of the digital explosion but will also improve our internal processes and promote the search for new, more efficient platforms, models and formats for delivering content to an increasingly wider digital audience," said Isaac Lee, Chief News and Digital Officer, UCI. "Innovation through experimentation is Univision Beta's principal mission; one that will positively impact the way that our multicultural audiences receive and engage with information in today's fast evolving media landscape."
Univision Beta is led by Univision's director of digital innovation, Carlos Martínez de la Serna. A veteran Spanish journalist and former John S. Knight Journalism Fellow at Stanford University, Martínez de la Serna is the co-founder of the nonprofit news startup porCausa and a member of the team that launched the mapping platform CartoDB. Before joining Univision, he worked at First Look Media in San Francisco. Previously, he spent over a decade working as a reporter and editor at one of Spain's leading newspapers, El Mundo.
Additionally, Univision News' Vice President of Strategic Communications, Jose Zamora, also plays a leading role in the Univision Beta team. Prior to joining Univision in 2012, Zamora managed Knight Foundation's Knight News Challenge, an initiative to spur media innovation across the world. He also helped manage Knight Foundation's journalism and media innovation portfolio, contributing to the development of over 100 projects to advance media innovation.
Univision Beta was created as part of a three-year collaboration between Univision Digital and the world-renowned Massachusetts Institute of Technology (MIT) Media Lab. Additionally, it is building a network of partnerships with additional academic organizations to continue driving innovation in digital media and bring new ideas, talent and approaches to innovation-focused teams across UCI.
ADDITIONAL INFORMATION:
Follow @UnivisionBeta on Twitter and at Univision Beta.
CONTACT: Majeda Hussein, 646.560.4979, mhussein@univision.net
###
---
UNIVISION DIGITAL LANZA NUEVA INICIATIVA PARA ACELERAR LA INNOVACIÓN EN PLATAFORMAS DIGITALES – UNIVISION BETA
La unidad interna de innovación, creada como parte de una colaboración entre Univision Digital y el MIT Media Lab, adopta productos, herramientas, formatos y tecnología moderna que aumentan la capacidad de Univision para informar y atraer a audiencias hispanas
---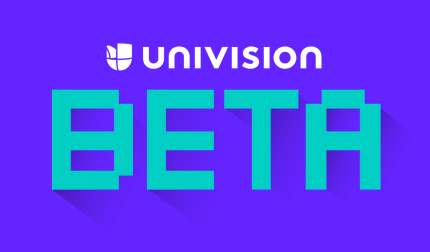 ---
MIAMI – 22 DE MARZO DE 2016 – Univision Digital, la división digital de Univision Communications Inc. (UCI), la empresa principal de medios de comunicación al servicio de la comunidad hispana en los Estados Unidos, anuncia el lanzamiento de Univision Beta, una nueva iniciativa destinada a acelerar la innovación digital en toda la organización y expandir el alcance de su audiencia mediante el uso creativo de plataformas digitales y sociales emergentes, con énfasis especial en noticias e información.
Funcionando como un laboratorio de innovación interno ubicado en Newsport, el moderno edificio de operaciones de noticias de UCI en Miami, el equipo de innovadores mediáticos de Univision Beta está experimentando con productos, herramientas, formatos y tecnología moderna que pueden aumentar la capacidad de Univision para informar y conectarse con audiencias en Estados Unidos y en el exterior. Los proyectos iniciales, ya en curso, están dedicados a extender la cobertura electoral 2016 de Noticias Univision a nuevas plataformas de storytelling y mensajería como Snapchat, Purple y Slack. Univision Beta también trabajará con equipos internos y organizaciones de investigación externas para explorar oportunidades digitales e implementar nuevas tecnologías, además de desarrollar herramientas de análisis basado en datos para dar soporte a decisiones corporativas relacionadas con noticias y negocios, entre muchos otros proyectos.
"Estamos sumamente entusiasmados con el lanzamiento de esta iniciativa de innovación que no solo ayudará a Univision a mantenerse a la vanguardia de la explosión digital, sino que además mejorará nuestros procesos internos y promoverá la búsqueda de nuevos modelos, plataformas y formatos con mayor eficiencia para entregar contenido a una audiencia digital cada vez más extensa", dijo Isaac Lee, Director General de Noticias y Digital, UCI. "La innovación por medio de la experimentación es la misión principal de Univision Beta, una misión que tendrá un impacto positivo en la manera como nuestras audiencias multiculturales reciben e interactúan con la información en el escenario mediático actual, que está en constante y rápida evolución".
Al frente de Univision Beta está Carlos Martínez de la Serna, Director de Innovación Digital de Univision. Un veterano del periodismo en España y ganador de la beca de periodismo John S. Knight Journalism Fellowship en la Universidad de Stanford, Martínez de la Serna fue cofundador del startup de noticias sin fines de lucro, porCausa, y miembro del equipo que lanzó la plataforma de mapas CartoDB. Antes de formar parte de Univision, trabajó en First Look Media en San Francisco. Previamente, pasó más de una década como reportero y editor en uno de los principales periódicos de España, El Mundo.
Adicionalmente, el Vicepresidente de Comunicaciones Estratégicas de Noticias Univision, Jose Zamora, también desempeña un rol de liderazgo en el equipo de Univision Beta. Antes de incorporarse a Univision en 2012, Zamora dirigía el programa Knight News Challenge de la Fundación Knight, una iniciativa para impulsar la innovación mediática a nivel mundial. También ayudó a administrar la cartera de periodismo e innovación mediática de la Fundación Knight, donde contribuyó al desarrollo de más de 100 proyectos dedicados a estimular la innovación en los medios.
La unidad Univision Beta fue creada como parte de una colaboración de tres años entre Univision Digital y el mundialmente reconocido Massachusetts Institute of Technology (MIT) Media Lab. Además, la unidad está creando una red de colaboración con otras organizaciones académicas para continuar impulsando la innovación en medios digitales y aportar ideas, talento y enfoques nuevos a los equipos orientados hacia la innovación en todos los departamentos de UCI.
INFORMACIÓN ADICIONAL:
Sigue a @UnivisionBeta en Twitter y en Univision Beta.
CONTACTO: Majeda Hussein, 646.560.4979, mhussein@univision.net
###