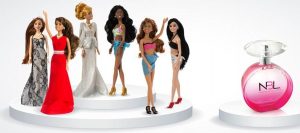 NBL Dolls wearing evening gowns and swim suits, from left to right, Yaritza, Dulce, Odalys, Sol, Niki and Paola; and NBL Perfume
---
MIAMI, FL – MARCH 14, 2016 – Univision Network's popular reality beauty competition "Nuestra Belleza Latina" (NBL) continues its 10th anniversary celebration by launching the first ever products inspired by the NBL brand: NBL Dolls and NBL Perfume.
During NBL's first gala broadcast, hosts Chiquinquirá Delgado and Javier Poza unveiled both products. Much like the show's contestants, who are young, talented Latinas determined to realize their dreams of starting a careers in broadcasting and other fields, the six NBL Dolls are inspired by the diverse and compelling stories many of these Latinas represent:
Dulce – the med student who wants to improve children's health;
Yaritza – the inquiring mind who wants to become an investigative reporter;
Sol – the fashion blogger who wants to be a businesswoman;
Niki – the bicultural actress who dreams of becoming a movie star;
Odalys – a first-generation American who is very involved in her community and aspires to pursue a career in government and
Paola – who overcame bullying and aspires to be a model as well as a positive role model for youth.
All six NBL Dolls are available dressed in either evening gown or swim suit, similar to the NBL contestants. Manufactured by Joynet International Ltd, a global product development company with headquarters in Hong Kong and U.S. offices in Austin, TX, NBL Dolls may be purchased through Amazon, LatinaGirlPower.com and several Hispanic grocery store chains.
NBL Perfume captures the charm and glamour of every NBL hopeful by bringing out one's inner beauty with a unique combination of juicy pears and neroli, along with red roses, freesia and lilies of the valley, and contrasting touches of patchouli and sandalwood. Created in association with ZermatInternational, a company with more than 29 years of fragrance product experience, NBL Perfume may be purchased on ZermatUSA.com or via a Zermat USA catalogue representative.
"Throughout the past nine seasons of NBL, we've heard the stories, dreams and aspirations of dozens of young, inspiring Latinas. In this season alone, we are seeing the hard work and sacrifices of the participants and how their confidence, tenacity and desire have helped them overcome many life obstacles," said Ignacio Meyer, senior vice president, Enterprise Development, Univision Communications, Inc. "All these relatable stories and what each product represents brings a unique connection between our brand, our audience and Latinas in this country."
Fans can get the latest on "Nuestra Belleza Latina" dolls and perfume and join the conversation on Twitter via @NuestraBelleza, as well as on Facebook.com/NuestraBellezaLatina and on Instagram @NuestraBellezaLatina, or by using the hashtags #NBLDolls, #NBLPerfume and #NBLVIP on their favorite social media platform.
This year, "Nuestra Belleza Latina," commemorates the 10 years of fierce competition by giving a second opportunity to win the coveted crown to former finalists of the past 9 seasons. The top-rated TV beauty contest airs every Sunday at 8 p.m. ET/PT (7 p.m. Central) on Univision Network.
For pictures of the NBL Dolls and NBL perfume, media can access the following link: http://bit.ly/1RBXEPo.
CONTACT: Jenisei Couso 305-471-1692 jcouso@univision.net @UCIPRTeam
###
---
"NUESTRA BELLEZA LATINA" CELEBRA 10MO ANIVERSARIO CON EL LANZAMIENTO DE LAS PRIMERAS MUÑECAS Y PERFUME INSPIRADOS POR LA MARCA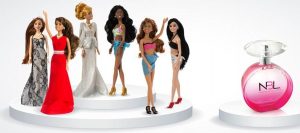 Las muñecas NBL (NBL Dolls) en vestido gala y traje de baño, de izquierda a derecha, Yaritza, Dulce, Odalys, Sol, Niki y Paola, y el perfume NBL (NBL Perfume)
---
MIAMI, FL – 14 DE MARZO DE 2016 – "Nuestra Belleza Latina" (NBL), el popular concurso de belleza tipo reality de la Cadena Univision, continúa la celebración de su10mo aniversario con el lanzamiento de los primeros productos inspirados por la marca NBL: muñecas NBL (NBL Dolls) y perfume NBL (NBL Perfume).
Durante la primera trasmisión de gala de NBL, los conductores Chiquinquirá Delgado y Javier Poza presentaron ambos productos. Al igual que las concursantes del programa, que son jóvenes latinas de talento, decididas a alcanzar sus sueños de iniciar una carrera en televisión y otros campos, la inspiración para las seis muñecas NBL son las cautivadoras historias y la diversidad que representan muchas de estas latinas:
Dulce – estudiante de medicina que desea mejorar la salud infantil
Yaritza – joven de gran curiosidad que quiere ser reportera de investigación
Sol – bloguera dedicada a la moda que aspira a ser empresaria
Niki – actriz bicultural que sueña con ser estrella de cine
Odalys – nació en los Estados Unidos de padres inmigrantes, es muy activa en su comunidad y aspira a una carrera en el gobierno
Paola – superó el bullying, aspira a ser modelo y desea ser un ejemplo positivo para niñas y jóvenes
Las seis muñecas NBL están disponibles ya sea en vestido de gala o traje de baño, de manera similar a las concursantes de NBL. Las muñecas NBL, fabricadas por Joynet International Ltd., compañía internacional de desarrollo de productos con sede en Hong Kong y oficinas de Estados Unidos en Austin, TX, se pueden comprar en Amazon, LatinaGirlPower.com  y varias cadenas de supermercados especializadas en hispanos.
El perfume NBL capta el encanto y glamur de toda aspirante a NBL al resaltar la belleza interior con una combinación única de peras jugosas y nerolí, como también rosas rojas, fresias y lirios del valle, contrastados con pachulí y sándalo. Se puede comprar el Perfume NBL, creado conjuntamente con ZermatInternational, compañía internacional con más de 29 años de experiencia en perfumes, en ZermatUSA.com o por medio de los representantes del catálogo de Zermat USA.
"Durante las nueve temporadas pasadas de NBL, hemos escuchado las historias, sueños y aspiraciones de decenas de latinas jóvenes e inspiradoras. Tan solo en esta temporada, estamos viendo el trabajo arduo y los sacrificios de las participantes y que su confianza, tenacidad y aspiraciones las han ayudado a superar muchos obstáculos en la vida", dijo Ignacio Meyer, vicepresidente principal de Desarrollo Empresarial de Univision Communications, Inc. "Todas estas historias con las que es fácil identificarse y lo que cada producto representa ofrecen una conexión singular entre nuestra marca, nuestra audiencia y las latinas en este país".
Los fans pueden enterarse de las últimas novedades sobre las muñecas y el perfume de "Nuestra Belleza Latina", y participar en la conversación en Twitter vía @NuestraBelleza, como también en Facebook.com/NuestraBellezaLatina y en Instagram @NuestraBellezaLatina  o usando los hashtags #NBLDolls, #NBLPerfume y #NBLVIP en su plataforma preferida de redes sociales.
Este año, "Nuestra Belleza Latina" conmemora 10 años de reñida competencia al dar una segunda oportunidad de ganar la codiciada corona a ex finalistas de las nueve temporadas pasadas. El popular concurso de belleza en televisión se trasmite todos los domingos a las 8 p.m. Este/Pacífico (7 p.m. Centro) en la Cadena Univision.
Para obtener fotos de las muñecas y el perfume NBL, los medios de prensa pueden usar el siguiente enlace: http://bit.ly/1RBXEPo.
CONTACTO: Jenisei Couso 305-471-1692 jcouso@univision.net @UCIPRTeam
###