Highlights Commitment to Standing United with Growing, Influential, Multicultural Audience for Upfront on May 17, 2016
---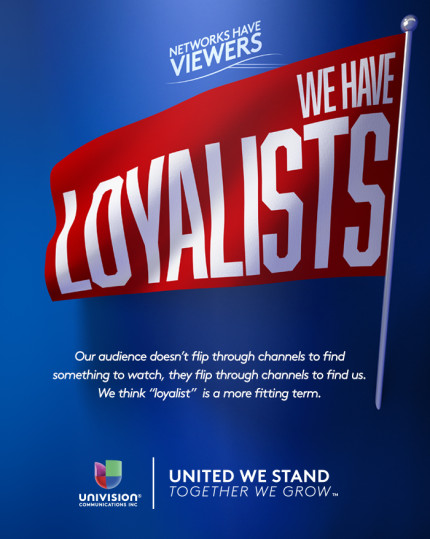 ---
NEW YORK – MARCH 1, 2016 – Univision Communications Inc. (UCI), the leading media company serving Hispanic America, announced the launch of a new marketing campaign, "United We Stand, Together We Grow," to showcase the multimedia Company's position of standing united with its growing, influential, multicultural audience and will serve as its message platform across the company for the year, as well as the theme for UCI's Upfront presentation to advertisers at 11 a.m. on Tuesday, May 17th, 2016 at the Lyric Theatre in NY.
Aimed at reaching the Company's distribution, advertising and marketing partners, the campaign highlights UCI's core differentiators: young and influential viewers, massive unduplicated reach and commitment to serving the needs of its multicultural viewers – bilinguals, millennials, die-hard novela devotees, sports fans, political and news junkies or just lovers of entertaining multiplatform content. In a marketplace of continued audience fragmentation, "United We Stand, Together We Grow" illustrates UCI's unbeatable formula for re-assembling and reaching the influential U.S. Hispanic population with its unmatched scale and proven content.
"The Univision story is a unique one that no other media company has," said Jessica Rodriguez, executive vice president and chief marketing officer, UCI. "Our 'United We Stand, Together We Grow' campaign illustrates our ability to reach high value, multicultural consumers in the U.S. by delivering on our unyielding mission to inform, entertain and empower our audience anywhere, anytime. With fun and inspirational creative, this campaign demonstrates Univision's unique ability to help our marketing partners deliver sustained business growth."
Keith Turner, UCI's president of Advertising Sales and Marketing, added, "Hispanics are one of the fastest growing demographics of the U.S. population, and we are the best partner for advertisers seeking to reach this audience – today and in the future. We inspire loyalty among our young, influential, digitally savvy audience, which allows us to deliver results for advertisers across our multi-platform distribution network."
The campaign, which was led by UCI's EVP of Marketing and Content Partnerships, Jennifer Ball, and features concepts developed by the Our Man In Havana agency and designs by Blanco Lorenz, will include out of home billboard displays in key markets, as well as print, digital and e-newswire advertisements.
CONTACT: Esther Mireya Tejeda, 646.560.4829, emtejeda@univision.net
---
UNIVISION COMMUNICATIONS INC. LANZA NUEVA CAMPAÑA, "UNITED WE STAND, TOGETHER WE GROW"
Destaca el compromiso con permanecer unida a su audiencia influyente, multicultural y cada vez más numerosa para Upfront el 17 de mayo de 2016
---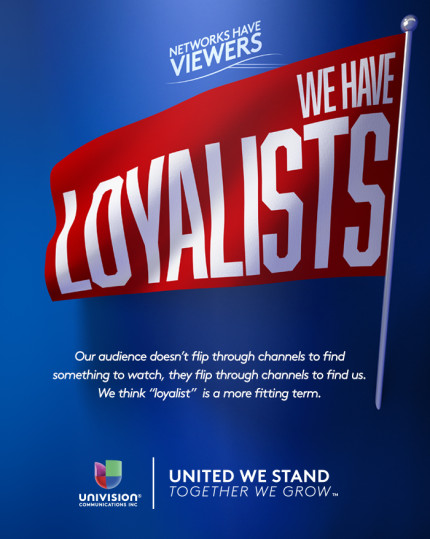 ---
NUEVA YORK – 1 DE MARZO DE 2016 – Univision Communications Inc. (UCI), la principal empresa de medios de comunicación al servicio de la comunidad hispana en los Estados Unidos,  anunció el lanzamiento de su nueva campaña de mercadeo "United We Stand, Together We Grow", que presenta la posición de la Compañía multimedios de mantenerse unida a su audiencia influyente, multicultural y cada vez más numerosa, y que servirá como la plataforma de comunicación de toda la Compañía este año, así como también el tema de la presentación Upfront de UCI a anunciantes el martes, 17 de mayo de 2016 a las 11 a.m. en el Lyric Theatre en Nueva York.
La campaña, dirigida a los aliados de distribución, publicidad y mercadeo de la compañía, destaca los principales factores que distinguen a UCI: televidentes jóvenes e influyentes, alcance masivo no duplicado y dedicación a atender las necesidades de sus televidentes multiculturales: bilingües, del milenio, muy aficionados a las telenovelas, fanáticos de los deportes, seguidores de la política y las noticias o simplemente amantes del contenido de entretenimiento en plataformas múltiples. En un mercado con continua fragmentación de la audiencia, "United We Stand, Together We Grow" describe la fórmula insuperable de UCI para reintegrar y comunicarse con la influyente población hispana en los Estados Unidos con sus dimensiones incomparables y contenido establecido.
"La historia de Univision es única, y ninguna otra empresa la comparte", dijo Jessica Rodríguez, vicepresidenta ejecutiva y funcionaria en jefe de Mercadeo de UCI. "Nuestra campaña, United We Stand, Together We Grow, describe nuestra capacidad de comunicarnos con consumidores multiculturales muy valiosos en los Estados Unidos al cumplir con nuestra misión inquebrantable de informar, entretener y empoderar a nuestra audiencia en cualquier momento y lugar. Con un aspecto creativo divertido e inspirador, esta campaña demuestra la capacidad única de Univision de ayudar a nuestros aliados en mercadeo a generar crecimiento comercial sostenido".
Keith Turner, presidente de Venta de Publicidad y Mercadeo de UCI, agregó, "Los hispanos constituyen uno de los segmentos demográficos de más rápido crecimiento de la población de los Estados Unidos, y nosotros somos el mejor aliado de los anunciantes que quieren comunicarse con esta audiencia, ahora y en el futuro. Inspiramos lealtad en nuestra audiencia joven, influyente y conocedora de medios digitales, lo que nos permite producir resultados a favor de los anunciantes en toda nuestra cadena de distribución con plataformas múltiples".
La campaña está dirigida por Jennifer Ball, vicepresidenta ejecutiva de Sociedades de Mercadeo y Contenido de UCI, y presenta conceptos creados por la agencia Our Man In Havana y diseños por Blanco Lorenz. Incluirá vallas publicitarias dirigidas a los consumidores mientras están fuera del hogar en mercados clave, como también anuncios en medios impresos y digitales, y comunicados de prensa por internet.
CONTACTO: Esther Mireya Tejeda, 646.560.4829, emtejeda@univision.net
###