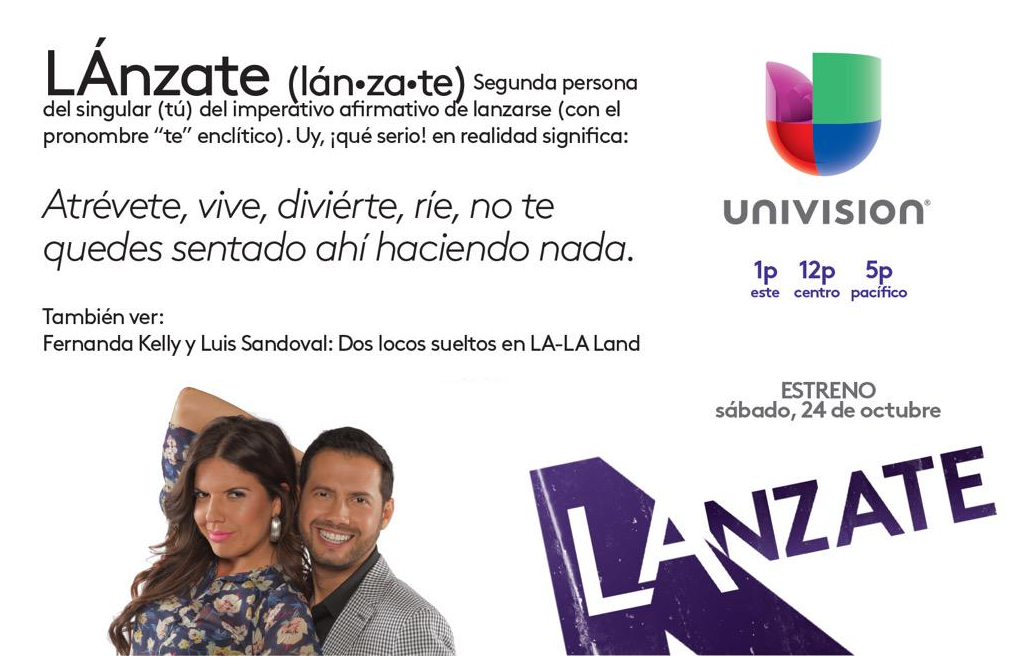 LOS ANGELES – OCTOBER 20, 2015 – Univision Network, today announced that its Los Angeles- produced entertainment show LAnzate, will premiere as a national program on Saturday, October 24, 2015. LAnzate features the dynamic Fernanda Kelly and Luis Sandoval, who will present bold, fast-paced content and unique interactive opportunities for Hispanic millennials or "billennials" at interesting locations throughout the greater Los Angeles area.  The premiere will mark the first time that an Univision Network entertainment program will be produced in Los Angeles.
"Los Angeles is one of the major epicenters of young, vibrant Latino culture in the U.S.," said Alberto Ciurana, president of Programming and Content, Univision Communications, Inc. "Our ability to leverage the strength of our local teams to produce a show like LAnzate reflects our commitment to serving a diverse, rapidly growing audience and to investing in developing talent."
Produced by an award-winning team, LAnzate will feature guest artists, interviews, food, music, and fun interaction with the unsuspecting public at interesting Los Angeles locations.  LAnzate hosts Fernanda and Luis will challenge each other to test their limits as they seek new adrenaline-raising adventures.
The show will also directly interact with viewers on and off-air via social media.  Billennial fans will be able to digitally engage with each other and post and tweet their experiences.
LAnzate will air on Saturdays at 1 p.m. ET/12 p.m. CT/5 p.m. PT. Viewers can connect with LAnzate on Twitter, Instagram, Snapchat and Periscope via @LanzateShow and Facebook via LAnzate Show.
For more information, please visit Univision.com.
CONTACT:   Jenisei Couso  305-471-1692  jcouso@univision.net  @UCIPRTeam
###
---
LA CADENA UNIVISION ESTRENA EL PROGRAMA DE ENTRETENIMIENTO DE LOS ÁNGELES, LÁNZATE, A NIVEL NACIONAL ESTE SÁBADO, 24 DE OCTUBRE
---
LOS ÁNGELES – 20 DE OCTUBRE DE 2015 – La Cadena Univision anunció hoy que su programa de entretenimiento LÁnzate, producido en Los Ángeles, se estrenará como programa nacional este sábado, 24 de octubre, 2015. En LÁnzate estarán los dinámicos presentadores Fernanda Kelly y Luis Sandoval, quienes ofrecen contenido audaz y de ritmo rápido, y oportunidades interactivas únicas para los hispanos del milenio o "billennials" desde lugares interesantes por todo Los Ángeles. El estreno representará la primera vez que un programa de entretenimiento de la Cadena Univision se produce en Los Ángeles.
"Los Ángeles es uno de los más importantes epicentros de la joven y dinámica cultura latina en los Estados Unidos", dijo Alberto Ciurana, presidente de programación y contenido de Univision Communications, Inc. "Nuestra capacidad de aprovechar la calidad de nuestros equipos locales para producir un programa como LÁnzate refleja nuestro compromiso con prestar servicios a una audiencia diversa y de rápido crecimiento, y de invertir en el desarrollo de talento".
LÁnzate, producido por un galardonado equipo, presentará a artistas invitados, entrevistas, cocina, música e interacciones divertidas, con un público desprevenido en lugares interesantes de Los Ángeles. Los conductores de LÁnzate, Fernanda y Luis, se desafiarán para determinar hasta dónde están dispuestos a llegar durante nuevas aventuras que harán que les aumente la adrenalina.
El programa también interaccionará directamente con los televidentes en el aire y más allá, vía medios sociales. Los billennials y fanáticos podrán interaccionar en medios digitales y tuitear sobre sus experiencias.
LÁnzate se trasmitirá los sábados a la 1 p.m. hora Este/12 p.m. Centro/5 p.m. Pacífico. Los televidentes pueden conectarse con LÁnzate en Twitter, Instagram, Snapchat y Periscope vía @LanzateShow y en Facebook vía LAnzate Show.
Para más información, por favor visita Univision.com.
CONTACTO: Jenisei Couso 305-471-1692 jcouso@univision.net @UCIPRTeam
###