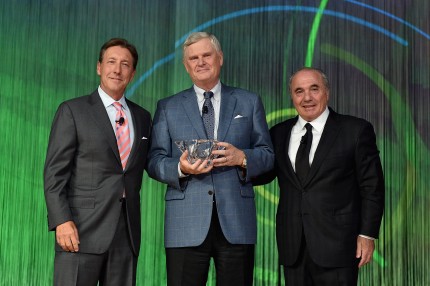 NEW YORK – OCTOBER 1, 2015 – Randy Falco, president and CEO, Univision Communications Inc. (center) accepts the diversity champion award from the Walter Kaitz Foundation from fundraising gala co-chairs, former ESPN president George Bodenheimer (left) and Rocco Commisso, Mediacom Founder and CEO (right).
"Our mission to inform, entertain and empower Hispanic America serves to connect our community with the opportunities and possibilities that American society has to offer," said Falco when accepting the honor. "That also includes providing them a voice, when necessary, so that Hispanics can be part of the national conversation. And that, in turn, helps us more effectively contribute to the rich diversity of this country's social fabric."
The event, attended by hundreds of representatives from the media industry, raised more than $1.6 million. Funds raised from the dinner help fund the activities of the Walter Kaitz Foundation's diversity efforts, along with the programs and activities of the Emma L. Bowen Foundation, the National Association for Multi-ethnicity in Communications (NAMIC) and Women in Cable Telecommunications (WICT). The initiatives of these organizations focus on leadership and professional development, career coaching, skills training, mentoring and internships.
Diversity Champion: Univision Communications Inc. (UCI)
UCI's portfolio of properties is comprised of 17 broadcast, cable and digital networks, and strategic partnerships; 59 television stations and 67 radio stations and an array of online and mobile apps, products and content creation facilities in key markets across the country, providing programming content to the Hispanic community in U.S.
The Company's core mission remains developing programming that is representative of and appealing to its diverse audience, while creating a positive impact upon the Hispanic community and the nation at large. Over the years, UCI has made significant strides in developing original programming content, created new employee programs designed to develop and retain its workforce, sustained a high number of female and minority employees at all levels, including managerial and leadership roles and expanded its corporate philanthropy and social responsibility efforts.
Recently, UCI expanded its programming efforts to include The Root, a leading online news, opinion and culture destination for African-Americans, to go along with its investments in Fusion, Flama.com, and El Rey Network to serve an emerging America, comprised of millennials and an increasingly multicultural U.S. population. The Company is also the largest station affiliate of Bounce-TV, the nation's first broadcast television network for African-Americans.
Some of UCI achievements and developments in a path toward greater diversity include:
Diverse workforce: More than 75% of Univision Communications' workforce is of Hispanic or Latino ethnicity and nearly 50% of the workforce is comprised of women.
UCI created Univision Contigo, a large initiative and community empowerment platform that educates, informs and inspires the Hispanic community in the areas of education, health, prosperity and civic participation.  Univision Contigo's goals are: to increase educational attainment beginning with early childhood development and through college readiness and completion; improve health by educating the community about wellness and increasing access to healthcare; promote financial literacy and small business entrepreneurship; and grow citizenship and increase voter participation to ensure that Hispanics are using their voice and influence in civic life. In 2014, Univision Contigo programs informed and empowered two million attendees at 500+ local events such as fairs, workshops and "boot camps" and delivered on-air messaging about these events worth more than $82 million.
As part of its mission to drive growth and innovation through the recruitment, development and retention of diverse and competitive leaders, UCI launched the "Women's Leadership Council" (WLC), a flourishing, company-wide program which represents women who are breaking the mold, redefining leadership and inspiring others as well as themselves.
UCI is also actively committed to fostering and enabling diversity through its company-wide program Orgullo@UCI, an employee impact group for lesbian, gay, bisexual and transgender employees. Orgullo supports inclusive policies that allow a person's authenticity to shine through.
The Company is also engaging millennials through eMERGE – UCI's millennial employee resource group focused on empowering millennial talent to grow into the next generation of UCI leaders.
UCI has created a reputation for running a series of highly successful Leadership Development Programs with over 200 graduates in the last four years. These programs are offered at different levels, from early career high potential employees, to VP and Senior Executive levels. The make up once again showcases Univision Communications' commitment to developing leaders, with more than 60% of graduates being diverse and nearly 45% female. In addition, UCI launched a companywide leadership development program this year focused 100% on women.
CONTACT:  Rosemary Mercedes 212-455-5335 rmercedes@univision.net @UCIPRTeam
###
---
UNIVISION COMMUNICATIONS INC. RECIBE PREMIO COMO PROMOTOR DE LA DIVERSIDAD DE LA FUNDACIÓN WALTER KAITZ
---
NUEVA YORK – 1 DE OCTUBRE DE 2015 – Randy Falco, presidente y director ejecutivo de Univision Communications Inc. (centro) acepta el premio como promotor de la diversidad de la Fundación Walter Kaitz, entregado por los codirectores del evento de gala para recaudar fondos: George Bodenheimer, ex presidente de ESPN, (izq.) y Rocco Commisso, fundador y director ejecutivo de Mediacom (der.).
"Nuestra misión de informar, entretener y empoderar a la comunidad hispana en los Estados Unidos nos ayuda a conectar a nuestra comunidad con las oportunidades y posibilidades que ofrece la sociedad estadounidense", afirmó Falco cuando aceptó el galardón. "Eso incluye darles una voz, para que los hispanos puedan ser parte del diálogo nacional. Y eso, a su vez, nos ayuda a contribuir más eficazmente a la abundante diversidad del tejido social de este país".
El evento, al que concurrieron cientos de representantes de la inductria de medios de comunicación, recaudó más de 1.6 millones de dólares. Los fondos recaudados en la cena ayudarán a financiar las actividades de la campaña a favor de la diversidad de la Fundación Walter Kaitz, además de programas y actividades de la Fundación Emma L. Bowen, la National Association for Multi-ethnicity in Communications (NAMIC) y Women in Cable Telecommunications (WICT). Los proyectos de dichas organizaciones se centran en el desarrollo profesional y de líderes, entrenamiento profesional, capacitación, asesoría y pasantías.
Promotor de la Diversidad: Univision Communications Inc. (UCI)
La cartera de propiedades de UCI está compuesta por 17 cadenas digitales, de señal abierta y cable, además de sociedades estratégicas; 59 canales de televisión y 67 emisoras de radio, y una variedad de aplicaciones móviles y en línea, productos e instalaciones de creación de contenido en mercados clave en todo el país, que le ofrecen contenido de programación a la comunidad hispana en los Estados Unidos.
La misión fundamental de la compañía sigue siendo crear programación que sea representativa y atractiva para su audiencia diversa, y a la vez tener un impacto positivo en la comunidad hispana y el país en general. Con el trascurso de los años, UCI ha alcanzado logros significativos en el desarrollo de contenido original de programación, ha creado nuevos programas para sus empleados a favor del desarrollo y la retención de su fuerza laboral, ha mantenido un alto número de empleados de sexo femenino y miembros de minorías en todos los niveles, lo que incluye cargos gerenciales y de liderazgo, y ha expandido sus esfuerzos filantrópicos y de responsabilidad social de la corporación.
Recientemente, UCI también expandió sus esfuerzos de programación para incluir a The Root, un destacado destino en Internet con noticias, opinión y cultura para afroamericanos, además de sus inversiones en Fusion, Flama.com y El Rey Network, para ponerse al servicio del Estados Unidos emergente, compuesto por los miembros de la generación del milenio y una población cada vez más multicultural en los Estados Unidos. La compañía también es el grupo más numeroso de estaciones afiliadas con el que cuenta Bounce-TV, la primera cadena de televisión de señal abierta para afroamericanos en los Estados Unidos.
Entre los logros y sucesos de UCI camino a mayor diversidad se encuentran:
Fuerza laboral diversa: Más de 75% de la fuerza laboral de Univision Communications es de origen hispano o latino, y casi 50% de sus empleados son mujeres.
UCI creó Univision Contigo, una extensa iniciativa y plataforma de empoderamiento comunitario que educa, informa e inspira a la comunidad hispana en asuntos de educación, salud, prosperidad y participación cívica. Los objetivos de Univision Contigo son: aumentar los logros educativos a partir del desarrollo durante la primera etapa de la infancia hasta la preparación para la universidad y la finalización de los estudios; mejorar la salud al informar a la comunidad sobre el bienestar e incrementar el acceso a la atención médica; promover los conocimientos financieros y la capacidad de las pequeñas empresas, y aumentar el civismo y la participación de los votantes para asegurar que los hispanos usen su voz e influencia en la vida cívica. En 2014, los programas de Univision Contigo informaron y empoderaron a dos millones de concurrentes a más de 500 eventos locales como ferias, talleres y sesiones intensivas de entrenamiento, además de trasmitir mensajes con un valor de más de 82 millones de dólares sobre estos eventos.
Como parte de su misión de promover el crecimiento y la innovación por medio del reclutamiento, el desarrollo y la retención de líderes diversos y competitivos, Univision Communications lanzó el "Consejo de Liderazgo Femenino" ("Women's Leadership Council" o WLC), un exitoso programa para toda la compañía que representa a mujeres que rompen patrones, redefinen el liderazgo e inspiran a otros, además de sí mismas.
UCI también se ha comprometido a promover y posibilitar activamente la diversidad a nivel de empresa por medio de su programa Orgullo@UCI, un grupo de impacto de empleados homosexuales, bisexuales y transgénero. Orgullo apoya medidas de política que incluyen a todo tipo de gente y permiten que las personas puedan ser auténticas.
La compañía también interacciona con los miembros de la generación del milenio por medio de eMERGE, el grupo de recursos para empleados de esa generación en UCI, dedicado a empoderar a profesionales con talento para que se desarrollen y sean los líderes de la próxima generación de UCI.
UCI ha alcanzado renombre por dirigir una serie de exitosos programas de desarrollo de líderes con más de 200 egresados en los últimos cuatro años. Estos programas se ofrecen a diversos niveles, desde empleados con mucho potencial que recién inician su carrera hasta el nivel de vicepresidente y alto ejecutivo. Su composición, nuevamente, refleja el compromiso de Univision Communications con el desarrollo de líderes, pues más del 60% de sus egresados son miembros de minorías y casi 45% son mujeres. Además, este año UCI lanzó un programa de desarrollo de líderes a nivel de empresa que está totalmente dedicado a la mujer.
CONTACTO: Rosemary Mercedes 212-455-5335 rmercedes@univision.net @UCIPRTeam
###