Premieres Tuesday, August 25th at 7 p.m. ET/PT (6 p.m. CT)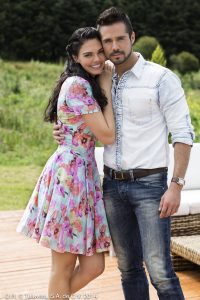 Livia Brito and Jose Ron in Univision Network's new primetime telenovela "Muchacha Italiana Viene a Casarse" (Italian Girl Comes to Wed)
---
WHAT: Univision Network's latest telenovela "Muchacha Italiana Viene a Casarse" (Italian Girl Comes to Wed) takes viewers to Italy in one of this year's most romantic love stories about a beautiful and heroic Italian girl who accepts a marriage proposal far from her native land in order to save her dying sister, knowing that this decision will change her life forever.
The story unfolds in a little town in Italy where Fiorella, played by Livia Brito, briefly meets the love of her life Pedro Angeles (Jose Ron) for the first time.  But tragedy unfolds as Fiorella loses her father (Ricardo Blume) and becomes her sister's caretaker. Upon his death, an old friend of his in Mexico, an important restaurateur named Vitorrio Dragone (Enrique Rocha), asks Fiorella for her hand in marriage and promises to take on expenses for her sister's medical care. As he is considerably older than his young bride, Vittorio sends her a photo of him as a young man. Out of necessity and encouraged by the prospect of marrying a good man, Fiorella accepts.
The drama continues as the two sisters travel to Mexico and after many failed attempts, they get lost and do not get to meet Vittorio. After unfortunate events, they finally arrive at the ranch of the prominent Angeles family where Fiorella meets again the man of her dreams Pedro Angeles, who also falls in love with her. This is also where she meets his ambitious family who is embroiled in maintaining their wealth, built on crime and mystery.
Although there are vast differences in social classes between them, the two lovers are determined to fight any obstacles in their way. However, Vittorio, who never ceased his search for the beautiful Fiorella, is still determined to marry her. Tune in to see the story of these two young lovers who will stop at nothing to find their happily ever after.
WHEN: Tuesday, August 25 at 7 p.m. ET/PT (6 p.m. CT)
WHERE: Univision Network
ADDITIONAL INFORMATION:
Produced and directed by Pedro Damián for Televisa. Original story by Delia González Márquez. For more information and videos please visit http://uvideos.com/novelas/muchacha-italiana-viene-a-casarse. Viewers can join the conversation about "Muchacha Italiana Viene a Casarse" on Twitter via @novelasyseries as well as comment along with others on facebook.com/NovelasySeries using the hashtag #MuchachaItaliana.
CONTACT: Candice Georgi (305) 471-4057 cgeorgi@univision.net @UCIPRTeam
###
---
EL AMOR NO CONOCE FRONTERAS EN LA NUEVA TELENOVELA ROMÁNTICA DE LA CADENA UNIVISION, "MUCHACHA ITALIANA VIENE A CASARSE", PROTAGONIZADA POR LIVIA BRITO Y JOSÉ RON 
Se estrena el martes, 25 de agosto a las 7 p.m. Este/Pacífico (6 p.m. Centro)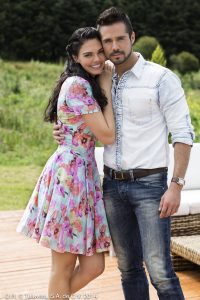 Livia Brito y José Ron en la nueva telenovela en horario estelar de la Cadena Univision, "Muchacha Italiana Viene a Casarse"
---
QUÉ: La más reciente telenovela de la Cadena Univision, "Muchacha Italiana Viene a Casarse", lleva a los televidentes a Italia en una de las historias de amor más románticas, sobre una bella y heroica joven italiana que acepta una propuesta de matrimonio lejos de su país de origen para salvar a su hermana moribunda, pues sabe que la decisión le cambiará la vida para siempre.
La historia tiene lugar en un pueblito en Italia donde Fiorella, interpretada por Livia Brito, conoce al amor de su vida, Pedro Ángeles, (José Ron) y pasa breves momentos con él. Pero sucede una tragedia cuando Fiorella pierde a su padre (Ricardo Blume) y pasa a cuidar a su hermana. Tras la muerte de éste, un viejo amigo suyo en México, un importante dueño de un restaurante, llamado Vitorrio Dragone (Enrique Rocha), le pide la mano en matrimonio a Fiorella y promete hacerse cargo de los gastos médicos de su hermana. Ya que Vittorio es bastante mayor que su joven novia, le envía una foto de cuando era joven. Por necesidad y alentada por la posibilidad de casarse con un hombre bueno, Fiorella acepta su propuesta.
El drama continúa cuando las dos hermanas viajan a México y, tras tratar sin éxito de reunirse con Vittorio, se pierden y no llegan a encontrarlo. Después de varios sucesos desafortunados, finalmente llegan al rancho de la familia Ángeles, que es muy conocida, donde Fiorella vuelve a encontrarse con el hombre de sus sueños, Pedro Ángeles, quien también se enamora de ella. Allí conoce además a su ambiciosa familia, que se aferra a una fortuna construida de manera deshonesta  y rodeada de misterios.
Si bien son de clases sociales muy diferentes, los amantes están decididos a derrotar todo obstáculo en su camino. Sin embargo, Vittorio, quien nunca dejó de buscar a la bella Fiorella, está empeñado en casarse con ella. Sintonicen para ver la historia de estos jóvenes enamorados, quienes no descansarán hasta lograr ser felices para siempre.
CUÁNDO: Martes, 25 de agosto a las 7 p.m. Este/Pacífico (6 p.m. Centro)
DÓNDE: Cadena Univision
INFORMACIÓN ADICIONAL:
Producida y dirigida por Pedro Damián para Televisa. Historia original de Delia González Márquez. Para más información y videos, por favor visitar http://uvideos.com/novelas/muchacha-italiana-viene-a-casarse. Los televidentes pueden participar en la conversación sobre "Muchacha Italiana Viene a Casarse" en Twitter vía @novelasyseries, y también comentar con otros en facebook.com/NovelasySeries utilizando el hashtag #MuchachaItaliana.
CONTACTO: Candice Georgi (305) 471-4057 cgeorgi@univision.net @UCIPRTeam
###