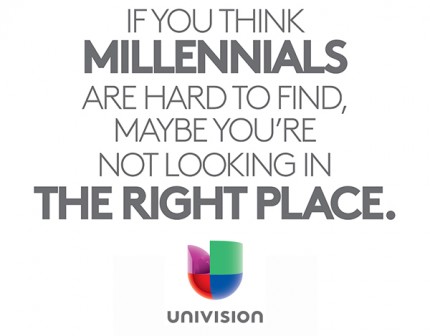 Where have all the millennials gone?  Nielsen shows many are choosing Univision Network over CBS, FOX and NBC.  Univision is the #2 Network overall for adults 18-34 during the April 23-May 20 sweeps period.  Couple this with the fact that so much of our millennial audience doesn't watch other networks (78% vs. 20% for the nearest English language broadcast competitor), and marketers have a prime opportunity to reach new, young consumers at scale.

We often get asked about our secrets to success with Hispanics, so I thought I'd let you in on some.
We speak their language.   According to Nielsen, 82% of Hispanic millennials today speak Spanish.  There are not a lot of media outlets that sound like home.  For a large swath of Americans, Univision does.
We speak their culture.  It needs to go way beyond sound, doesn't it?  That's where culture comes in.  We are intimately aware of what makes this consumer tick – whether it's her morning call to abuela or cheering for the national soccer team during work hours.  Our every day is a conversation with this consumer and this intimacy is reflected in our content.
We program the content Hispanics love and can't get anywhere else.  Who else covers said soccer team?  Which other network airs the novela that millions of Hispanics co-view together every Monday-Friday or the news that reports on stories with a Hispanic-first point of view?  We dedicate time to the content Hispanics love and, in turn, they dedicate time to us – live.  In fact, during May sweeps, 92% of our primetime programming was watched live.
As we said in the New York Times and Wall Street Journal this week:  "If you think millennials are hard to find, maybe you're not looking in the right place."
Sources: Source: Nielsen, NPM via NNTV, 4/23/15-5/20/15, Strict Daypart Mon-Sat 8-11p, Sun 7-11p, A18-34 (000), Live+SD; Unduplicated based on Nielsen, NPM (05/04/2015-05/10/2015) Mon-Sat 8pm-11p/Sun 7pm-11pm, Live+7. Based on a qualified audience of 6+ minutes and on the percent of each network's primetime audience that did not watch any of the other listed networks; English-Language networks based on the top 10 in primetime among Adults 18-34 for the week; Live viewing percentage based on 4/23/2015-5/17/2015.