Martín vows to avenge his brother's death by seducing the woman responsible yet sometimes love is stronger than hate
Executive Producer Salvador Mejía's latest telenovela, Lo Imperdonable, premieres Monday, May 18 at 9 p.m. ET/PT (8 p.m. Central)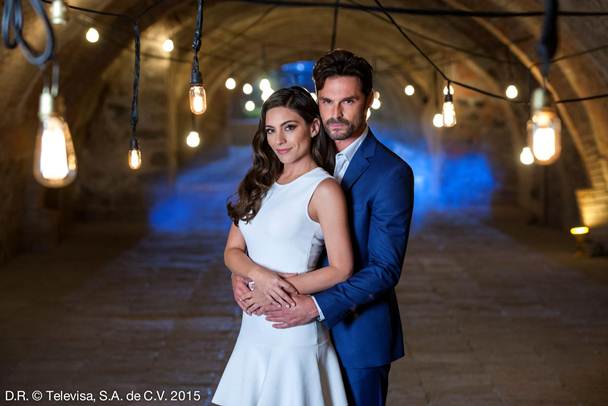 Ana Brenda Contreras as Verónica and Iván Sanchez as Martín in Univision's new primetime telenovela "Lo Imperdonable" (Unforgivable)
---
WHAT: In Univision Network's latest telenovela, a man tries to avenge his brother's death at a mine, but soon gets tangled in a mess that includes a millionaire family, sisters who compete for love and an heir who wants to marry his adoptive cousin.
"Lo Imperdonable" (Unforgivable), from producer Salvador Mejía , begins with  Martín San Telmo (Iván Sánchez) getting an urgent plea from his brother Demetrio, only to find out when he gets to Mina Escondida in Mexico that it's too late. Martín blames a woman for his brother's death and vows to avenge it. A medallion leads him to the Prado Castelo family, owners of the country's biggest jewelry firm. He meets the sole heir, Emiliano (Sergio Sendel), and later, cousins Verónica (Ana Brenda Contreras) and Virginia (Grettell Valdez), whom his parents adopted at a young age.
Soon Emiliano, who has just returned from abroad determined to work in his father's business, is competing with Martín for the love of Verónica, a beautiful woman who was adopted by the Prado Castelos. But Virginia, her manipulative sister, tries to discredit her and makes others believe that Verónica was Demetrio's lover and was responsible for his death. It's just the beginning of a tangle of passion, revenge and lies. Ultimately, true love proves stronger than hate.
WHEN: Monday, May 18 at 9 p.m. ET/PT (8 p.m. Central)
WHERE: Univision Network
ADDITIONAL INFORMATION:
The stellar cast of the telenovela also includes Juan Ferrara as Jorge, the Prado Castelo patriarch as well as Sebastián Zurita, Alicia Machado and Claudia Ramírez among others. "Tu Respiración" by Chayanne will serve as the telenovela´s theme song.
Viewers can join the conversation about "Lo Imperdonable" on Twitter via @novelasyseries and using the hashtag #LoImperdonableUS, as well as comment along with others on facebook.com/Univision.
CONTACT: Candice Georgi (305) 471-4057 cgeorgi@univision.net
###
---
UNIVISION ESTRENA "LO IMPERDONABLE", PROTAGONIZADA POR ANA BRENDA CONTRERAS E IVÁN SÁNCHEZ
Martín jura vengar a su hermano seduciendo a la mujer responsable por su muerte, pero a veces el amor es más fuerte que el odio
La más reciente telenovela del productor ejecutivo Salvador Mejía, Lo Imperdonable, se estrena el lunes, 18 de mayo a las 9 p.m. Este/Pacífico (8 p.m. Centro)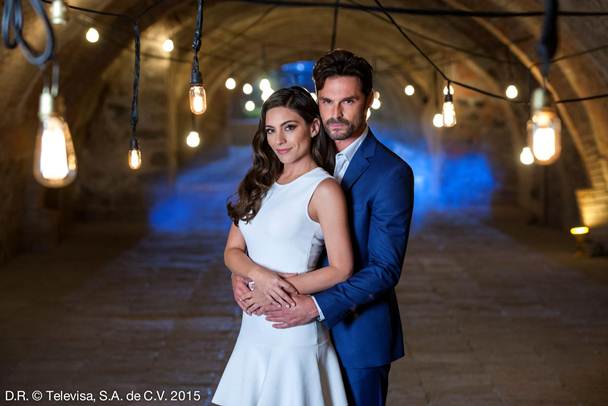 Ana Brenda Contreras como Verónica e Iván Sánchez como Martín en la nueva telenovela en horario estelar de Univision, "Lo Imperdonable"
---
QUÉ: En lamás reciente telenovela de la CadenaUnivision, un hombre trata de vengar la muerte de su hermano en una mina, pero pronto se enreda en un lío que incluye a una familia millonaria, hermanas que compiten por su amor y un heredero que quiere casarse con su prima adoptiva.
"Lo Imperdonable" del productor Salvador Mejía comienza cuando Martín San Telmo (Iván Sánchez) recibe un llamado urgente de su hermano Demetrio, pero cuando llega a un remoto pueblo en México llamado Mina Escondida, se da cuenta de que es demasiado tarde. Martín le echa la culpa a una mujer por la muerte de su hermano y jura vengarse de ella. Una medalla lo lleva a la familia Prado Castelo, dueña de la firma más importante de joyas del país. Conoce a Emiliano (Sergio Sendel), su único heredero, y luego a sus primas Verónica (Ana Brenda Contreras) y Virginia (Grettell Valdez), a quienes los padres de este adoptaron de niñas.
Pronto Emiliano, quien acaba de regresar del extranjero decidido a trabajar en el negocio de su padre, compite con Martín por el amor de Verónica, hermosa mujer e hija adoptiva de los Prado Castelo. Pero Virginia, su manipuladora hermana, trata de desprestigiarla y hacer que los demás crean que Verónica fue la amante de Demetrio y la culpable de su muerte. Es apenas el comienzo de un embrollo de pasión, venganza y mentiras. A fin de cuentas, el amor verdadero resulta ser más fuerte que el odio.
CUÁNDO: Lunes, 18 de mayo a las 9 p.m. Este/Pacífico (8 p.m. Centro)
DÓNDE: CadenaUnivision
INFORMACIÓN ADICIONAL:
El elenco estelar de la telenovelatambién cuenta con la actuación de Juan Ferrara como Jorge, el patriarca de la familia Prado Castelo, además de Sebastián Zurita, Alicia Machado y Claudia Ramírez, entre otros. "Tu Respiración" de Chayanne seráel tema de la telenovela.
Los televidentes pueden participar en la conversación sobre "Lo Imperdonable" en Twitter vía @novelasyseries y usando el hashtag #LoImperdonableUS, además de comentar con otros en facebook.com/Univision.
CONTACTO: Candice Georgi (305) 471-4057 cgeorgi@univision.net
###