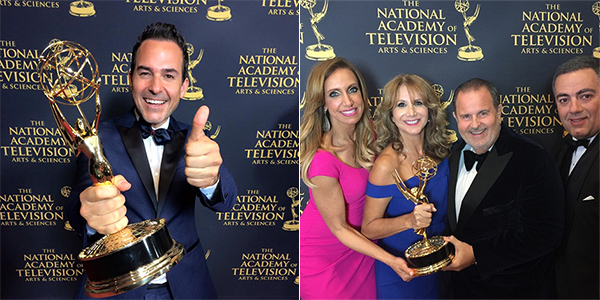 From left to right: Co-host, Carlos Calderón; Host, Lili Estefan; Univision's "El Gordo y La Flaca" Vice President & Executive Producer Mariela Cardona, Host, Raúl de Molina; and Univision's "El Gordo y La Flaca" General Producer Carlos Medina
Cisco Suarez also recognized with a Silver Circle Award by the Suncoast Chapter for his 25-year career in production
---
NEW YORK, NY– APRIL 27, 2015 – A top-rated Univision Network program, "El Gordo y La Flaca," as well as popular entertainment host Carlos Calderón, received Daytime Emmy Awards from The National Academy of Television Arts & Sciences (NATAS) during its 42nd annual ceremony this weekend. Also this weekend, Univision Senior Vice President for Special Events Francisco "Cisco" Suárez received the NATAS Suncoast Chapter's prestigious Silver Circle Award for extraordinary contributions to the television industry.
"El Gordo y La Flaca" (The Scoop and The Skinny), Univision Network's entertainment news and gossip show, took home the award for Outstanding Entertainment Program in Spanish. In addition, host Carlos Calderón was named Outstanding Daytime Talent in a Spanish-language Program. The Daytime Emmy Awards recognize outstanding achievement in all fields of daytime television production and are presented to individuals and programs broadcast between 2:00 a.m. and 6:00 p.m. during the 2014 calendar year.
"We are thrilled to see our team be honored for their creativity, work-ethic and dedication to our audience," said Alberto Ciurana, president of Programming and Content, Univision Communications, Inc. "This recognition speaks to the commitment of our talent and production teams to deliver the best content regardless of language and I could not be prouder of them."
Calderón, who until recently was co-host and entertainment reporter on "El Gordo y la Flaca" and who recently became a co-host of "Sal y Pimienta" (Salt and Pepper), was recognized for his report from Brazil on the musical group Olodum.
"I dedicate this Emmy to all Latinos who offer their affection and support to me every day," Calderón said. "I cannot express how pleased I feel and how much this prestigious award means to me. I am also deeply grateful to the whole team at 'El Gordo y La Flaca,' who made it possible for our show to receive an Emmy, and I'm proud of all of them."
On "El Gordo y La Flaca," hosts Raúl de Molina and Lili Estefan joincast members Danilo Carrera, Jessica Cediel and Tanya Charri Monday through Friday at 4 p.m. ET/PT (3 p.m. Central) to offer the latest on the Hispanic entertainment world. The program's production team includes executive producer Mariela Cardona, general producer Carlos Medina, producer supervisor Osmani García and senior producer Betty Miranda. Show producers are Enrique Albis, Adela Cardoso, Eduardo García, Patricia Kaplan, Adriana Lalinde, Indiana Leyton, Luis Medina, Jennifer O'Neil, Oscar Petit and Tony Somoza. Daniela Mavares is segment producer; Arturo Álvarez is writer/producer. The show's correspondents are Elizabeth Curiel, Jessica Maldonado, Gelena Solana and Hiriam Vega.
Calderón has emceed numerous special events for Univision, from New Year's celebrations to the World Cup in South Africa, and has also been a fixture as co-host of the "Premios Juventud" (Youth Awards) red carpet show throughout its history. Audiences also know the versatile Calderón for wearing many and varied hats: co-host of late night radio show "El Colmillo" (The Fang) for six years, host of live late-night cable show "Acceso Máximo" (Maximum Access) for half a decade, spokesperson for Univision's education initiative "Es el momento" (The Time is Now), entertainment anchor for Univision's "Primer Impacto Fin de Semana" (First Impact Weekend Edition), and co-host of "Lente Loco" (Crazy Camera), a hidden-camera comedy show.  Calderón, who was selected by People en Español magazine as one of its "50 Most Beautiful People," is also a cartoonist for Univision.com and an artist.
For 27 consecutive years, the NATAS Suncoast Chapter has given the Silver Circle Awards to people who have made outstanding contributions to the television industry over a period of 25 years or more. Univision's Suárez was among the award's recipients this year. Suárez came to the United States as a teenager and began his television career at WPTV in West Palm Beach at the age of 17. Today, as Senior Vice President for Special Events, he produces some of Univision's most important live specials, including the Latin GRAMMY® awards, Premio Lo Nuestro Latin music awards and Premios Juventud youth awards.
"Cisco has been responsible for producing an unbroken string of the some of the highest rated and most prestigious star-studded specials ever to air on U.S. Hispanic television. This award validates his outstanding dedication and contribution to our industry," added Ciurana.
Cisco joined Univision in 1993 as director of Project Development for the Univision Network, after which in 2001 he was named vice president and director of Operations for the Company's second broadcast network, now named UniMás. Prior to joining UCI, Suarez spent five years at the Telemundo Network, as senior executive producer/creative director in charge of all special events for the network and all creative aspects for new shows. Before that, he served as executive producer/director of "Mundo Latino," a live 4 hour daily show with segments from Los Angeles, New York, Washington, and Miami for the Spanish International Network (SIN), the precursor of today's Univision Network. His career also includes previous roles as producer/director for CBS Miami affiliate station WTVJ and senior director for NBC affiliate station WPTV. Throughout his career, Suarez has received numerous awards and industry recognitions including, Emmy Awards, A.C.E. Awards, Premio Ondas, Europe's highest TV award; A.C.C.A. Awards, O.T.T.O. Awards and the Hard's Club Award as Producer of the Year.
CONTACT:   Iveliesse Malave 305-471-1634 imalave@univision.net
###
---
"EL GORDO Y LA FLACA" DE UNIVISION Y CARLOS CALDERÓN RECIBEN PREMIOS EMMY® POR PROGRAMA DIURNO
De izquierda a derecha: Carlos Calderón, co-presentador; Lili Estefan, presentadora; Mariela Cardona, vicepresidenta y productora ejecutiva de "El Gordo y La Flaca" de Univision; Raúl de Molina, presentador; y Carlos Medina, productor general de "El Gordo y La Flaca" de Univision.
Cisco Suarez también recibió el Premio Silver Circle del Suncoast Chapter por sus 25 años en producción
---
NUEVA YORK, NY– 27 DE ABRIL DE 2015 – El destacado programa de la Cadena Univision, "El Gordo y La Flaca", así como el popular presentador del mundo del entretenimiento Carlos Calderón, recibieron premios Emmy por programa diurno de la National Academy of Television Arts & Sciences (NATAS) durante su 42° ceremonia anual este fin de semana. También en esa ceremonia, el vicepresidente principal de Eventos Especiales de Univision Francisco "Cisco" Suárez recibió el prestigioso premio Silver Circle del Suncoast Chapter de NATAS por su extraordinario aporte a la industria de la televisión.
"El Gordo y La Flaca", el programa de chismes y noticias del entretenimiento, se llevó el premio al Mejor Programa de Entretenimiento en español. Además, el presentador Carlos Calderón fue nombrado Mejor Talento en Programa Diurno en español. Los premios Emmy a programas diurnos reconocen logros extraordinarios en todos los campos de la producción televisiva diurna y se otorgan a personas y programas que se trasmitieron entre las 2:00 a.m. y 6:00 p.m. durante el año 2014.
"Estamos encantados de ver que nuestro equipo recibió este reconocimiento por su creatividad, ética de trabajo y dedicación a nuestra audiencia", dijo Alberto Ciurana, presidente de Programación y Contenido de Univision Communications, Inc. "Este premio es evidencia del compromiso de nuestros equipos de producción y talentosos empleados que producen el mejor contenido, independientemente del idioma, y no puedo estar más orgulloso de ellos".
Calderón, quien hasta hace poco era copresentador y reportero de entretenimiento en "El Gordo y La Flaca", y que recientemente empezó como copresentador en "Sal y Pimienta", recibió el reconocimiento por su informe desde Brasil sobre el grupo musical Olodum.
"Dedico este Emmy a todos los latinos que me ofrecen su afecto y apoyo todos los días", dijo Calderón. "No tengo palabras para expresar cuán feliz me siento y lo mucho que significa para mí recibir este prestigioso galardón. También me siento muy agradecido con todo el equipo de "El Gordo y La Flaca", que hicieron posible que nuestro programa reciba un Emmy, y estoy muy orgulloso de todos ellos".
En "El Gordo y La Flaca", los presentadores Raúl de Molina y Lili Estefan, junto con los otros miembros del elenco Danilo Carrera, Jessica Cediel y Tanya Charri ofrecen de lunes a viernes a las 4 p.m. hora del Este/Pacífico (3 p.m. Centro) lo último sobre el mundo del entretenimiento hispano. El equipo de producción del programa incluye a la productora ejecutiva Mariela Cardona, el productor general Carlos Medina, el supervisor de producción Osmani García y la productora principal Betty Miranda. Los productores del programa son Enrique Albis, Adela Cardoso, Eduardo García, Patricia Kaplan, Adriana Lalinde, Indiana Leyton, Luis Medina, Jennifer O'Neil, Oscar Petit y Tony Somoza. Daniela Mavares es la productora de segmentos; Arturo Álvarez es el guionista/productor. Los corresponsales del programa son Elizabeth Curiel, Jessica Maldonado, Gelena Solana y Hiriam Vega.
Calderón ha sido maestro de ceremonias de numerosos eventos especiales para Univision, como las celebraciones de la Copa Mundial en Sudáfrica, y también ha sido copresentador de la alfombra roja en los "Premios Juventud" desde su inicio. Las audiencias también conocen a Calderón por versatilidad: es copresentador del programa radial nocturno "El Colmillo" desde hace seis años, presentador del programa en vivo nocturno "Acceso Máximo" por media década, el vocero de la iniciativa de educación de Univision "Es el momento", presentador de entretenimiento del programa "Primer Impacto Fin de Semana" de Univision y copresentador de "Lente Loco", un programa cómico con cámaras escondidas. Calderón, que fue escogido por la revista People en Español como uno de los "50 más bellos", también es caricaturista para Univision.com, además de artista.
Por 27 años, el Suncoast Chapter de NATAS ha otorgado el premio Silver Circle a personas que han hecho aportes extraordinarios a la industria televisiva durante 25 años o más. Suárez de Univision estuvo entre quienes recibieron el reconocimiento este año. Suárez vino a Estados Unidos de adolescente y empezó su carrera televisiva en WPTV en West Palm Beach a los 17. Hoy, como vicepresidente principal para Eventos Especiales, produce algunos de los especiales en vivo más importantes de Univision, entre ellos, los premios Latin GRAMMY®, Premio Lo Nuestro a la música latina y los Premios Juventud.
"Cisco ha sido el responsable de producir una seguidilla de programas de altísimo ranking y especiales repletos de estrellas, entre los mejores jamás trasmitidos en la Televisión Hispana en Estados Unidos. Este premio reconoce su extraordinaria dedicación y aporte a nuestra industria", añadió Ciurana.
Cisco se unió a Univision en 1993 como director de Desarrollo de Proyectos para la Cadena Univision, y en el 2001, fue nombrado vicepresidente y director de Operaciones para la segunda cadena de señal abierta de la Empresa, que ahora se llama UniMás. Antes de UCI, Suárez pasó cinco años en la Cadena Telemundo, como productor ejecutivo principal y director creativo a cargo de todos los eventos especiales para la cadena y todos los aspectos creativos para nuevos programas. Previamente, fue productor ejecutivo y director de "Mundo Latino", un programa diario en vivo con segmentos desde Los Ángeles, Nueva York, Washington y Miami para la Spanish International Network (SIN), la precursora de la actual Cadena Univision. Su carrera también incluye cargos anteriores como productor y director para la estación WTVJ, filial de CBS en Miami, y director principal para la filial de NBC, la estación WPTV. En toda su carrera, Suárez ha recibido numerosos premios y reconocimientos de la industria, entre ellos, premios Emmy, premios A.C.E., el premio Ondas, que es el máximo premio televisivo en Europa; premio A.C.C.A., premios O.T.T.O y el premio del Club Hard al Productor del Año.
CONTACTO: Iveliesse Malave 305-471-1634 imalave@univision.net
###