Eduardo Yáñez Itatí Cantoral, Ernesto Laguardia, and África Zavala Bring this Lighthearted Telenovela to Life, Premiering on March 30 at 8 p.m. ET/PT (7 p.m. CT)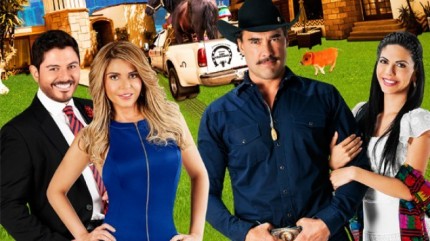 Ernesto La Guardia and Itatí Cantoral as the Velascos join Eduardo Yánez and África Zavala as the Carmonas in Univision's new primetime telenovela "Amores con Trampa"
---
WHAT: What happens when you trade in the farm for a new home in the city? Univision Network presents a new lighthearted telenovela "Amores con Trampa" (Fooled into Love), about a colorful family from the country, the Carmonas, who after a financial windfall, move to the city, animals and all. Premiering on March 30 at 8 p.m. ET/PT (7 p.m. CT) on the Univision Network and UVideos, an all-star cast brings to life this delightful story that will make you laugh, cry and fall-in love.
The story begins when the government comes knocking on the Carmona's door and offers a significant amount of money for their land, livestock and mine. Facundo Carmona (Eduardo Yáñez) sees it as a chance to leave San Bartolo el Chico and move to Mexico City with his wife, Rosa (África Zavala), and their four children, who he hopes will find new opportunities.
But their new neighbors, Roberto Velasco (Ernesto La Guardia) and his wife Isabel (Itatí Cantoral), who are accustomed to living the good life, are facing bankruptcy after their construction company hits hard times. Seeing salvation in their rich new neighbors, who they believe are naïve and have more money than they know what to do with, Roberto Velasco comes up with a plan to take advantage of this nouveau rich family: Isabel will seduce Facundo Carmona.
But true love is also in the air in the neighborhood. One of the Carmona's daughters, Carmen Gloria (Jessica Decote), falls in love with the Velasco's nephew Felipe (José Eduardo Derbez). And young Alberto Carmona (Aldo Guerra,) is willing to risk his close relationship with his family for the love of Rocío (Scarlett Dergal), the Velasco family's rebellious niece.
With these two families, finding love is possible…but there's always a catch.
WHEN: Monday, March 30, 2015 at 8 p.m. ET/PT (7 p.m. CT)
WHERE: Univision Network
ADDITIONAL INFORMATION: Produced by Emilio Larrosa for Televisa, "Amores con Trampa" cast also includes Flor Martino as Francisca, Nora Salinas as Stephanie, Boris Duflos as Diego, Sofia Castro, Ignacio Lopez Tarso, Luz Maria Aguilar,  and a special appearance of Joan Sebastian as himself.
Viewers can join the conversation regarding "Amores con Trampa" on Twitter via @novelasyseries and using the hashtag #AmoresTrampa, as well as comment along with others on facebook.com/NovelasySeries
For photos and videos, please visit the FTP:
ftp://ftp.univision.net/ Username: press Password: univision Folder: Amores con Trampa CONTACT:  Candice Georgi, 305-471-4057, cgeorgi@univision.net
###