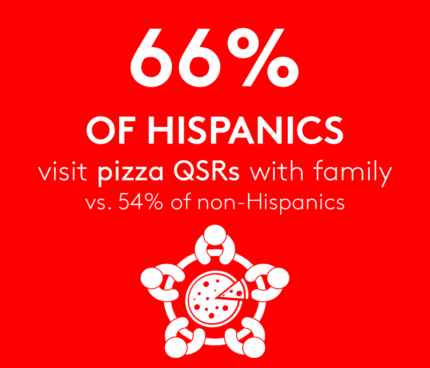 Last week was National Pizza day, one of the many food holidays that occur in the month of November. When it comes to eating pizza, it's a shared experience, whether it's with family, friends or co-workers. This especially holds true for Hispanics. For instance, according to a report from Latinum Network, pizza is seen as a special occasion meal for Hispanics (23% vs. 14% of non-Hispanics). In fact, Hispanics are more likely than non-Hispanics to consider pizza meals as a family event—66% say they visit pizza QSRs with family vs. 54% of non-Hispanics—while fewer Hispanics say they eat at or order from a pizza restaurant alone (21% say they've visited a pizza QSR alone vs. 33% for non-Hispanics).
This once again emphasizes the fact that advertisers need to incorporate social occasions when connecting with Hispanics. With targeted communications, as well as providing a social and family-friendly experience, pizza QSR brands can motivate Hispanics to become loyal customers. That's why so many pizza chains, both national and regional, continue to increase their Hispanic efforts, resulting in increases in both traffic and sales. Those who want to win big should use these insights and follow in their path to success.
For more, hear what Papa John's Founder and CEO, John Schnatter had to say about winning with Hispanics when they first made a big commitment to Spanish-language marketing. You can watch the video here.
Source: Latinum's Multicultural Knowledge Platform – Pizza Restaurant Cheat Sheet, February 2016