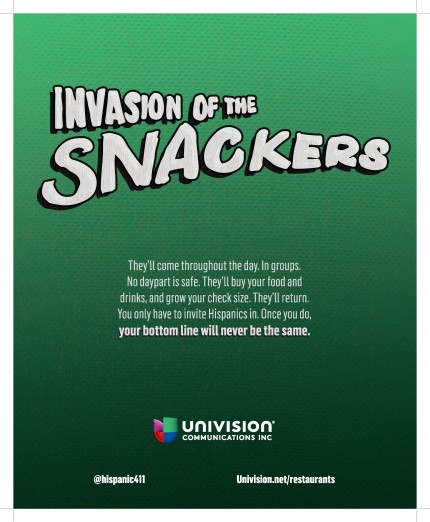 I recently learned about "Snackwave." It was defined as a social media trend showing millennial women proudly and loudly enjoying snacks. This could be anything from a bag of potato chips, to chocolate chip cookies, to the French fries from their QSR of choice. Of course, my mind went to this: Hispanic consumers represent the original #snackwave.
I work day in and day out with restaurant marketers, and the research insights they regularly light up with are those having to do with snacking occasions. Why? Because it's a chance for incremental sales outside of the traditional breakfast, lunch and dinner dayparts.
Our soon-to-be-released QSR Landscape study shows that snacking and Hispanics still go hand-in-hand.  Hispanics overindex in late afternoon (19% vs. 6%) and late night snacking (8% vs. 4%).  They're also visiting those dayparts in bigger groups, and those groups are significantly more likely to include children. For example, nearly 50% of Hispanic visits to QSRs for afternoon snacks included children; only 16% of non-Hispanic visits did.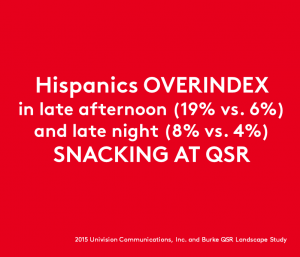 The trend doesn't end at QSR. According to our 2015 Why Behind the Buy study, which explores the Hispanic CPG shopper's decision making process, spending on snacks at retail is only going to grow. Hispanic shoppers are more likely to say they've increased their snacking in the past year (28% vs. 19% total U.S. shoppers). Snackwave 2016, anyone?