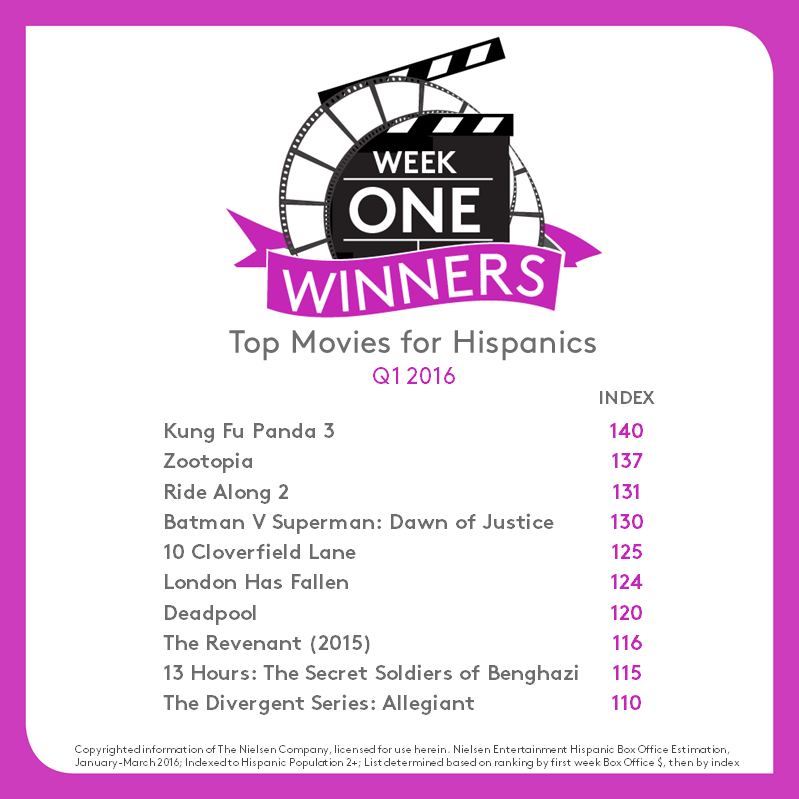 The movie is chosen, snacks are in hand and they've scored the perfect seat.  It's a familiar scene for the 45% of Hispanics (vs. 33% for Non-Hispanics) who go to the movies on opening weekend. Let's take a look at which titles won with Hispanics on opening week in Q1.
Animated comedies took the top spots. Number one was Kung Fu Panda 3, with the largest January animated opening of all time, followed by Disney's Zootopia. Irreverent humor also scored well with Hispanics, as Kevin Hart's Ride Along 2 rounded out the top three.
Action adventure also made the list with Batman v Superman: Dawn of Justice at #4. Warner Brothers promoted Batman v. Superman through Sal y Pimienta by hitting the streets of Miami and asking Hispanics who would win the battle. Looks like Hispanics helped Warner Brothers win the opening weekend battle; the title earned the studio their largest domestic opening—ever.
With Captain America: Civil War opening in May, will action adventure make it to the top spot? Stay tuned to find out in Q2 Week One Winners.