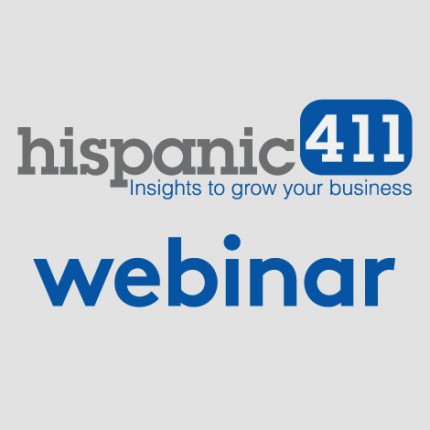 I recently had the pleasure of working with Nielsen's Ray Ydoyaga again for our webinar on Hispanics at the movies.  You might remember Ray from our Produced By panel last year, where he talked about how Hispanics "make moviegoing a habit."  The just-released Nielsen Moviegoing study supports this insight and provides many other that together make a very compelling case:  this consumer can help turn around the recent Box Office slump.
Here are the reasons why, covered during my webinar conversation with Ray:+
Hispanics disproportionately influence ticket sales.  While Hispanics represent 16% of the 12+ U.S. population, they make up 18% of moviegoers (more likely to go than non-Hispanics) and account for 21% of ticket sales (go more frequently).  In fact, the Study shows that across all age groups, Hispanics attend more frequently than non-Hispanics, but the biggest standouts were the 25-44-year-olds, who went to 9.6 movies last year.  Non-Hispanics in that age group went to the movies just 7.7 times.  One reason they might go more often is that they're drawn to so many different genres of movies.  The Moviegoing Report shows a Hispanic overindex in comedy, drama, action, horror, romantic comedies and more.
Opening weekend is a draw.  Nielsen's research shows that 50% of Hispanic moviegoers attend on opening weekend vs. 34% of non-Hispanics.  That number shoots up to 56% for Spanish-dominants and bilinguals Hispanics.  Here's where the notion of "habit" comes in.  Thirty-three percent of Hispanics also said that they attend on a specific day of the week vs. 17% of non-Hispanics.  This is an audience you can count on to help a film open in a big way.
Hispanics are social and influential when it comes to movies.  Hispanics are 25% more likely to go in a group of three or more.  That can be family or friends.  It can also be "anyone that's available in an hour's notice," as consumers have told us in the past.  This social nature extends to social media as well.   Nielsen's research shows the Spanish-dominant and bilingual Hispanics were most likely (76% vs. 56% non-Hispanic) to post to sites like Facebook and Twitter about movies.
These influencers are influenced by ads.  Hispanics are 15% more likely to say that they often or very often pay attention to movie commercials.  Even better: they're more likely to say they trust those TV commercials "a lot."  And marketers are taking note.  Investment by movie studios in Spanish-language TV was up 14% year-over-year; over the same time period, English-language spending was down 5%.
All signs point to 2015 being a big one at the Box Office – with everything from Magic Mike XXL, to the Avengers: Age of Ultron, to Fantastic Four: Rise of the Silver Surfer, to Ted 2 on the docket.  Make concerted efforts to invite Hispanics to these films, and 2015 might just go from a big year…to the biggest one yet.