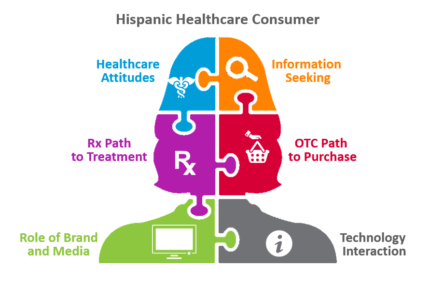 Last month, UCI unveiled preliminary qualitative findings from the Hispanic Healthcare Journey at the Nielsen C360 Conference. UCI partnered with Nielsen to conduct the study as there is little understanding of the differences and similarities in healthcare behavior and attitudes between Hispanics and non-Hispanics. The study focuses on both the over-the-counter (OTC) and prescription medications markets.
These are some of the qualitative highlights we covered:
There is a need to improve Hispanics' understanding of their health, especially chronic conditions. We heard from Hispanic respondents that if they do not feel ill, they consider themselves healthy, even after being diagnosed.
Hispanics diagnosed with chronic conditions still tend to be confused about the causes of their disease and how to manage their treatment.
Hispanics tend to rely on advertising for health information as well as family and friends.
The Hispanic Healthcare Journey was conducted in two phases. The first consisted of qualitative focus groups and shopalongs, and the second was a nationally representative quantitative survey.
Stay tuned as we'll be unveiling findings from the quantitative phase of the Hispanic Healthcare Journey in the weeks to come. It will include Hispanic vs. non-Hispanic comparisons in:
attitudes and interactions towards healthcare professionals
perceptions of healthcare advertising
information seeking behaviors / sources of information
patient path to treatment for diabetes, high cholesterol, rheumatoid arthritis, COPD and ED
consumer path to purchase for OTC internal analgesics, vitamins, allergy, and cough/cold products