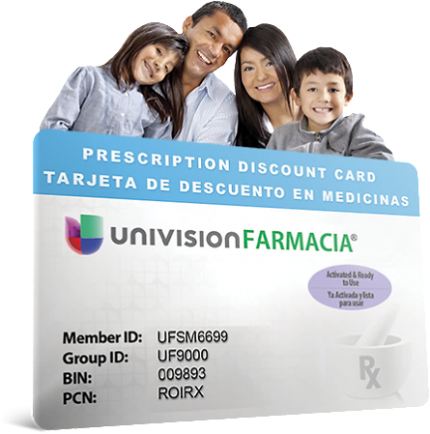 Just over three years ago, we launched Univision Farmacia, a discount program that makes prescription drugs more affordable for U.S. Hispanics, in partnership with EnvisionRxOptions and HolaDoctor. Today, with more than two million members nationwide, Univision Farmacia has delivered more than $38 million in savings for Hispanic families, making it the leading prescription drug discount program in the nation.
The program meets the needs of the underinsured or uninsured consumers who make up 13 million Hispanics in the U.S. today, according to the U.S. Census Bureau. The pharmacy discount card is accepted at more than 49,000 pharmacies nationwide including chains such as Walgreens, CVS, Wal-Mart and thousands of independent pharmacies. The average family can see discounts of up to 85% on medications including both generic and branded medications. With an average member enrollment rate of up to 7,500 members every week, as of May 2015, the program has garnered high enrollment across major markets including: Puerto Rico (261,270); New York (44,941), Chicago (40,743), Houston (36,630) and Dallas (31,353), amounting to 1.9 million transactions since its launch in 2012.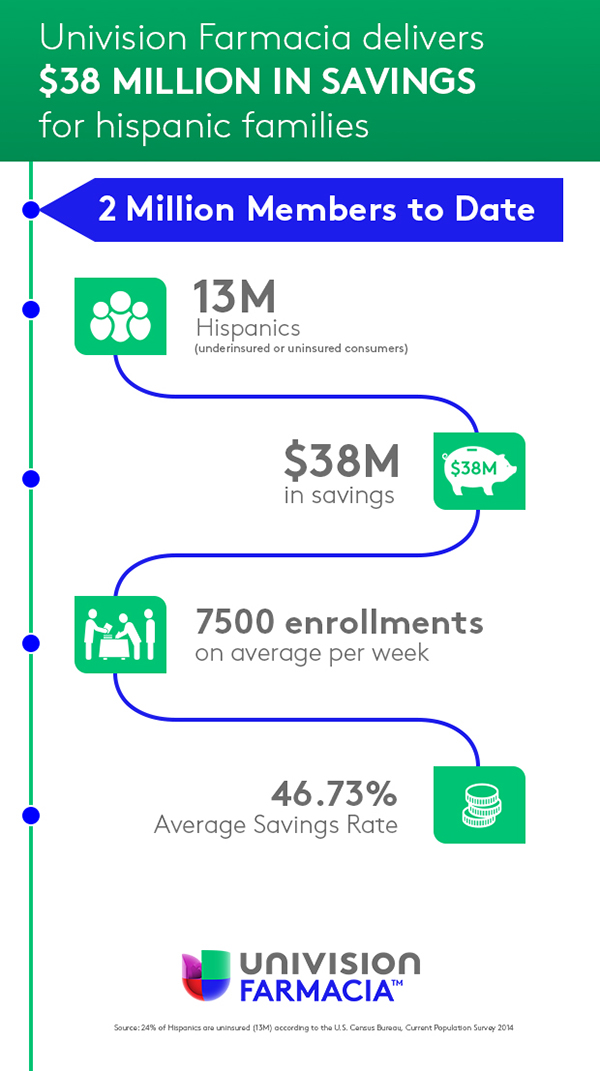 As a mission-driven Company, we continue to work to create the programs and services that will connect the community we serve with the information and resources that contribute to their well-being.  Univision Farmacia is an example of this commitment, created to empower Hispanics, which at times are disproportionately affected by the lack of education and awareness pertaining to health issues.
Access to membership is available via UnivisionFarmacia.com, by calling 877-309-5748, or through the Univision Farmacia app on iOS and Android.
For more information about Univision Farmacia, visit UnivisionFarmacia.com and for more details about the Company's community empowerment programs, please click here.
###