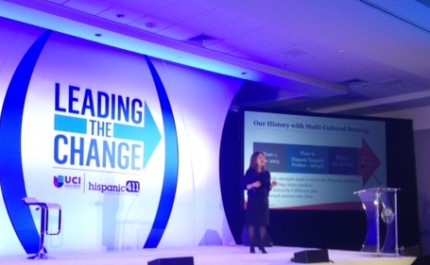 We recently hosted our third Leading the Change event, which brings together Hispanic client and agency marketers to share best practices and network.  This year, we were 150 people strong over two days of thought leadership in Vegas, culminating with mega entertainment: the 15th annual Latin GRAMMY(R) awards.
Danielle Robinson, vice president of Strategic Marketing at Anthem, Inc. (formerly known as WellPoint) kicked off our sessions with a candid discussion about how the Company – one of the largest health insurance providers in the country – moved from siloed, reactive, stop-and-start Hispanic efforts to a more integrated multicultural strategy with Hispanic at its core.  These are some of the keys to Anthem's success.
Clear Communications of Market Dynamics.  For Anthem, it was a confluence of several factors:  the growth of the Hispanic segment, the healthcare disparities that needed to be addressed within the segment, the upside potential of newly insured Hispanics, and the ACA democratizing the enrollment process.  "If we were going to go after this opportunity we knew that we needed to understand the unique issues the community faces and make sure that we could help them," said Robinson. "Those four pillars defined our strategy and moved senior leadership to say: 'Go do a business case.'"
Assessing the Opportunity.  Anthem looked at the Hispanic opportunity across business units like individual and group insurance and Medicare, and then also reviewed capabilities across their entire value chain.  "We looked at what we needed to do to really serve the Hispanic consumer, including developing a bilingual customer service team and building networks of providers that speak Spanish," shared Robinson.
Listening Within and Outside of the Organization.  Anthem actively sought out feedback from consumers, and engaged customer service representatives and Hispanic employees.  "Tapping into associate insights was an important strategy.  It's like free market research and helps build momentum across the organization," she said.  They also socialized the strategy as it was being built, which helped secure multiple senior sponsors across the organization.  No longer would they suffer if a single sponsor moved on.
Using Scenario Building.  Anthem used cause-and-effect scenarios to help determine priorities, level of investment and focus.  "By limiting the scope of the effort we were going to have a higher chance of success.  We weren't trying to be all things to all people," added Robinson.  That's when Anthem zeroed in on Hispanic individuals and the exchanges that were forming as a result of the ACA.
Having the Right Governance over the Project.  For Anthem, this meant creating Team Aceleracion, a program management team that oversaw everything that was being put into place across 17 different functions to unify our efforts and track progress toward achieving Hispanic goals.  It also meant hiring:  "We brought in people with experience, onboarded them rapidly and put them out in the field," shared Robinson.
In year one, Anthem has a lot to celebrate, including ​garnering ​click-through rates for their first-ever digital consumer campaign that exceeded expectations by 5x, engaging more than 500 local market partners, and connecting with 150,000 plus Hispanic consumers in the field.  As for the future, Robinson shared that Hispanic consumers will continue to be an important factor in their business strategies and decisions.