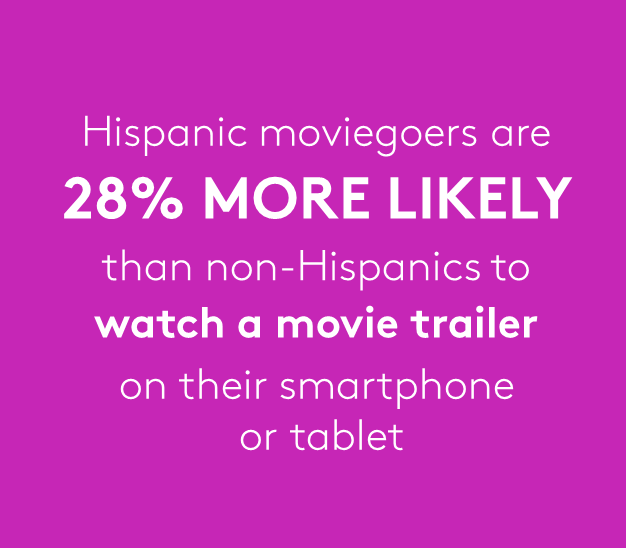 Understanding media consumption habits is a marketer's path to connecting with target consumers.  One specific area of opportunity for movie marketers is Hispanic affinity for video viewing.  Movie marketers want to get their trailers watched.  Hispanic consumers are the ones most likely to do so online.
First, it's about the overall digital behavior. Hispanics are 18% more likely to stream video content than non-Hispanics , and spend 45% more time watching video from their mobile devices than the total U.S. population.
When it comes specifically to movie trailers, nearly 70% of all Hispanics are watching them on either their smartphone or tablet, compared to 53% of non-Hispanics.The payoff for movie marketers is that those same consumers are more likely to act on messages and buy tickets. According to Simmons, 18% percent of Hispanics are likely to purchase products advertised through their mobile devices vs. just 10% of non-Hispanic.
As a result, studios are increasingly including digital video in their Hispanic marketing plans. We saw this in 2014 across Univision.com, from summer hits like Dawn of the Planet of the Apes and Guardians of the Galaxy, to holiday releases like Annie and The Woman in Black. When trailers surround the culturally relevant content Hispanics love – like soccer, beauty and novelas – there's an even greater chance that those online eyeballs will lead to box office sales.
Keep following @Hispanic411 for more insights into the Hispanic Movie consumer.
Sources: 1. PricewaterhouseCoopers LLP: Consumer Intelligence Series, Spotlight on US Hispanic Consumers, May 2014. 2. Nielsen Cross-Platform Report, June 2014. 3. Nielsen Moviegoing Report 2014. 4. Simmons NCS/NHCS Spring 2014 Base: A18+; mindset any agree.