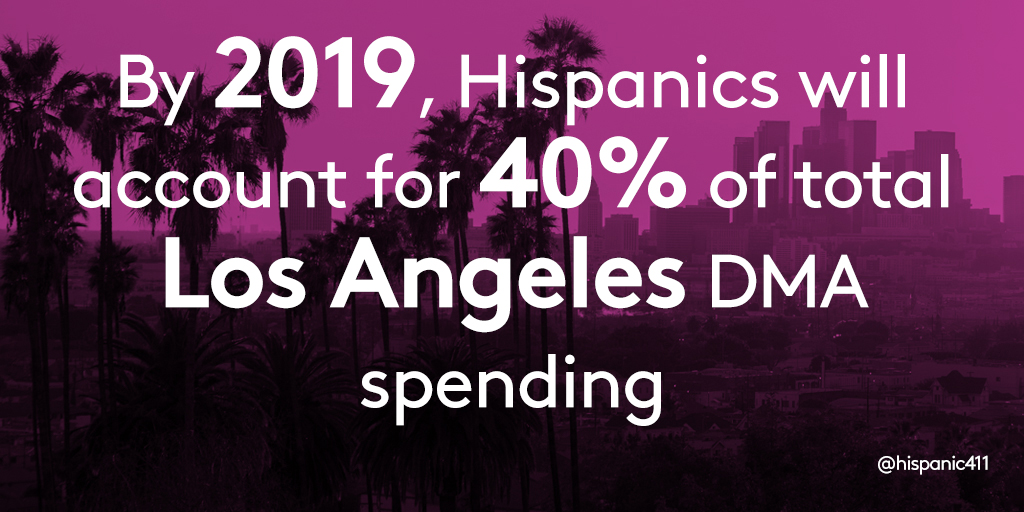 What do these brands have in common: Hidden Valley Ranch, Chrysler, Wingstop, E-Harmony and Silk Milk? Seemingly, not much. But they all recently made Hispanics a critical part of their local Los Angeles marketing strategies.
It makes perfect business sense. According to Nielsen, Los Angeles is the number one Hispanic DMA in the country, with a population of 7.6 million Hispanics 2+. Nearly one out of two people living in the city is Hispanic. Any product or service looking to grow sales on the West coast must engage with this consumer segment.
Here are five things to keep in mind:
All the Population Growth is Coming from Hispanics. L.A.'s Hispanic population has increased 24.2% since 2000, whereas non-Hispanics have declined by -3.1%. When you look ahead, Hispanics will grow by 637,000 from 2014-2019, while non-Hispanics will decrease by 128,000 over the same period.(1)
Hispanic Spending is also on the Rise. By 2019, the Hispanic population will account for 40% — or $208 billion – of total Los Angeles DMA spending.(2) We see this happening across categories as diverse as auto, healthcare, QSR, clothing/footwear and wireless. The real estate story is also a great one. As of 2014, 44% of L.A. Hispanic households own their own homes, up +23% from 2000. (3)
More Years of "Effective Buying Power." On average, Los Angeles area Hispanics are 13 years younger than non-Hispanics (31 vs. 44).(4) Nielsen said it best in its "Multicultural Edge" report earlier this year: "Spending smart marketing dollars on multicultural consumers today will result in many more years of consumption and consumer loyalty throughout their lifetime and increase the return on investment of those dollars spent."
Spanish Connects. In Los Angeles, 87% of Hispanics speak Spanish in the home and 72% are bilingual. (5) Language and culture are intertwined and enduring.
L.A. Hispanics Seek out Content that Reflects their Culture. When you consider the scale of the Hispanic segment plus the enduring nature of culture, it's no surprise that Spanish-language content regularly outperforms. This May marked the 12th straight May sweeps period that Univision's KMEX is the most-watched local station in primetime, regardless of language. With news, the story is even stronger. The KMEX 6PM and 11PM newscasts have beat the English-language competition for 85 and 50 consecutive major sweeps period, respectively. (6) Hispanics in L.A. want to be informed about current events relevant to them, and turn to the media that delivers.
Source: 1) Nielsen Local Television Market Universe Estimates for 2000 & 2015, Persons 2+; 2) IHS Global Insight – 2015 Hispanic Market Monitor, Los Angeles DMA; 3) Geoscape 2014; 4) Nielsen 2015 UE; 5) Nielsen 2015 Household UE by Language Strata; 6) The Nielsen Company; NSI May '15 (4/23/2015-5/20/2015); Total Day: 4 week time period average M-Su/6a-2a; 6 p.m. Local News program average: M-F/6-6:30p; Primetime 4 week time period average: UNI/UMA/TEL/ABC/CBS/NBC: M-Sa/8-11p, Su/7-11p & FOX/CW/MNT/IND: M-Sa/8-10p, Su/7-10p; Late Local News program average: UNI/TEL/ABC/CBS/NBC M-F/11-1130p; CW/FOX FOX M-F/10-11p; Los Angeles DMA; Live+SD Sweep Data.