What does the future of immigration from Latin America and the Caribbean look like?  How are Hispanics progressing in terms of educational attainment and household income?  Will the Spanish-language continue to be an important piece of the culture puzzle?
We are often asked these and other questions tied to the future of Hispanics in this country. So, we asked Jim Gillula, lead economist for market research firm IHS, to provide a comprehensive look at the Hispanic demographic and economic factors that will influence this country through 2034.  During our latest Hispanic 411 webinar, we discussed that report. The findings converge around three themes, outlined below.
The Hispanic Population will Continue to Grow.  Over the next 20 years, Hispanics will grow five times faster than non-Hispanics (2.1% vs. 0.4%).  Although the majority of that growth will come from births, immigration will continue to play an important role.  In 2034, 35% of all Hispanics will be foreign born (including Puerto Rico).
"It's a question of economic opportunity, and differences in standards of living and levels of economic development in the countries where immigrants have historically come from," explained Gillula.
We're also seeing the countries of origin shifting for new immigrants.  While 63% of all Latin American immigrants came from Mexico before 2000, after 2010 that number drops to 44%.  The share for other groups like Dominican, Cuban and Central and South American have increased over the same time period.  Many of these immigrants are settling in "non-traditional" states like Hawaii and Alabama.  In fact, the fastest-growing state for Hispanic immigrants from 2000-2019 is…Montana!
Hispanics are Upwardly Mobile.  Due to the overall youth of the population, more Hispanics will enter the labor force while a larger portion of non-Hispanics retire.  Add to that the stark differences in labor force growth through 2034 – +2.5% for Hispanics and +0.3% for non-Hispanics – and you'll see an increasingly Hispanic U.S. labor force.   By 2034, nearly 1 in 4 Americans in the U.S. labor force will be Hispanic.
Hispanics are also closing the education gap, with the number of four-year college degrees growing 47% 2008-2033 (to 1 out of 5 Hispanics).  Together, these positive employment and education trends contribute to higher income and consumption levels across categories.  This is a consumer that is upwardly mobile.
Spanish-language and Culture are Enduring.  Spanish-language is beautiful.  Guess what?  It's also stubborn.  IHS projects that the number of Hispanics 5+ that speak Spanish at home will grow to 55.4 million – or 71% of the total Hispanic population – in 2034 Today, that share is 73%, so we're looking at only a two percentage point decline over a 20-year period.  Because of factors like ease of travel, technology, Spanish-first media outlets, mass numbers of Latinos gathering in local "super geos" and continued immigration; language and culture will remain intertwined.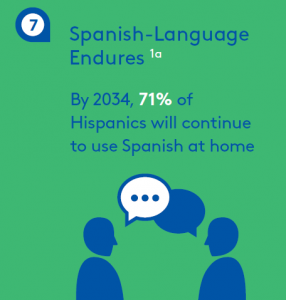 To learn more, the webinar is available for on demand viewing here.