It's no secret that the media landscape is becoming more and more fragmented, but as Nielsen's most recent cross-platform study shows, overall media consumption is still rapidly growing. Much of this growth is attributed to digital video viewing, and with smartphones reaching 71% overall penetration and tablets inching toward the 50% mark, the rise in digital video consumption will surely continue – undoubtedly led by the Hispanic population.
According to Nielsen, Hispanics are consuming digital media at an exceptional rate, boasting the highest engagement and time spent interacting online and, more specifically, with their mobile devices:
79% of Hispanics own a smartphone (vs. 71% U.S. average)
Hispanics are spending 13% more time than the overall population using an App or browsing on their smartphone every month
Hispanics are spending 39% more time than the overall population watching video on their smartphone every month
Hispanics spend 11+ hours each month watching digital video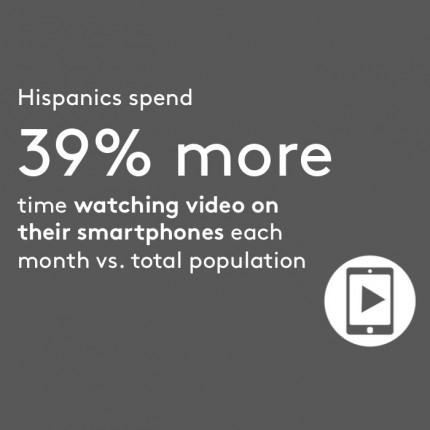 Univision is seeing this impact first hand, especially in our traffic mix. In 2013, our mobile traffic surpassed that of desktop and has continued to grow exponentially. Bolstered by the success of the World Cup, we saw 87% of traffic coming from a mobile device in July 2014, and that trend has only continued in recent months.
The media landscape has shifted, and for that reason Univision is committed to offering consumers the content they love on the devices of their choice. We have seen how this opportunity can help build brands and drive ROI with Hispanics, today's digital influencers.
Let us know how you are reaching the nation's leading digital consumer: @hispanic411
Source: Nielsen The Cross Platform Report, September 2014