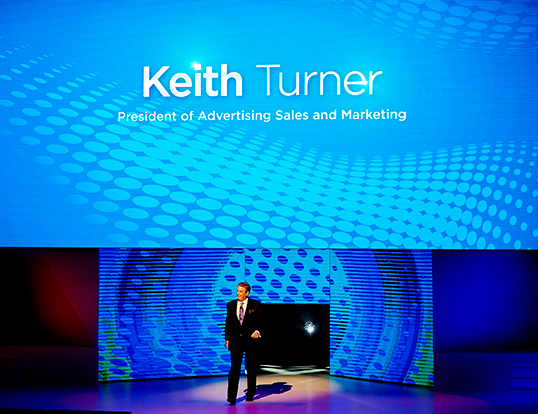 It was a packed house at the Lyric Theatre – one of Broadway's biggest venues – for our 2015 Upfront presentation.  It was also an agenda filled with entertainment, star power and growth opportunities for marketers today.  If you didn't get a chance to attend, here's some of what you missed:
Billennial-First Content…no Matter the Platform.  Did you know that 17 of the top 20 regularly scheduled programs among billennials (millennial + bilingual) are on the Univision Network?  That's a whole lot of young consumers on broadcast.  Then, we have a suite of brands specifically built with billennials in mind, including Flama, Uforia, El Rey, Fusion and Fiestón, our Liga MX game day parties.  And, finally, we layer on top an entire digital and social media network that super serves our audience across entertainment, news and sports.  New this year?  Transmedia experiences tied to the UniMás series Logout and Ruta 35 – about the deep web and the world of narco informants, respectively – and the fall Univision novela Antes Muerta Que Lichita, from the producers of La Fea Mas Bella.  Also, early next year, we'll premiere Los Social Media Awards, a new primetime tentpole celebrating the best social media content by or for Hispanics.
A Clear Path Forward for Growth with Hispanics.  The first stop on the path is scale.  UCI reaches 49 million consumers monthly, and the Univision Network was #1 for 18-34-year-olds 77 times last year.  Next is live viewership, the fragmentation killer.  While the average live viewing numbers for the "Big Four" broadcasters hover around 50%, our networks boast over 90%.  Only with live viewing does an advertiser get what they want, when they want it, with absolute surety.  When you combine live viewing with commercial retention, the path gets even clearer.  Ninety-six percent of Univision viewers aren't fast-forwarding during commercial breaks.  And, finally, our path is filled with incremental consumers for your products.  Seventy-three percent of our audience doesn't watch the top 10 networks where the majority of TV dollars are spent.
The Launch of the UCI Performance Index.  We know our media works…and now we have a proprietary tool that quantifies just how much it does.  The UCI Performance Index was developed in partnership with Nielsen and other research partners to measure how reach and resonance across our properties influence consumer reaction.  As Nielsen put it:  "Effective marketing and advertising is that which reaches your target audience, influences their opinion, and ultimately affects their buying behavior…Media companies who can help advertisers accomplish this on their properties, maximize their sales."  We highlighted four case studies from Papa John's, Tylenol, Nissan and JC Penney that prove our effectiveness.
Four Can't-Miss Sports Opportunities.  We already own the most watched soccer league in America – Liga MX – and our new UD Fantasy platform will allow fans to build their own teams and compete along during the regular seasons.  Also, for the first time ever, the champions of the two Liga MX seasons each year will face off in Campeón de Campeones.  The star-studded Premios Univision Deportes is moving to Univision primetime and being simulcast on Univision Deportes Network, and next summer's Copa América Centenario is the ultimate soccer showdown for U.S. Hispanics. Sixteen national teams from North and South America (USA, Mexico, Brazil, Argentina, Colombia, Costa Rica and others) will play in a U.S.-based tournament to crown a champion of the Americas.
A Presidential Welcome and a Hip-Shaking Goodbye.  Fusion's Alicia Menendez interviewed President Bill Clinton to open our event and covered the importance of Hispanics in politics, business and society.  "You need to be in the future business," Clinton declared and advised the 1,800 marketers in the room to "study the changing demographics very carefully."  Our event closed with Ricky Martin, whose scheduled two-song performance turned into three as a result of the crowd's enthusiastic requests.