When your mantra – and book title – is "Better, Faster," you better be prepared to deliver a high-energy presentation that stirs hearts and minds.  And that's just what author and CEO of Trendhunter.com, Jeremy Gutsche, did during his morning keynote address at Univision's Leading the Change event in Las Vegas.  For the 130 marketers in the audience, Gutsche helped answer the question:  how do you keep innovating?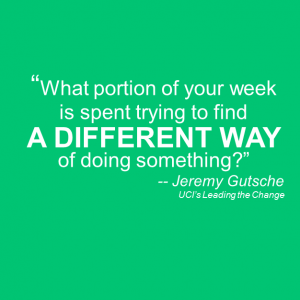 Here are five tips he shared:
Try Something New.  This shouldn't be a vague notion of stretching ourselves.  This should be a demand.  "What portion of your week is spent trying to find a different way of doing something," Gutsche asked the crowd.  Set aside that time.  Don't be limited by success because, soon enough, your competitors will catch up to you.   Be "willing to destroy" the marketing tactics that have worked for you so far.  There are plenty more to be discovered.
Knock on Doors.  "Your competitors are lazier than you actually think," said Gutsche.  Sometimes all innovation takes is a little speed and curiosity.  Knocking on doors can mean studying marketing tactics within and outside of your industry.  It can also mean hunting for overlooked opportunities, like new customers you haven't targeted before.
Find Patterns. Facebook spawned many similar offerings…with a twist.  To name a few, Twitter, which extended connections beyond the "friends" circle; Instagram, focused on the art of images; and Snapchat, which squelched any fears that people may have had about the permanence of those images.  Find the common links between successful businesses and then put your spin on it.  "Rethink what people – or a certain group of people – actually want, and then accelerate it," said Gutsche.
Obsess about your Next Customers, too.  The customer comes first mentality is certainly true.  But it shouldn't stop at current customers.  You need to obsess about where your future customers live.  Pay attention to how the demographic landscape of the country is changing, and how culture changes along with it.  You may already be marketing to Hispanics, but get to know how younger Hispanics think, feel and act, too.
Create a Cultural Connection.  "You want people to perceive you as being part of their team," advised Gutsche.  When you hit that milestone is when the marketing magic happens.   People begin to advertise for you.  They become ambassadors for your brand.  You have to get into their zone, and be woven into the places, conversations and content they love.