In 2012, Univision conducted a study in partnership with Burke on quick service restaurants (QSR), which looked at the opportunities, barriers and key drivers for getting Hispanic customers in the door.
Now, we're turning our sites to Casual Dining restaurants (CDR).  Traffic has stalled as competition – especially from the rapidly growing fast casual segment – has heated up.  And brands are looking for new ways to drive traffic and sales.  With only a handful of casual dining chains currently catering to Hispanic consumers, this consumer segment could provide a new source of growth.
The new Univision/Burke study interviewed 1,250 Hispanics along with 1,250 non-Hispanics casual dining users and focused on 12 chains across the bar & grill, steak, Italian, family and seafood categories.  We revealed our findings yesterday in our Hispanic 411 Webinar: New Study Shows How Casual Dining Restaurants Can Engage Hispanics, where I was joined by my research partner Jodie McInerney, senior vice president at Burke.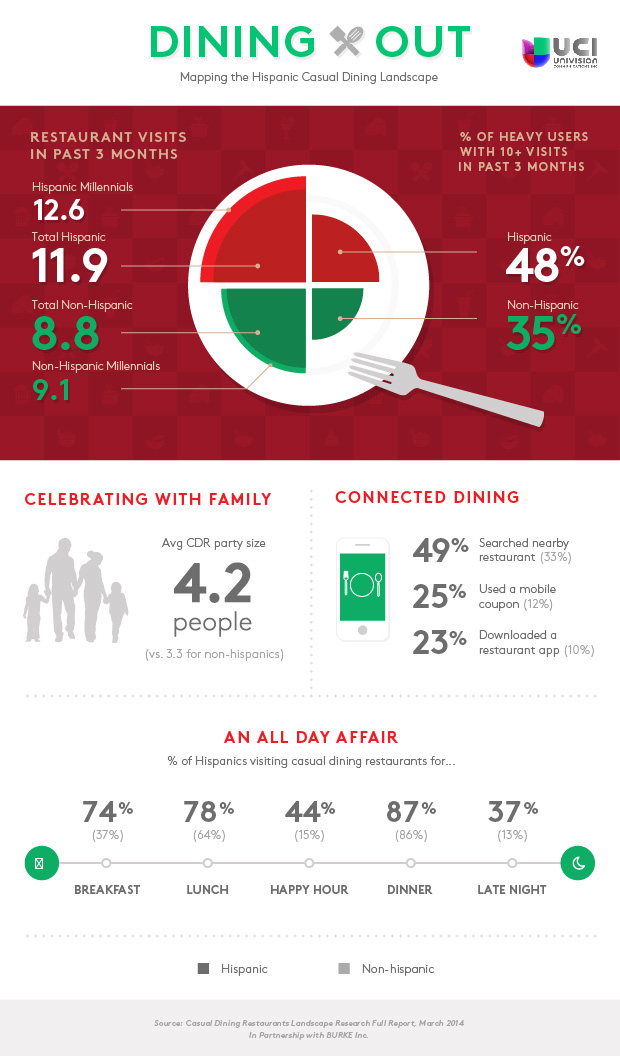 Here's some of what we uncovered about WHY Hispanics are such a lucrative consumer for casual dining chains:
Go Often and on More Occasions.  Once Hispanics start participating in the CDR category, they go more frequently. Forty-eight percent of Hispanics are considered heavy users – meaning they visited chains 10+ times in 3 months – vs. 35% of non-Hispanics. They also tend to over-index in several day-parts:  44% of Hispanics visited during happy hour and 37% during late night (vs. 15% and 13% for non-Hispanics, respectively). In addition, twenty–two percent of Hispanic traffic goes to the breakfast day-part versus 11% for non-Hispanics.
Order More Items.  Given the times they visit, it's no surprise that Hispanics are also ordering more items. Imagine coffees and juices at breakfast and specialty beers and drinks such as piña colada and margaritas for happy hour. In fact, our study showed that 90% of Hispanic visits include both food and beverages vs. just 76% of non-Hispanic visits.
Bigger Parties.  Similar to what we saw in the QSR study, Hispanics truly believe that the family that dines together, sticks together. Sixty-three percent of Hispanics visit CDRs with children vs. 33% of non-Hispanics, which leads to an average party size nearly one person bigger.
Digital Influencers.  We already know that Hispanics have a smartphone penetration 10 percentage points higher than the rest of the population.  And they're using those mobile devices across the board to engage with CDRs.  Hispanics significantly over index on everything from using a restaurant app (23% vs. 10%), searching for a restaurant (49% vs. 33%) and checking in through a site like Foursquare (22% vs. 11%).
This is the first of three articles I'll share with you on our Casual Dining research findings.  You can also download our infographics giving an overview of the
study here. Stay tuned next week for more. ¡Buen provecho!