The Dance Competition Will Give Way to the Entertaining Late Night Show During "Domingos en Familia" This Fall on Univision Starting at 7p/6c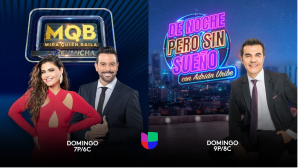 Click to download promotional material
Miami, FL. – August 30, 2023 – Univision announced today that audiences will be glued to the screen this fall with its new "Domingos en Familia" (Family Sundays) programming block, starting October 1 at 7p/6c with the highly anticipated premiere of MIRA QUIÉN BAILA ¡LA REVANCHA! and the third season of everyone's favorite late-night show, DE NOCHE PERO SIN SUEÑO.
In MIRA QUIÉN BAILA ¡LA REVANCHA!, an all-star jury of Broadway star Bianca Marroquín, actress, singer, dancer, and entrepreneur Roselyn Sánchez, and acclaimed ballet dancer Isaac Hernández will share their expertise and offer guidance and accurate criticism to eight stars who promise to leave it all on the dance floor for a good cause.
Hosted by Chiqui Delgado and Mane de la Parra, along with Sherlyn as backstage host, this season will feature stars who are ready for a comeback on the dance floor: Adrián Lastra, Amara La Negra, Diego Amozurrutia, Frida Sofía, Lambda García, Lis Vega, Raúl Coronado, and Sandra Itzel.
Following the intense dance competition will be the return of the funniest late-night show on Hispanic TV, DE NOCHE PERO SIN SUEÑO, hosted by actor, presenter, and comedian Adrián Uribe. This new installment returns at 9p/8c with a variety of A-list guests, fresh dynamics, and the same spark that has made the show a massive success.
Viewers can join the conversation on social media by following the hashtag #MiraQuienBaila and #DeNochePeroSinSueño on Facebook, Instagram , Twitter and TikTok, For more information visit Univision.com/shows.
Visit televisaunivision.com for more information about TelevisaUnivision and follow us on Twitter and Instagram.
CONTACTS:
Laura Paez lpaez@televisaunivision.com
Mauricio Ginestra mginestra@televisaunivision.com
Univision confirma electrizante doble estreno el 1 de octubre con MIRA QUIÉN BAILA ¡LA REVANCHA! y el regreso DE NOCHE PERO SIN SUEÑO
Haz clic para descargar material promocional
Miami, FL. – 30 de agosto de 2023 – Univision anunció hoy que este otoño los "Domingos en Familia" mantendrá a la audiencia pegada a la pantalla a partir del domingo 1 de octubre a las 7p/6c con el estreno de MIRA QUIÉN BAILA ¡LA REVANCHA! seguido de la nueva temporada del late night show favorito de todos, DE NOCHE PERO SIN SUEÑO, que inicia a las 9p/8c con invitados que nadie se querrá perder.
En MIRA QUIÉN BAILA ¡LA REVANCHA! un selecto jurado estelar, compuesto por la estrella de Broadway Bianca Marroquín, la actriz, cantante, bailarina y empresaria Roselyn Sánchez, y el aplaudido bailarín de ballet Isaac Hernández, está listo para brindarles su experiencia, ofrecer guía, y críticas precisas a 8 estrellas que prometen dejarlo todo en la pista con la meta de alcanzar el triunfo y ayudar a una noble causa.
Cada gala estará presentada por Chiqui Delgado y Mane de la Parra junto a Sherlyn como backstage host, y contará con participación de las estrellas Adrián Lastra, Amara La Negra, Diego Amozurrutia, Frida Sofía, Lambda García, Lis Vega, Raúl Coronado y Sandra Itzel.
Además, la apasionada competencia de baile estará seguida por e l regreso del late night show más divertido de la televisión hispana; DE NOCHE PERO SIN SUEÑO. Conducido por el actor, presentador y comediante Adrián Uribe, esta nueva entrega regresa a partir de las 9p/8c repleta de invitados de lujo, dinámicas renovadas, y la misma chispa que ha convertido al programa en un auténtico éxito.
Los televidentes pueden unirse a la conversación en las redes sociales siguiendo el hashtag #MiraQuienBaila y #DeNochePeroSinSueño en Facebook, Instagram, Twitter y TikTok,  Para más información visita Univision.com/shows.
Visita televisaunivision.com para obtener más información sobre TelevisaUnivision y síguenos en Twitter e Instagram.
CONTACTOS: 
Laura Paez lpaez@televisaunivision.com
Mauricio Ginestra mginestra@televisaunivision.com