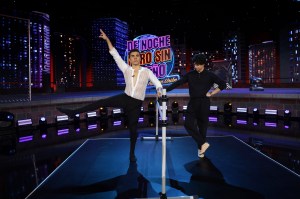 Click here to download promotional assets  
MIAMI, FL. – MARCH 30, 2023 – Univision's late-night reality DE NOCHE PERO SIN SUEÑO will air an all-new episode this Sunday, April 1 at 10/9c with internationally recognized ballet dancer Isaac Hernández and multi-award-winning singer songwriter Natalia Jiménez as special guests. Actor and comedian Adrián Uribe will host the ultra-talented stars for an unforgettable episode filled with comedy, arts, and music.  
This Sunday's entertaining episode will feature a variety of unique games, and unfiltered conversations. Uribe will receive a personalized ballet class from the sublimely talented Hernández, and Jiménez will perform Costumbres accompanied by a mariachi group.   
Visit TelevisaUnivision.com for more information on TelevisaUnivision and follow us on Twitter and Instagram.    
CONTACT:  
Laura Paez lpaez@televisaunivision.com   
Bettina Humphreys bhumphreys@televisaunivision.com 
###
Isaac Hernández y Natalia Jiménez se unen a DE NOCHE PERO SIN SUEÑO como invitados especiales este domingo 1ro de abril por Univision 
Haz clic aquí para descargar material promocional 
Miami, FL. – 30 de marzo de 2023 – El programa late-night de Univision DE NOCHE PERO SIN SUEÑO estrenará un capítulo nuevo este domingo 1ro de abril a las 10/9c con el bailarín internacionalmente reconocido Isaac Hernández y la cantautora ganadora de múltiples premios Natalia Jiménez como invitados especiales. El actor, comediante, y anfitrión del programa Adrián Uribe compartirá con las dos estrellas mexicanas y le brindará a la audiencia una noche llena de comedia, arte y música.  
El capítulo de este domingo tendrá una variedad de juegos únicos al programa y conversaciones sin filtro. Uribe luego recibirá una clase personalizada de ballet con el muy talentoso Hernández como su profesor y Jiménez presentará su tema Costumbres acompañada por un Mariachi.  
Visita televisaunivision.com  para obtener más información sobre TelevisaUnivision y síguenos en Twitter e Instagram.   
CONTACTOS:   
Laura Paez lpaez@televisaunivision.com  
Bettina Humphreys bhumphreys@televisaunivision.com